This post may contain affiliate links, which means I may receive a small commission, at no cost to you, if you make a purchase through a link!
Book Two in the LGBTQ Dystopian Sci-Fi Blue Helix Series
By International Bestselling Author Kathrin Hutson
Set for release May 26th, 2020 and published by Exquisite Darkness Press. The books will be available worldwide, in digital, print, and audio format, across all platforms.
They say home is where the heart is. Now that Sleepwater's on the run, home is just another place to hide. Wyoming's Sleepwater chapter is on the run, hunted for their ability to spin a beat. With little time to mourn the members they've lost, Bernadette Manney takes the group to the one place she swore she'd never see again: the cabin in Hollywood, South Carolina. It's remote enough to lay low and catch a break, but not for long.
Their beats are condemned as mutations, radical terrorist tactics, and felonies punishable both by and outside the law. Bernadette thought Sleepwater would be safe here, but returning to her Southern roots unleashes more demons than she left behind.
Her past, her love, and even her own flesh and blood won't let her move on through a venomous society intent on rooting out her people. Now, to bring a mother's first child safely into an unsafe world, Bernadette must face her own shame from before Sleepwater itself was born. But redemption and forgiveness may be too much to ask, and it may just be too late.
Sleepwater Beat: Book One of the Blue Helix Series
They say the pen is mightier than the sword. In Sleepwater's world, words are literally more powerful than bullets.
Leo could always make people believe anything she says—really believe. When her chest burns and the words come from her mouth, her targets' eyes glaze over, they forget their own thoughts, and they'll do anything she says. It's what keeps her alive after being on the run and living on the streets for years. But after using it on her girlfriend and her dad's drug dealer, it's also what got her here on the streets in the first place.
Then Sleepwater finds her. When Leo discovers there are others out there with similar powers, scattered across the country, she can't say no to the underground organization. After all, what's a little sit-down with the only people who may ever understand her?
What she doesn't expect is to be thrust into Sleepwater's guerrilla war, hunted by government agencies, and used as a weapon. Worse than that, she might be more valuable not for what she can do but for who she was before they found her.
Now an international bestseller and Award-Winning Sci-Fi Finalist in the 2019 International Book Awards.
"Kathrin's arresting prose style is present from page one throughout this impressive novel. She knows the importance of setting a mood for a dystopian adventure… Mystery, adventure, extraordinarily unique unveiling of human powers, and a very fine LGBTQ romance all combine in Kathrin's skilled hands to create a very powerful and satisfying novel – and one that has fine potential for a blockbuster film! This author has polished skills." —Grady Harp, San Francisco Review of Books
"Sleepwater Beat will bring you face to face with unconventional situations. You will wonder how to handle a clever Leo who maintains a flirty crust while having a broken center. Kudos for successfully thrusting the reader right into the thick of it and keeping them gripped enough to resist leaving." —Five Star Review, Literary Titan
I truly enjoyed reading Sleepwater Beat and cannot wait until the second book releases. I love Kathrin's unique writing style and how she is able to grip the reader, pulling them into this whole other world. I found myself thinking about Leo even after I put the book down. It's my telling sign that the book I'm reading is definitely a must-read for my book club. My favorite part was how Kathrin had the imagination to use words for weapons in this book and make her protagonist dominate.
International Bestselling Author Kathrin Hutson has been writing Dark Fantasy, Sci-Fi, and LGBTQ Speculative Fiction since 2000. With her wildly messed-up heroes, excruciating circumstances, impossible decisions, and Happily Never Afters, she's a firm believer in piling on the intense action, showing a little character skin, and never skimping on violent means to bloody ends.
In addition to writing her own dark and enchanting fiction, Kathrin spends the other half of her time as a fiction ghostwriter of almost every genre, as Fiction Co-Editor for Burlington's Mud Season Review, and as Director of TopShelf Interviews for TopShelf Magazine. She is a member of both the Science Fiction and Fantasy Writers of America and the Horror Writers Association. With Sleepwater Beat, she became an international bestselling author on both Amazon and Kobo.
Kathrin lives in Vermont with her husband, their young daughter, and their two dogs, Sadie and Brucewillis.
I was even more excited when Kathrin have me an exclusive interview! Read the answers to your burning questions from the amazing and talented Author Kathrin Hutson below!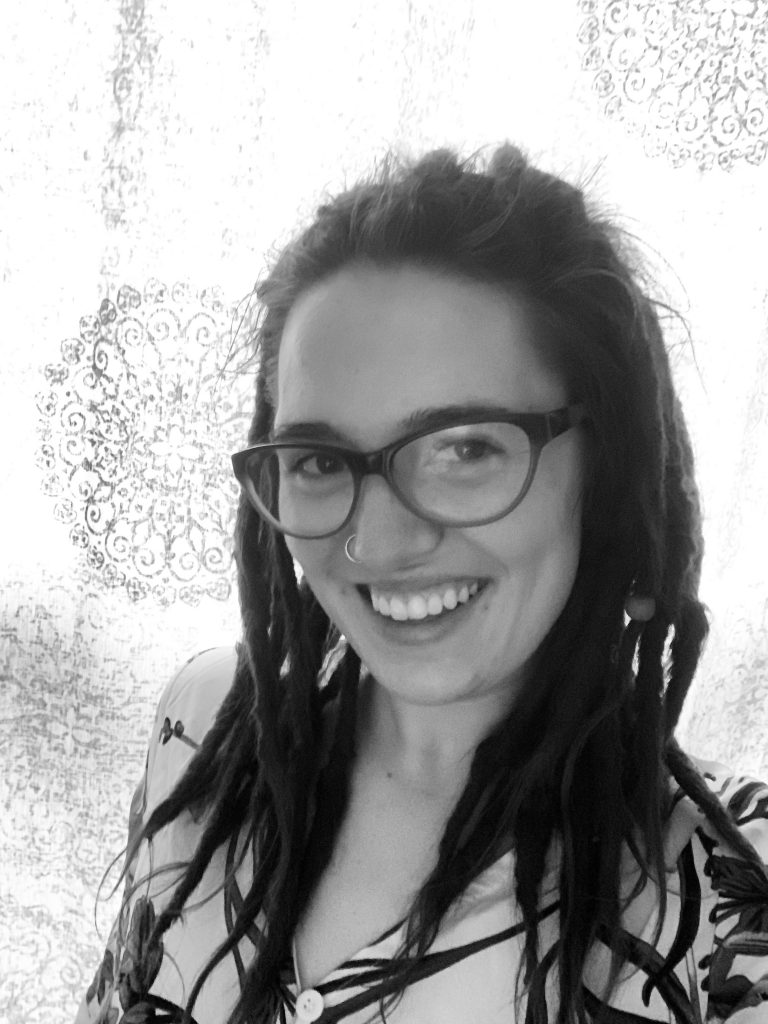 1) Tell my readers a little about yourself others might not know.
I don't talk about this too much, because it's really just for personal entertainment and has nothing to do with my life as an author. When I was five, I started taking classical piano lessons, performed publicly, and trained for twelve years before I wanted to change my creative focus to creative writing in high school. Then I did a bit of songwriting and used to play and sing live ever Tuesday night when we lived in South Carolina. Now, my singer/songwriter days have taken a back seat. But I do learn new music to play for my three-year-old. Currently, that's "Let It Go" from Frozen, and Weird Al's "Saga Begins."
2) Did you always know you wanted to be an author?
I started writing when I was ten. And from that moment, yes, I always knew this was what I wanted to do. It was a bumpy, winding road to get here, but I finally get to say I've reached my dream and am fully living it.
3) For those who aspire to be an author…what was your journey like from brainstorming to creating your novel?
The process is different or everyone. I start with a few ideas or scenes in my head, let them sit for a while, and then sit down to write. The most important part for me—for getting from those opening words to the very last ones—is writing all the way through that first draft without stopping, without looking back, without trying to fix what may or may not need to be changed. Getting the first draft finished is the biggest first step. Everything after that is a lot easier to do (not to mention only possible) once that first draft has been written beginning to end.
4) How did you come up with the idea this book is based on?
The entire Blue Helix series came from an original short story meant only as an experiment with how to write fiction—all different scenes out of chronological order, sewn together in random order. The short story got workshopped with my writers' group, and that inspired me to turn it into the first book of the series, Sleepwater Static. Then the story just kept rolling from there.
5) What book made you fall in love with reading and writing?
Am I allowed to say all of them? I've been reading so much for so long. I can't remember which one turned me on to it though I will say that The Forgotten Beasts of Eld by Patricia A. McKillip sticks in my mind as the earliest book I checked out from the library as a kid more than once. It didn't necessarily inspire much in my own writing or where I went with what I enjoy reading, but that may be the earliest book I can remember.
6) Is there a certain meaning or lesson in your novel you want readers to get out of your book?
To put it succinctly, I want people to find an opportunity to look at themselves and the world around them through new eyes. In working with marginalized communities and especially discrimination, it's difficult to bring up serious and intense topics in a way that's accessible to everyone. But these are conversations I feel we need to be having as a society. I'm hoping readers discover how to look at things from a different perspective, to experience what it may be like to step into someone else's shoes, and perhaps—if they're ready—to take a look at themselves and how they operate within the world around them.
7) Any advice to aspiring writers?
Keep writing and keep reading. There's really nothing more important than those two things if writing is what you really want to do. They both give you practice and improve your craft. Writing gets the ideas and creativity out, and reading fills it all back up again.
8) Is there somewhere or someone who always helps inspire you with your stories?
The inspiration for my fiction comes from so many different places. But I have realized that I now need to be listening to music (without lyrics) to get me into the zone for writing. Good music in the right genre with the right mood, depending on what I'm writing, is essential for me at this point. Plus, it helps drown out all the other sounds of dogs barking and my kid playing and my husband talking on the phone. I work in a home office, so it can get a bit loud during the day.
Below are all the links to Kathrin's novels!
Sleepwater Beat: books2read.com/sleepwaterbeat
Daughter of the Drackan: books2read.com/daughterofthedrackan
Mother of the Drackan: books2read.com/motherofthedrackan
Sanctuary of Dehlyn: getbook.at/sanctuaryofdehlyn
Secret of Dehlyn: getbook.at/secretofdehlyn
Sanctuary of Dehlyn: getbook.at/sanctuaryofdehlyn
Have you read this novel? Want to get your book feature? Contact me! Also, don't forget to check out my feature on Feedspot's Top 100 YA Book Blogs!