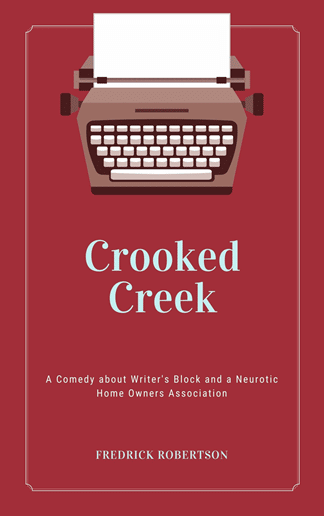 Jungian Analytical Psychology and dreamwork enthusiast, Fredrick Robertson, writes a unique and witty novella.
Publication Date: September 16, 2020 Genre: Humor, Fiction
Distribution: Amazon Format: eBook
Price: $0.99
Crooked Creek is a humorous novella about writer's block and a neurotic homeowners association. It's the classic overbearing "king or queen and the feeble subject" situation.
About Crooked Creek
Billy's first novel launched him into literary stardom. Now all he has to do is write a second book.
His decision to move back to his hometown might not have been in his best interest. The neurotic homeowners association has different plans to manipulate and distract him.
What's worse? He can't seem to write down a single word.
Billy soon learns you can find inspiration in the most unexpected places – even if everything else is against you.
Crooked Creek is such a hilarious read! It centers around the character of Billy who I think author Fredrick Robertson developed great throughout the novel. The hilarious part of this book has much to do with writer's block that will definitely take you out of reality and into this funny story. Definitely recommend reading if you are looking to escape reality!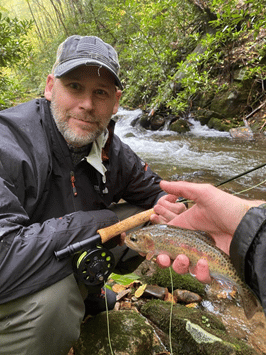 Fredrick Robertson enjoys creative writing and studying Dr. Carl Jung, dreams, and the unconscious.
Born and raised in Greenville, SC, Fredrick studied English at The Citadel attending one semester abroad in Madrid, Spain. He later went to Pacifica Graduate Institute and studied Depth Psychology, focusing on Jungian Analytical Psychology and dreamwork.
Fredrick is married with two children. He enjoys writing on his Royal Model O 1937 typewriter.
You can connect with Fredrick on his website or his two Japanese-based factories.
www.fredrickrobertson.com www.superiorbands.com www.thepaperstrawfactory.com
Praise for Crooked Creek
"This is a fun story that is a quick read… overflowing with humor and maybe a mix of reality… If you enjoy comedy, this is a great one for you." – 5 stars on Amazon
"Crooked Creek is a very hilarious book with unprecedented happenings that sucks you right into the storyline. The struggling writer buys a home in a relative inexpensive housing society only to be thrown into one comic situation after another." – 5 stars on Amazon
"…Nicely written and will most certainly entertain the reader with sheer enjoyment. The book is cleverly written, a nice sprinkling of pithy interaction, doses of sarcasm, and just a good humorous narrative." – 5 stars on Amazon
For further information or to request a review or an interview with Fredrick Robertson, please contact Rachel Poli at Spilled Ink Services at [email protected].
Have you read this novel? Want to get your book feature? Contact me! Also, don't forget to check out my feature on Feedspot's Top 100 YA Book Blogs!