This post may contain affiliate links, which means I may receive a small commission, at no cost to you, if you make a purchase through a link!
Surviving Savannah by Patti Callahan Book Review.
Historical fiction novels are some of my favorites I've ever read. Something about being swept away and lost in a historical story does something to me.
One of my favorite parts of historical fiction is how I learn things in history I never knew existed before. I first came across Surviving Savannah by Patti Callahan after Random House sent me a copy. The cover immediately intrigued me, and after I read the first page, I was hooked on this story of the "Titanic of the South."
Surviving Savannah not only captured me because it's based on actual events, but the characters Patti created are vivid and really drew me in. Not only that, but I felt like on that boat and thrust into the center of the chaos alongside the character. For me, finding a powerful historical story that pulls me in headfirst can be difficult, but I was pleasantly surprised by this one.
Carly-Rae's Surviving Savannah by Patti Callahan's favorite things
Characters: Everly and Lily
Everly was such a well-rounded character and authentically took on the part of a museum curator. I thought having Everly deal with a loss while also researching the sinking of the Pulaski was a great addition to the book because it made her a more complex character. She had to deal with her past while simultaneously living in the past as a museum curator, so I thought it was a great contrast.
Lily, on the other hand, was also great because I thought Patti her an authentic character for the timeframe. She was vividly written, and anytime there were parts from her POV, I really enjoyed them.
Plot: Both timeframes
Overall, I thought the plot was great from start to finish. There wasn't one of the chapters I dreaded reading or had to read over a few times. I was consistently able to turn the pages as fast as I could read, gripped into all POVs and both timeframes.
I've read historical books where the past and present don't mesh. It's very chunky to switch, but with Surviving Savannah by Patti Callahan, that was definitely not the case.
Voice:
This was my first Patti Callahan novel. I really enjoyed her tone and voice. It was authentic to the characters both in the present and the past timeframes. I also thought the characters were well-rounded. At Harvard, in my writing courses, we're always told to do character sheets to build out our characters. Every new character I met, I got the feeling Patti did the same. Each character felt really built out, not just physically but with their personality traits. She consistently stayed true to the characters allowing them to grow and overcome obstacles in an authentic way.
---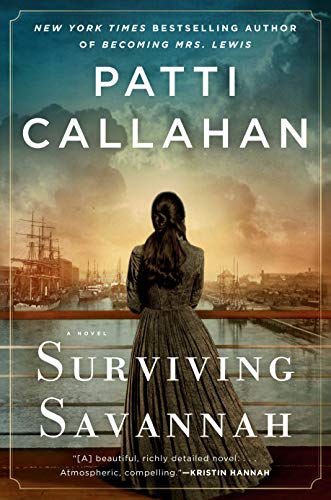 Surviving Savannah by Patti Callahan
Genre: Historical Fiction
This story is told from two POVs and from two different timeframes. When history professor Evelyn is charged with guest curating an exhibit of the sinking of the Pulaski she uncovers that it has been 180 years since the ship's sinking, and it's the first time that artifacts have been uncovered.
While dealing with her past, readers also get swept up into the story of characters from 1838 that is actually on board the ill-fated 'Titanic of the South.'
Read more reviews on the book index here
Buy this Book: Amazon
---
Carly-Rae's thoughts on Surviving Savannah
The story of Surviving Savannah shifted between the modern day and 1838, leading to the days when the U.S.S. Pulaski sank. Readers meet Everly Winthrop. She's a history professor in modern-day Savannah who is struggling with her past. Everly gets tapped to guest-curate the items recovered from the Pulaski years later and becomes fascinated by what she discovers. The wreckage was only recovered 180 years later (yes, that is accurate).
Readers then get swept away into a story set in 1838 with a family aboard the Pulaski. Much like how you know Titanic sinks, we learn that the Pulaski is ill-fated, but we don't know who survives and dies in the accident. It's fascinating living in both timeframes, and really drew me into the story.
My favorite thing about Surviving Savannah has to be the authenticity Patti Callahan brings into this story. While I've read countless historical fiction novels, I can honestly say this one felt truly one of the most authentic. Callahan did her research, and it shines through the pages. I want to pack a suitcase and travel to Savannah to see the exhibit.
This heartfelt read will stay with you for days, even months, after you turn the final page. It did for me and left me going and researching the Pulaski as I was moved by this powerful, historical book.
Have you read Surviving Savannah? What other books by Patti Callahan do you recommend I pick up?