This post may contain affiliate links, which means I may receive a small commission, at no cost to you, if you make a purchase through a link!
Dear Edward by Ann Napolitano Book Review by Carly-Rae
It is 2:12 pm, and a commercial plane en route from Newark to Los Angeles is starting to descend rapidly. Passengers scream. Masks drop from the ceiling. The plane only plunges faster until it crashes directly into a field. One hundred and ninety-one passengers perish in the devastating crash, leaving only one survivor: A twelve-year-old boy named Edward Adler.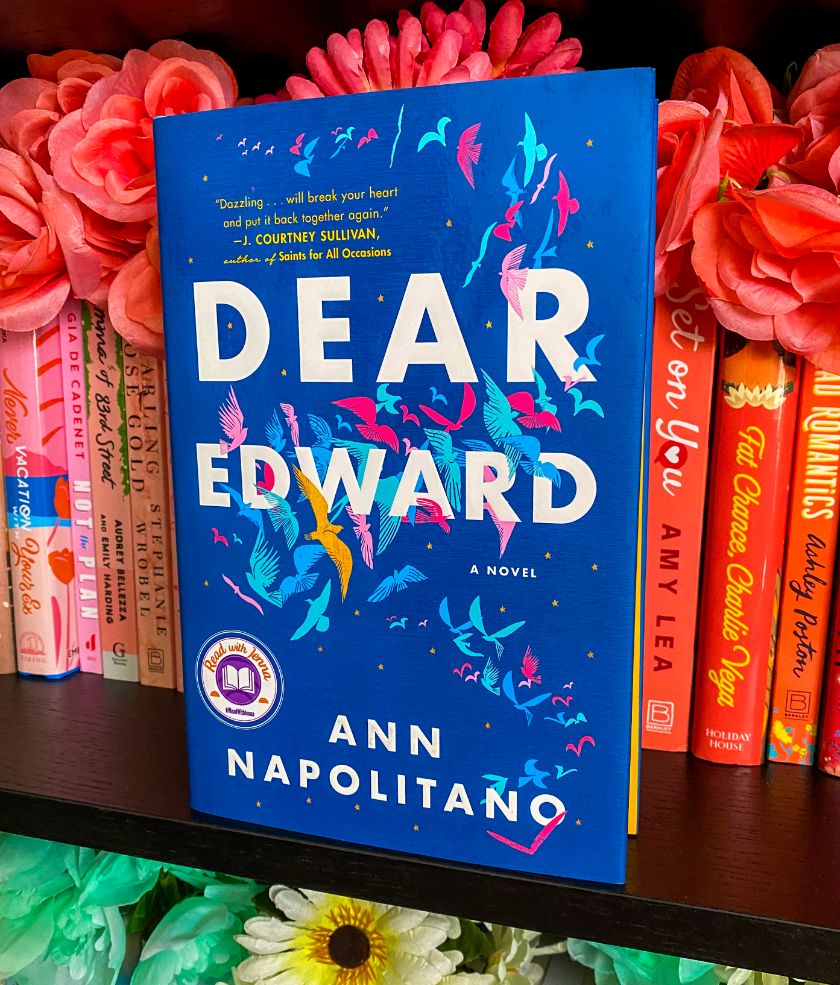 Dear Edward by Ann Napolitano unfolds with Edward being rescued from the crash site and deemed by the media "the miracle boy." His aunt and uncle are his next of kin, leaving Edward to grapple with a new life that unfolds in a six-year timespan. Meanwhile, readers switch to the past narrative of the hours before the crash, meeting the ill-fated passengers — a soldier, a businessman, and a newly pregnant woman.
The non-linear structure of the timelines is almost unbearable, as the reader knows the passengers will never live to see their future. Yet it's the tender moments in the present narrative of Edward learning how to cope with the tragedy that carries you through and makes the riveting silver lining outshine other coming-of-age stories such as They Both Die at the End by Adam Silvera and You've Reached Sam by Dustin Thao.
Based on the true story of plane crash survivor Ruban Van Assouw, Napolitano's third novel became an instant bestseller. This story debuted at #2 on the New York Times Best Sellerslistand remained there for eight solid weeks. It also became the author's most critically acclaimed novel, earning a Barnes & Noble Book Club Pick in January 2020, a Books-A-Million 2020 President's Pick, and an Editor's Choice in The New York Times Book Review.
After reading this book in one sitting, I can attest that Napolitano's powerful prose, tension-building plotline, and slow-burn scenes make the book more than a tragic storyline of loss. The writing also brings hope through Edward's survival journey, ensuring Dear Edward will break your heart and put it back together, proving it's worth the accolades.
Sorrow is in every chapter, but the author guides the storyline around getting stuck in a grief trap by using vivid imagery in her powerful prose to place readers in a first-class seat next to the characters. There is an instance years after the crash when Edward is in therapy. His therapist looks at him and says, "What happened is baked into your bones, Edward. It lives under your skin. It's not going away. It's part of you and will be part of you every moment until you die." The meaning is so simple. Edward will never forget that tragic day. Yet the imagery makes the words go beyond the page, turning Edward's sorrow into your own.
Rest assured. You will endure the author antagonizing your emotions countless times; however, there are moments when a smile will creep across your face between the tears. Years after the crash, Edward discovers a box of letters addressed to him from families who lost loved ones. After reading them, he feels like his old self, with the "darkness" now turning to "a new shade." I noticed my heart fluttering as I dried my eyes reading those lines, entirely mesmerized by how the imagery reflects a reawakening for Edward. Nonetheless, the imagery in the powerful prose isn't the only reason this book rivets me in my chair.
---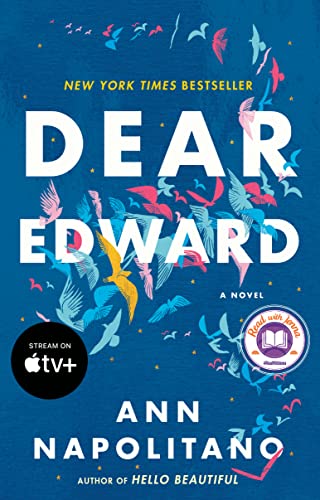 Dear Edward by Ann Napolitano
Genre: Coming of Age
The story is a coming-of-age novel about Edward. He is the sole survivor of a devastating commercial airplane crash that killed his entire family. Edward moves in with his aunt and uncle, who he doesn't know, and the story follows him until he reaches adulthood while flashing back to the final moments of those who died in the crash.
Read more reviews on the book index here
Buy this Book: Amazon
---
The dual timelines of following the passengers' final hours and Edward's journey as a survivor creates a tension-building plot so heart-pounding the pages can't be turned fast enough. It's no secret the passengers die, but the bird's-eye view of learning their hopes and desires for a future they'll never see makes a reader anxious to find out how Napolitano will continue their narrative leading up to the crash.
From the trivial moments of learning that "the plane weighs 73.5 tons" to the basic facts of "people fly despite knowing that a certain percentage of airplanes crash every year." The author builds a foreboding backdrop. Thanks to the omnipresent third-person point of view, it gets more intense when the passengers discuss a future they'll never get.
Only readers are aware; their final memory is hours away. Napolitano uses Edward as a vehicle to foreshadow the inevitable crash and weave in the past and present narratives. A chilling instance is when Edward looks up at the sky a few years after the crash and recalls his young self on the plane "with no idea what's about to happen." On the next page, readers are thrown into a chapter set a minute before the crash. I guarantee the unease will propel you to finish the book. It will also irrevocably change you. I'm not sure I can ever board a plane without thinking about Edward, but the haunting story will make you appreciate friends, family, and yourself.
Napolitano's main strength is her ability to craft the slow burn scenes by providing enough scenes of hope that tread you through this devastating read. Edward wrestles from the beginning with being a symbol of hope for the world and the families who lost loved ones. One letter tells Edward to "live every day in the memory of those who died," but he struggles to discover where he fits in now that he's on this new path without his brother and parents.
Readers see glimpses of Edward trying to mend his devastation when he talks with Shay—a neighbor his age who becomes his confidant. But Edward's healing doesn't come full circle until he reads a letter from the man who saves him. The man confesses how the crash scene was so gruesome he almost turned back. But then he hears Edward screaming, "I'm here," proving Edward is a kind of phoenix: even in the most devastating moments, he rises and gives others hope.
Dear Edward can easily swallow readers into an abyss of grief, as Napolitano has a knack for not romanticizing a tragic outcome. However, the author navigates around making this book a grief trap by using vivid imagery in her powerful prose to connect readers to the characters' emotions while crafting a haunting page-turner through a tension-building plot and weaving in hope through her slow-burn scenes. It's why I keep reading.
Not because I enjoy heartbreak—although I love a good country song—because of the sheer literacy magic Napolitano creates through juxtaposing sorrow and hope until the final page. Your pulse will pound. Your eyes will get puffier. Heck, your throat will have a permanent knot lodged into it.
But I can vouch that Dear Edward will reshape you by evocatively reminding you how precious life is: even though "everything ends," it is "nothing to be sad about," Napolitano writes. "What matters is what starts at that moment." I'm glad I took a moment out of my day and went into my local bookstore, letting the rich cobalt blue tone and multicolor birds on the cover sway me into purchasing this book. If I hadn't, I'd have missed my chance to board a plane that took off into the sky and landed in my heart.

Faqs about Dear Edward:
Will there be a season 2 of Dear Edward on Apple TV?
No. There will not be a season 2 of Dear Edward. However, you can watch season 1 on Apple TV.
Is Dear Edward Based on a true story?
Dear Edward is a fictional novel. However, Napolitano based it upon a true event. In 2010, there was a commercial plane crash, Afriqiyah Airways Flight 771. There was one survivor. A nine-year-old boy named Ruben Van Assouw. This is where the author gathered her inspirational to tell this fictional story of Edward.
What is the story Dear Edward about?
"Dear Edward" is a novel by Ann Napolitano that tells the story of Edward Adler, a young boy who becomes the sole survivor of a plane crash. The story follows Edward's life before and after the tragedy as he grapples with grief, survivor's guilt, and the challenge of rebuilding his life.