This post may contain affiliate links, which means I may receive a small commission, at no cost to you, if you make a purchase through a link!
Rebel Homemaker by Drew Barrymore is more than a cookbook. It's a lifestyle cookbook. Drew Barrymore writes about how she feels, lives, and cooks. Drew talks about what is important to her and how she lives her life and shares her love of food. Drew cooks up some really delicious recipes that make this lifestyle cookbook amazingly rebellious compared to other standard cookbooks. Rebel Homemaker is filled with pictures, which I like most about this book. There are up close and personal pictures of Drew, her kitchen, and of course, her recipes.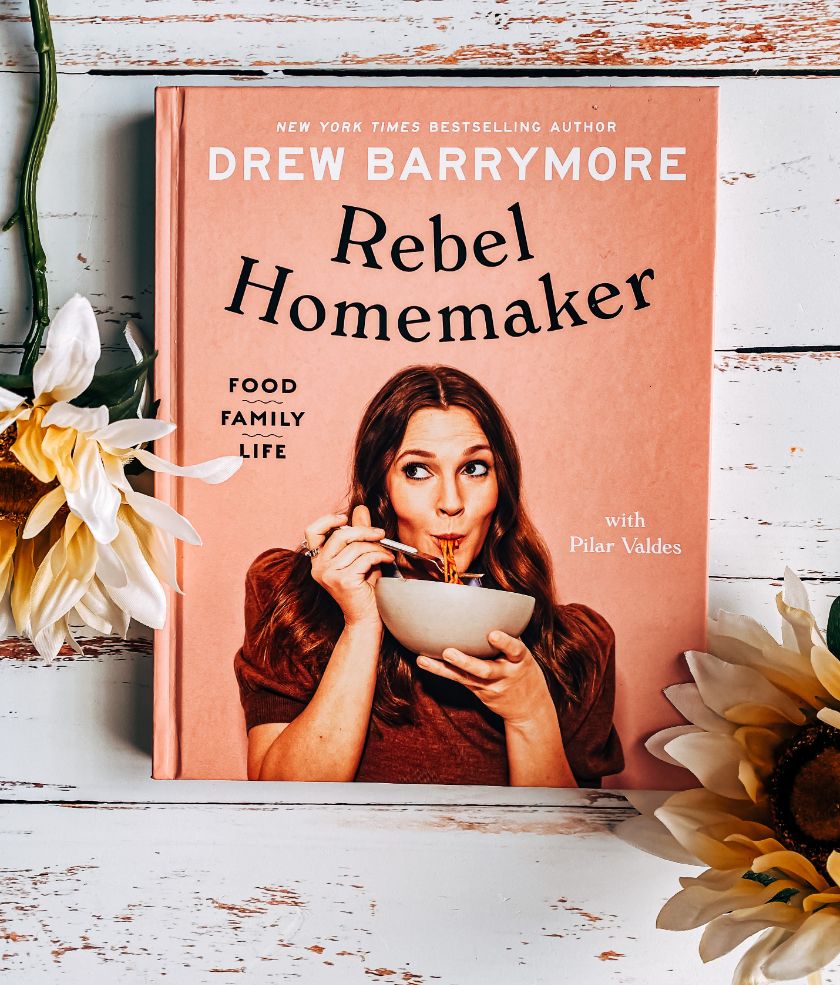 Rebel Homemaker features photos that Drew mostly took by herself. I love that aspect. It's so clever! Without professional photos, this cookbook feels more like a family photo album. Drews's own pictures make the book feel warm and friendly. She was not afraid to look "normal" like me, bringing me closer to this book because it was easy to relate to her.
Her introduction in Rebel Homemaker is almost poetic as she brings our attention to what she loves and hates about food and cooking. Drew put it in a section called "Thirty Meals in a Lifetime." I thought this was unique, and I loved reading it because Drew shares the best meals she has ever eaten worldwide. Drew also has her own cookware line that she talks about in her cookbook with pictures of all of them, and honestly, I want to buy some of her small appliances. I thought it was wise to share with her readers that she is a successful businesswoman too.
She wrote this lifestyle cookbook during the pandemic to make sense of our changing world and hers. Drew questions why things are the way they are and if our world will permanently adapt to new things in new ways. Drew Barrymore's Rebel Homemaker is a form of new self-discovery that she found during the pandemic, along with a major move from one coast to the other, a divorce, and raising her two daughters.
---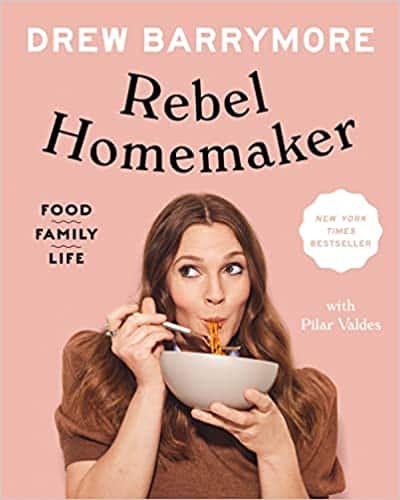 Rebel Homemaker by Drew Barrymoore
Genre: Cookbook
Rebel Homemaker is a lifestyle cookbook in which you can find recipes to make at home. The cultural background on the recipes and the way Drew made this cookbook relatable is what I enjoyed best.
Read more reviews on the book index here
Buy this Book: Amazon
---
From chickens to gardens, cats, and her daughters, Drew shares with us her way of coping in today's world, living healthy, happy, and with delicious recipes from her kitchen.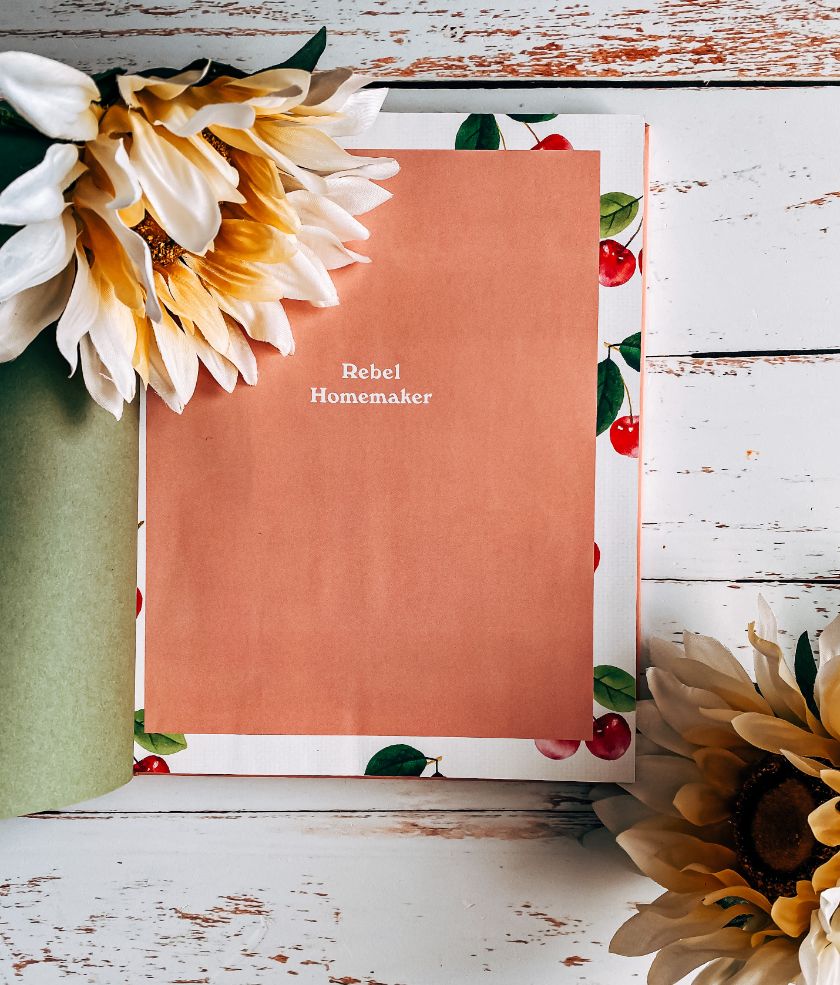 Drew wrote The Rebel Homemaker with Pilar Valdes, who is Drew's personal culinary partner and friend. Together they created all 36 recipes featured in this book. Both of them share a passion for cooking with their original flavorful recipes. I like how Drew gives a back story to each of her recipes, whether it be the healthy benefits of making her "All Greens: Spinach and Watercress Soup" or cultural, culinary practices in other parts of the world like her "Sunrise Quinoa Porridge."
However, Drew's recipes are a little more complicated than her book's whole feel, which is my only criticism. Her book has a joyful, homemade, laid-back, simple feeling, and the recipes are more sophisticated than what the book betrays. This did throw me off when I started to look at the recipes because I was expecting her dishes to be more casual, which matched her cookbook aesthetic.
All in all, I give Rebel Homemaker a 5. I really liked it. I thought Drew Barrymore did a great job writing this book, and Pillar Valdes was a great complimenting partner to help compose her recipes. I contemplated giving her book a lower rating because I felt the recipes were too sophisticated and did not match the book's vibe. However, I feel the recipes are genuine, original, and flavorful. I walked away inspired by Drew's energy and found this cookbook very enjoyable and entertaining.
Is Pilar Valdes Drew Barrymore's partner?
As of my last update in September 2021, Pilar Valdes was not publicly known as Drew Barrymore's partner. Drew Barrymore is an American actress, producer, and director, and her relationships have been a subject of media interest in the past. However, it is essential to note that celebrity relationships can change or develop over time, and my information might be outdated.
For the most current and accurate information, I recommend checking recent news sources or conducting an online search to see if there have been any updates or changes regarding their relationship status.
Does Drew Barrymore have a cookbook?
Yes! Rebel Homemaker is Drew Barrymore's first cookbook and a bestseller!
Does Target sell Drew Barrymore?
As of my last update in September 2021, Target, the retail company, does sell products from the "Flower Home" collection, which is a home decor line designed by Drew Barrymore. The collection includes various home furnishings, such as furniture, bedding, lighting, and decor items.
However, please note that product offerings and partnerships can change over time. To verify whether Target still sells Drew Barrymore's "Flower Home" collection or any other products associated with her, I recommend visiting the Target website or checking in-store at your nearest Target location for the most current information.
Table of Contents