This post may contain affiliate links, which means I may receive a small commission, at no cost to you, if you make a purchase through a link!
Today is the day for my author interview, Karen McManus. That's right! The bestselling author of One of Us is Lying joins me to chat all about her latest book in the bestselling novel series, One of Us is Back. Take it from someone who has read this book…it was worth the wait. I love these characters! And Karen is great! I interviewed her on my YouTube Channel a few years ago and did an IG live, and she's great! You can also check out my 6+ Best Karen McManus books to read!
But before I ramble on about why this author is one of my favorites, let's jump into the interview!
Welcome, Karen McManus! Tell us more about One of Us is Back! Can readers expect to see all their favorite Bayview characters back?
Absolutely! It's no secret that I like writing lots of characters, but I've never juggled quite so many. Not my beloved original four, but also the book two POV characters Maeve, Phoebe, and Knox, along with important side characters like Kris, Luis, Ashton, Eli, Emma, and Keely—plus a few other people you might've thought you'd never hear from again.
What made you write a third book in your popular worldwide series One of Us is Lying?
I originally wrote One of Us Is Lying as a standalone book, but it's become much more than that. The world of Bayview expanded with One of Us Is Next, and now, with One of Us Is Back, it comes full circle. The third and final book was inspired by a plot thread that I didn't have room for in the first book, an exploration of motive and origin that (for me, at least) makes the story feel complete.
How great was it to go back to these beloved characters?
It was one of my favorite writing experiences ever – like hanging out with old friends. I know them so well, and yet, they still managed to surprise me. I know how much these characters mean to readers, and it was important to me that by the end of the book, you have a solid understanding of my vision for their lives.
Who was your favorite character to craft in One of Us is Back?
I think it's a tie between Addy, who's very close to my heart and whose story required the most resolution of the original four, and (believe it or not) Vanessa. I've always wanted to explore Vanessa further and tried to find a role for her in One of Us Is Next, but that didn't work out. She fit perfectly into One of Us Is Back, though, and was a lot of fun to write.
What was the most challenging part of writing One of Us is Back?
Juggling such a big cast. I couldn't give every important character a point of view (those go to Addy, Nate, and Phoebe in this book), and I knew some readers would be disappointed not to be inside the head of their favorite character. But I tried to give them all meaningful roles and plenty of room on the page.
You have a knack for writing whodunnit mysteries that leave readers scratching their heads. For the mystery in One of Us is Back, did you have this plotted in your mind before writing? Or did this mystery come to you as you started writing?
I plot extensively before I start writing, but no book has ever fully followed my outline. The smaller side mysteries, in particular, tend to come to me as the story and the characters become more developed. However, out of the eight novels I've now written, One of Us Is Back most closely followed my original plan.
Is there one chapter or part of One of Us is Back you cannot wait for readers to read?
I've always wanted to write from Simon's perspective, and in One of Us Is Back, I finally got to do that via flashbacks. I loved writing those, and I hope readers enjoy reading them. Also, it's a lot of fun any time the entire Bayview Crew comes together—it's summer, after all, and they're trying to enjoy themselves despite all the crime and murder.
---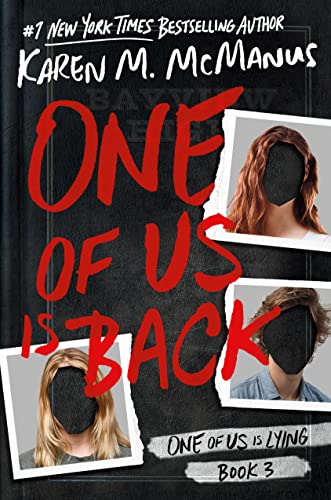 One of Us is Back by Karen McManus
Genre: YA Thriller
The story brings back the original Backview Four in this riveting installment in the One of Us is Lying series. It picks up two years after Simon's death and all the characters are back for the summer. However, after a billboard appears with a chilling message and one goes missing this could be the start of an unforgettable summer.
Buy this Book: Amazon
---
Walk us through a day in your life when writing! Do you wake up early? Plot out every chapter before writing. Have to have a cup of coffee in hand?
There's no typical day. If I'm on deadline and the words are flowing, I'll get into my chair around 9 am with a cup of coffee and barely notice the hours pass. I do my best work at night, so I'll often work past midnight (and sometimes I wake up in the middle of the night and start writing—I've solved a few plot problems at 3 am!)
If I'm feeling stuck, I'll take a walk or bounce ideas off my agent or a critique partner. And if I'm between projects, like I am now, I'll catch up on social media and administrative tasks but also make plenty of time for stories and art. Partly to decompress but also because I often find the work inspiring.
What has been the best part of becoming a full-time writer?
Having the freedom to write whenever inspiration hits. When I was working full-time (which I did through One of Us Is Lying and Two Can Keep a Secret), I'd often get ideas during the day that I'd have to set aside until I got home. Now I can get right to work, and it's helped me become a better and more efficient writer. Plus, I can wear sweatpants most days, and I never have 8 am meetings (unless I'm doing an international virtual event, in which case, I'm happy to be there!)
Before I let you go, tell readers where they connect with you on social media.
I'm @writerkmc on Twitter (updates only) and Instagram, where I'm most active.
There you have it, readers! Drop a comment about what you thought of today's interview! I'd love to hear your thoughts.
Table of Contents
In what order should you read Karen McManus books?
Personally, I think you can read Karen McManu's books in any order. However, I recommend starting with One of Us is Lying, and then One of Us is Back. The characters are carried throughout the book series, and it introduces you to the mysteries McManus writes.
In what order should you read Karen McManus books?
The books are recommended for ages 14+.
Is One of Us Is Lying and One of Us Is Next connected?
Yes. The same characters are mentioned throughout the books and its a great sequel bringing back a thrilling mystery twist.