The Dead Romantics by Ashley Poston is my September Book Club Pick! I wasn't expecting this book to be selected, and was surprised by the overwhelming number of bookish besties who voted for it. But I am SO glad it was chosen.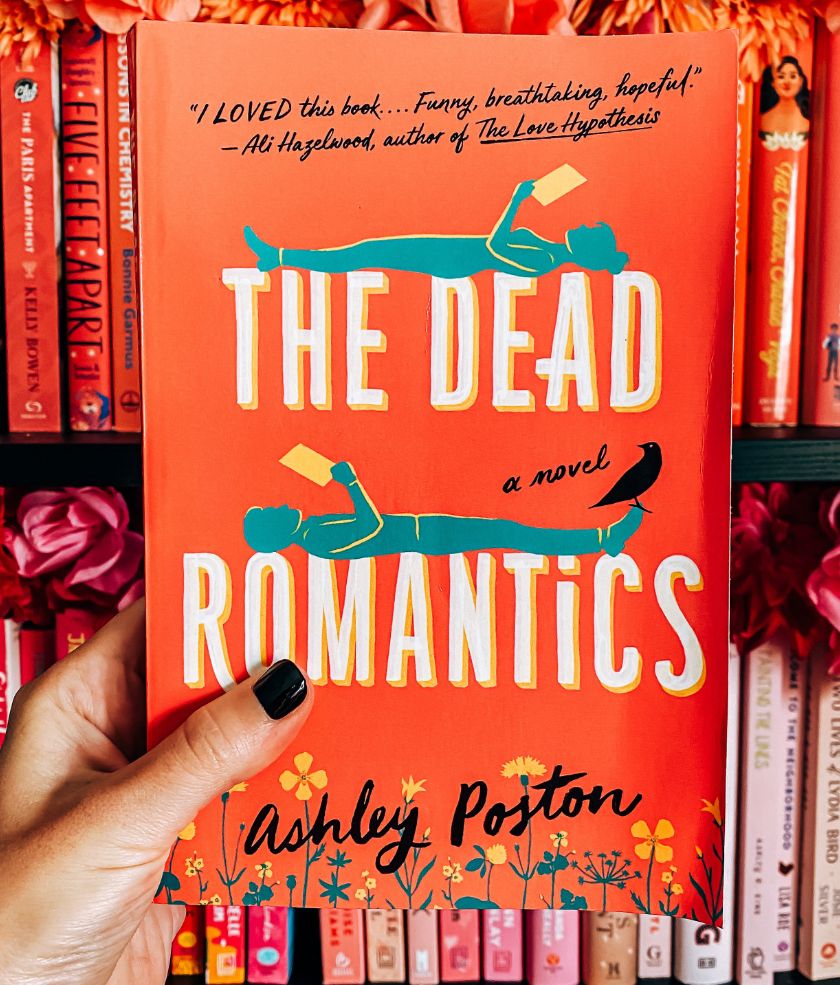 For those who don't know, The Dead Romantics follows the story of Florence Day. She is a relatable and quirky character who grabs your attention in the very first chapter as she makes her way to her editor's office. Florence is a ghostwriter for a popular romance author and has been for many years. But after a recent break-up, Florence is not only done with romance, she finds herself inadvertently done with writing because her broken heart has left her suffering from severe writer's block.
Florence is prepared to meet her new editor, Ben, and tell him she needs more time. While she finds him all too handsome, he refuses to give her an extension, unaware she is the romance author's ghostwriter. Not long after, she learns her dad has died, and she returns home.
After a decade away, Florence feels her small hometown and everything there is exactly as she left it. The funeral parlor. The people. But then unexpectedly she gets visited by Ben–only now he's a ghost. Shocked is an understatement, but Florence is used to seeing ghosts. The two soon find themselves not only getting to know each other, but falling for one another. But the problem is this new guy in Florence's life is a ghost. Can they still find romance? Find out when you read this quirky, fun novel.
---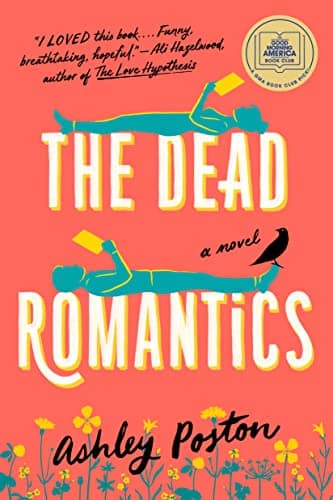 The Dead Romantics by Ashley Poston
Genre: Fiction/ Romance
The Dead Romantics follows the story of Florence. A ghostwriter who can no longer write because she does not believe in love. But when the ghost of her new editor shows up she starts to believe maybe she could love…except he's a ghost.
Read the full review here
Buy this Book: Amazon | Barnes & Noble | Books-a-million | Audible
---
Review: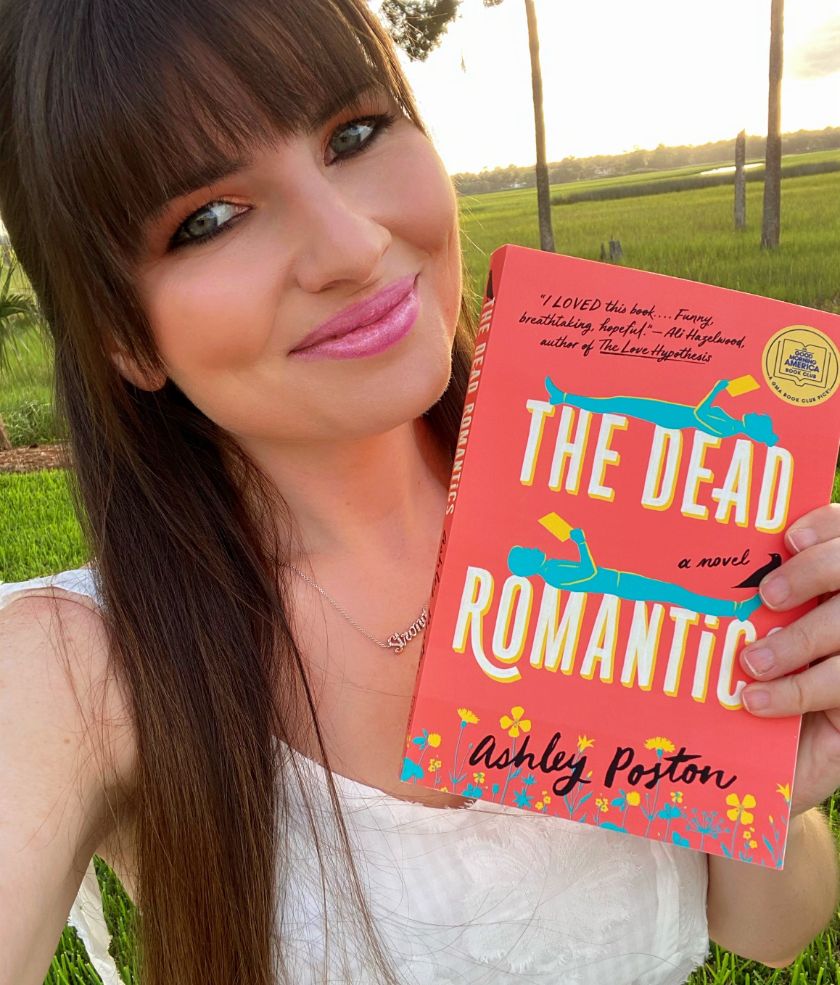 Overall, I really enjoyed this read. The chapters were short and easy to get through. The premise of this novel was perfect for September as it had ghosts intertwined with romance, and I haven't read that before. To my surprise, I really enjoyed the family funeral home and it being Florence's tie to her town. It was a plot point that I haven't seen done before. Florence was a great character, too. She really carried this book. Her voice was strong and quirky, allowing me to relate to her. My favorite part about her was her internal monologue scenes, especially when she first sees Ben appear as a ghost! She was well-rounded too, and grew throughout the book.
The chemistry between Florence and Ben was authentic, and I thought it was well written. Ben is my new book boyfriend. He was a great "ghost" character and my second favorite part of The Dead Romantics.The reason I didn't give this book a solid five-stars is because while I did enjoy it, I didn't find it had the same punch as other rom-com reads (like The Unhoneymooners by Christina Lauren). I wish there had been punchier laugh-out-loud moments.
Did you enjoy The Dead Romantics by Ashley Poston Book Review?
Drop a comment or give this post an emoji!
More Reviews from our Contributors
---
Jessica R.
Oh my word this book has completely stolen my heart! It made me laugh and cry (like all the best books do). I love that Florence constantly name drops real life popular romance novelists, like Nora Roberts and Christina Lauren.
Her struggle to reconcile with her hometown and her spooky family is poignant and perfectly set. And Poston does an excellent job of fleshing out side characters – to the point that I was just as invested in them as I was in Florence and Benji.
In this book we also know going in that the romance has a barrier that will be difficult to overcome, as well as one where physical intimacy is impossible. But Poston still manages to give us hope that Florence and Benji will get their happily ever after and finally be able to connect with one another physically.
Admittedly, I'm a fan of the macabre, but I really can't say enough good things about this one.
---
Lindsey S.
Being in the Bookstagram community, I sometimes forget that books don't always need to be overly complicated, with a bunch of twists and shocking turns. I was pleasantly surprised with the simplicity of The Dead Romantics. While on the surface, it's touted as a romance novel, it's deeper than that. It's about finding your place in the world and forgiving yourself when that means making "selfish" decisions. It's also about allowing yourself to be vulnerable, especially with the people you love and care about.
There were a lot of really charming, heartbreaking, and laugh-out-loud moments woven within the goofy plot and dad-joke level puns about death. Florence was a great leading lady who I rooted for from page one. She was flawed, and a little too tough at times, but throughout the book readers got to watch her soften. Benji, her new boss turned ghost friend, was swoon-worthy and a great, unexpected beacon of hope in Florence's life. I loved discussing theories with other bookish besties and what expectations we had going into this buddy read. There is a scene at the funeral home, after Florence's father's wake, that made me smile and cry at the same time. This is one of those books that I will definitely read again. In some macabre way, I found comfort within the pages.
---
Chandler M.
I kept seeing The Dead Romantics by Ashley Poston all over Instagram. When it was selected as the Hey It's Carly-Rae book of the month, I was so excited to have a reason to bump it up on my TBR! I really enjoyed the main character, Florence, and her growth in this book. The way she went from not getting along with her family and feeling like an outsider in her town, to mending relationships and finding peace with her past. I also loved how there were a few surprises thrown in to keep us on our toes. One of my favorite parts of this book was how the mayor of her hometown was a dog! So cute. Every town should have a dog as their mayor!
However, reading this book made me feel so low. Florence losing her father, and then falling in love with someone who she thought was dead just had me feeling too many things. I had to get a spoiler about the ending in order to have the motivation to keep reading. While I enjoyed the banter back and forth between Florence and Benji, I wish it had more laugh out loud moments. Then maybe I would not have felt so sad while reading it. I did love how the book ended, though! This is a three star read for me!
---
Vinsci F.
The Dead Romantics was an unexpectedly delightful read. It's probably one of my favorite reads this year. Florence Day is not your ordinary ghostwriter. She sees and communicates with real ghosts. In reading about her gift, you already know it's both a blessing and a curse. Florence also has another problem: She's having a hard time finishing her book. After a bad break up she believes that love is dead.
This book was fun, heartbreaking, touching, and hopeful. From the moment Florence's father dies and she finds Benji Ador as a ghost, I knew I would encounter a roller coaster of emotions. But reading the book was worth the risk. The author was able to wrap comedy and heartfelt stories in one book, from the dad and family jokes to Florence overcoming her insecurities and learning to believe in love again. I love how everything fell into place.
I was touched by the beautiful meanings behind Mr. Day's odd funeral requests like wanting Elvis to perform, a thousand wildflowers, and a murder of crows. I also love the sweet moments between Ben and Florence and that little mystery of why he kept disappearing while he spent time with her. If you like the movies Just Like Heaven and Heart & Souls this book is for you. Just like Casper, you will probably want to keep Florence Day and Benji Ador.
Kara V.
Some books are so well written that you are immediately able to connect with the characters. Their pain becomes your pain, and their joy your joy. The Dead Romantics is one of those books. It tugged at my heartstrings constantly. I don't have words to describe how well I connected with this book. Ashley Poston's descriptions of grief and the tangle of emotions, I thought, were spot on. Florence's pain after losing her father leaped off the pages and into my heart.
The romance between Florence and Ben is incredibly sweet and heartfelt. Their quirky personalities perfectly complement each other, and I enjoyed their banter throughout the book. It is hard to have a book about grief and romantic love make sense without one overpowering the other, but The Dead Romantics created the perfect balance between the two.
The book is so beautifully written, so full of growth, longing, and hope. It's a reminder to appreciate the little things, to hold on to those you love, and to believe in yourself.
I loved The Dead Romantics. Ashley Poston has a way with words, and I can't wait to read what she writes next!