This post may contain affiliate links, which means I may receive a small commission, at no cost to you, if you make a purchase through a link!
Part of Your World by Abby Jimenez Review is here. As many of you know, Part of Your World is my June Book Club Pick. We all voted, and this book got the most votes. I had never read a book by Abby Jimenez, and I had no idea what to expect! But what I did know is this book was getting rave reviews on bookstagram!
What is Part of Your World about?
This book centers around ER doctor Alexis Montgomery who is a part of the famed Montgomery line of doctors that head a very prestigious hospital. On her way back from a funeral, her car gets stuck, and she meets Daniel. A small-town guy who is ten years younger than her, tattooed, but very attractive. One thing leads to another on their first encounter, and the two start to have a passionate fling. Alexis knows that is all it can be…a fling. After all, she is set to run a very esteemed hospital. Her family won't allow her to be with someone like Daniel. Alexis, though cannot deny how Daniel brings the best out in her, allowing her to truly be herself, unlike her ex-boyfriend Neil who was emotionally abusive.
On the other hand, Daniel would move the world to make Alexis happy. But he loves his small town where he is the mayor, and he loves his family's legacy in the town. His world is nothing like Alexis's. He can't afford the things she has. While the age difference doesn't matter to Daniel, he has to find a way to convince Alexis he can make her happy.
But will these two be able to mold their two worlds together? Find out when you read Part of Your World!

Review: 4.5 stars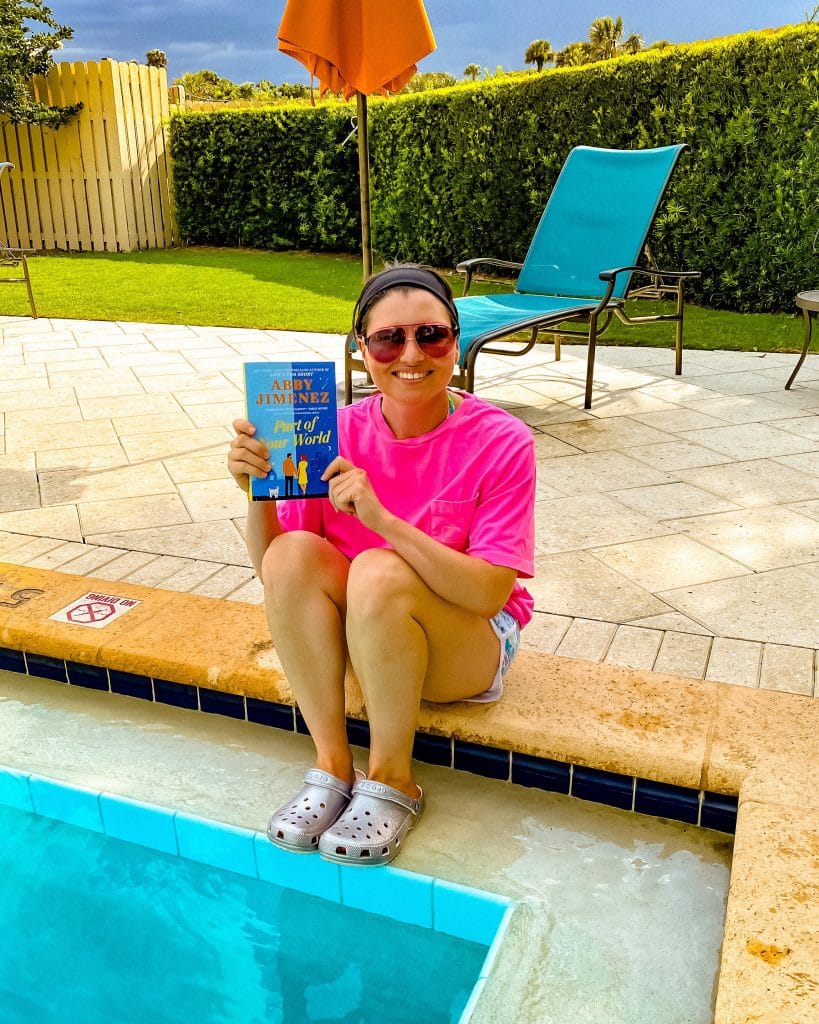 In short, I recommend reading this book. The dialogue, the plot, the characterization—everything was extremely authentic. The dialogue felt very natural. It literally sounded like things actual people would say. That may sound strange because books are supposed to read naturally, especially in dialogue, but some don't. In some romance books, the dialogue ends up sounding too cheesy or too over the top. Not Part of Your World, no matter how many sensitive topics this book tackles, it still reflects an authentic vibe from start to finish.
The plot was great too. I really liked how the romantic arc was driven throughout the story. I enjoyed the town of Wakan against the big city backdrop of Alexis. The characterization of the characters was also strong, and it felt like Abby Jimenez really knew her characters. Every character, no matter how big or small, played a huge role in driving the plot of this book. Each character was fully developed, which is a rarity in books with so many different characters.
My favorite line in this book was when Alexis remarks how Daniel could walk beside Kevin Bacon, and she'd still choose him. I definitely swooned at that line.
Share your thoughts!
You can follow me on Instagram, Twitter, Facebook, and Pinterest. Don't forget to check out my feature on Feedspot's Top 100 YA Book Blogs! You can also contact me about new reads today!