This post may contain affiliate links, which means I may receive a small commission, at no cost to you, if you make a purchase through a link!
I'm so excited about today's interview! We welcome Keisha Blair, author of Holistic Wealth Expanded and Updated. I'm sure many of you are as eager as me to find out more about this book. So, without anything further, let's get started!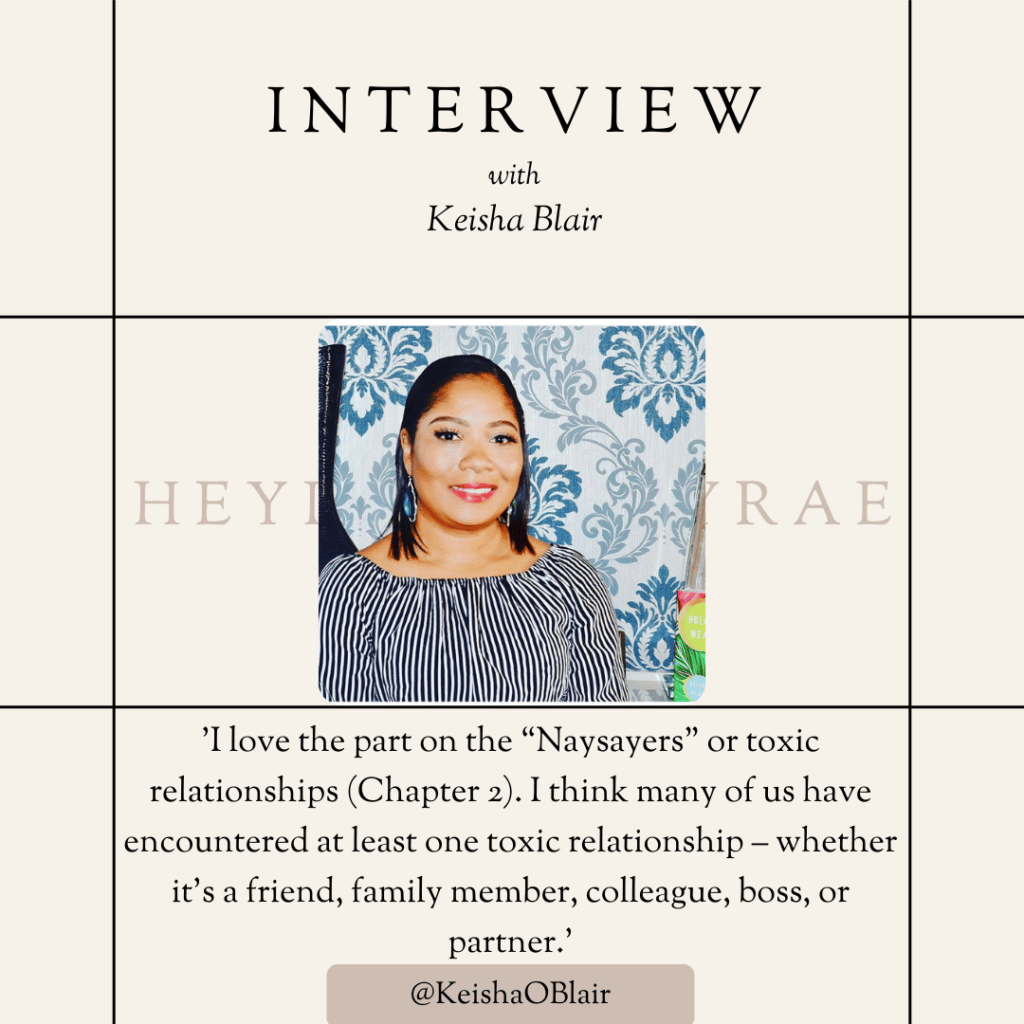 Welcome, Keisha! I'm so excited to have you join us. Tell us more about Holistic Wealth Expanded and Updated: 36 Life Lessons to Help You Recover from Disruption, Find your Life Purpose, and Achieve Financial Freedom.
Of course! The new Holistic Wealth Expanded and Updated book presents a framework for overcoming setbacks and disruptions in our lives. In the book, I use my personal story to bring to life these life lessons on how to achieve holistic wealth. After becoming widowed just after the age of 30 years old, I went on a soul-searching mission and took a one-year sabbatical to a tropical island. It's a story about love, loss, healing, and triumph, with life lessons on mental, physical, emotional, and financial wellness interwoven. Love is at the epicenter of holistic wealth, love for others, and love for humanity. Love for ourselves. I also wrote about finding love again after loss.
The first edition of the book was a result of a viral article that I wrote entitled "My Husband Died At Age 34. Here Are 40 Life Lessons I Learned From It". That article was viewed by more than 50 million people globally and was voted as one of the best articles for Millennials. A film producer then contacted me to write a short film entitled "The Moments I Miss" based on my personal story, which was filmed in Paris, starring Australian Actress Bambi Northwood Blyth. This expanded and updated edition with a Foreward by Actress Kelly Rutherford is really a culmination of a global movement that I started when I coined the term "Holistic Wealth" in the book, which was brought more to the forefront during COVID-19, and with the ongoing effort with my work at the Institute on Holistic Wealth.
Do you have a favorite section of this book you can't wait for readers to read?
Oh, that's hard. I love the part on the "Naysayers" or toxic relationships (Chapter 2). I think many of us have encountered at least one toxic relationship – whether it's a friend, family member, colleague, boss, or partner. This chapter of the book is part of the first section of the book called "Intentional Life Purpose" because I believe that our life purpose is at the very heart of holistic wealth. However, toxic relationships, negative messaging, and a narrative that we can't achieve our purpose is the most damaging of all – especially for young women. This is a message I want to get out to all young women – starting in universities and colleges (and even in high schools) – that we do have the power to achieve a purpose.
What was your favorite part of crafting this book?
My favorite part of crafting this book was getting to be really creative with molding a personal story and intertwining the life lessons for readers to take away. Each chapter starts with a bit about my journey as it relates to that life lesson and then takes readers into the importance of the life lesson for creating holistic wealth. It also features interviews with some of the most successful people on earth.
The cover is great. Were you involved in the design process?
Yes, I was, and it was amazing. That tropical feel from the cover represents so much about the one-year tropical sabbatical that I took, with the beach and nature. The gold circles represent gold coins because it highlights that quote from Aristotle in the book about wealth being more than just about "the coin." Aristotle spoke about the "art of wealth-getting" and the need for riches to be measured by more than just the acquisition of money. He states, "Originating in the use of coin, the art of getting wealth is generally thought to be chiefly concerned with it, and to be the art which produces riches and wealth; having to consider how they may be accumulated… Hence men seek after a better notion of riches and of the art of getting wealth than the mere acquisition of the coin, and they are right."
The colors on the cover are a great representation of the various aspects of holistic wealth. This includes mental health, physical health, financial wellness, spiritual renewal, and nature.
You mentioned Kelly Rutherford wrote the Foreward. What was that like?
Absolutely. It was an honor working with Actress Kelly Rutherford (star of Gossip Girl, Melrose Place, and Dynasty) on the Foreword. Kelly is widely known for her role as Lily Van Der Woodsen on Gossip Girl. A highly successful teen drama series that also starred Blake Lively and won over 18 awards. I first got introduced to Kelly through a mutual friend. I got to interview her on the Holistic Wealth podcast, where we discussed the importance of gratitude, mindfulness as well as her career in Hollywood. We became friends, and collaborating with her on the Foreword was a gift.
I so appreciate Kelly's words in the Foreward about the book: "Keisha Blair's game-changing book allows us to find the courage to overcome fear and setbacks, strengthening our connections to the world. Now more than ever, it's important to cultivate feelings of self-worth, love, and acceptance for ourselves and others. Even in the midst of setbacks. Holistic Wealth is indeed the framework for the art of recovery from disruption."
What was your writing process like? How long did it take you to craft this book?
It took me ten years to write this book. Of course, there were periods when I didn't write at all. My process started soon after my sabbatical, but I rewrote the manuscript about four times. It started out as a memoir and, after the viral article, ended up being a different book. I actually put down the manuscript for the memoir and started anew on this book. I still have an unpublished memoir as a result. My training at Harvard influenced the scope of the book as well. I wrote through my Harvard program. As a trained Economist, I also wanted to present a practical framework to guide readers through any life-altering setback.

Walk us through a day in your life when writing.
I write in the mornings usually before my three kids are out of bed. When I wrote this book, I was also part of international delegations. I had to get up at 5 am to get in at least 90 minutes of writing before my day started. I find it harder to write after mid-day, so I have to be very organized with my time.
What is it you hope readers take away from Holistic Wealth?
Holistic Wealth is one of the most important concepts in our generation, especially since COVID-19. When I coined the term, 'Holistic Wealth,' I could have never known it would become one of the most important concepts in our lifetime, given the disruption we've seen in the past two years. We are at an inflection point and have a once-in-a-generation opportunity to redefine how we measure wealth and success as well as our concept of work/life balance. Women are reassessing what truly makes them happy. They are taking this moment to make changes that will empower them to live and work on their own terms.
In the expanded and updated version of Holistic Wealth, the book offers the framework for the art of recovery. From disruption, presenting revolutionary strategies that will help readers regain balance. As the world navigates a new post-pandemic era and faces historic inflation amid an unstable geopolitical landscape, the world is seeing record rates of financial anxiety caused by these disruptions. A Holistic Wealth framework is broken down into four easy parts. This enables readers to assess and build wealth in all areas of their lives. From financial stability and physical health to emotional and spiritual connections with others, prosperity is more than just a number. It's a way of living.

Where can readers find you on social media?
On social media, I am @KeishaOBlair on Instagram and Twitter and KeishaBlairAuthor on Facebook. My website is www.keishablair.com and www.instituteonholisticwealth. Readers can also check out the Holistic Wealth podcast with Keisha Blair, available on all streaming platforms.
Thank you so much for joining us, Keisha! Definitely don't miss your chance to get your copy of Holistic Wealth! Stay tuned for more author interviews! Comment below any questions you have for Keishatoo!
You can follow me on Instagram, Twitter, Facebook, and Pinterest. Don't forget to check out my feature on Feedspot's Top 100 YA Book Blogs! You can also contact me about new reads today!
Please note: this interview is paid content.