This post may contain affiliate links, which means I may receive a small commission, at no cost to you, if you make a purchase through a link!
Today Author Claudia Lux joins me for an exclusive interview to chat all about her latest novel Sign Here. After I read about how the story centers around a guy who works in Hell (yes you read that right) I was hooked and couldn't wait to chat with Claudia!
Claudia, welcome! I can't wait to get started with our chat! The storyline of Sign Here is one I haven't read before. How'd you come up with the storyline?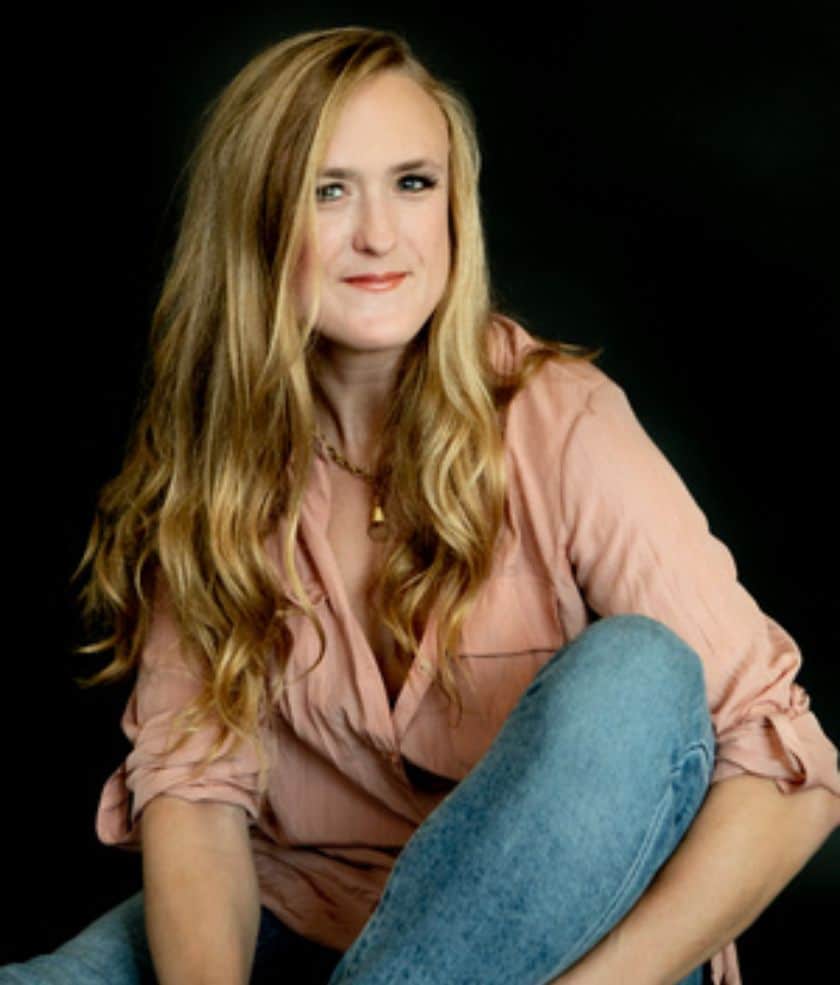 It all started with an insurance ad. Do you know how streaming stations will play the exact same commercial every break? Well, I was in a hotel room on a work trip, trying to unwind after the first full day of a three-day conference on domestic and sexual violence, and all I wanted to do was watch some stupid television.
But when that insurance ad started up for the billionth time, I lost it. I yelled out loud to no one, "THIS IS HELL." Then I looked around: a comfortable hotel room, work I cared about that gave me the opportunity to make a difference…it was far from hell. It got me thinking, what if there was a hell more focused on discomfort and annoyance as a method of torture? When combined with eternity, I thought it would be quite effective. And what kind of people would deserve this kind of Hell, as opposed to the fire-and-brimstone Hell we are all used to hearing about?
Who was the funniest character to craft?
I had a lot of fun with all of these characters, honestly. They all have components I find enjoyable to splash around in. But the funniest to craft were definitely the main players in Hell: Pey, Cal, KQ, and Trey. Imaging the meetings in the Deals Department and the right kind of boss to run them was a blast, and writing Trey, in particular, really cracked me up. We all know a guy like Trey.
Are any of the characters based on someone you know or a favorite television character?
There are little slivers of people I know in all of the characters. In the same way, there are slivers of the people I know in me, like how Lily and Madeline hide Malibu in a potted plant. That's a thing my friend and I used to do back in the day. Or for Trey, I started by thinking about the surgeon in the TV show Scrubs, Todd. But, scarily enough, the Harrisons and the Hell crew are all me and my wild, sometimes unnerving, imagination. At least it's rarely boring, here in my head!
What was the most difficult part of crafting this novel?
Sign Here is the third book I've written, but the first to get picked up for publication. Anyone out there who knows that they are a novelist but haven't gotten a book published yet knows how difficult it can be to keep at it. I was working more than full-time, so I spent more of my precious nights writing something I had no reason to believe would be seen by anyone besides my wonderful agent or tirelessly supportive mom.
It makes it hard to keep the faith. But my dad had a word for this: the dogged commitment to writing against the odds. He called it the sickness. The need to write, no matter what. The kind of brain that simply can't help but see the world as it could be written.
I still remember the first time he read one of my short stories, put his hand on my neck, and said, "I'm so sorry, kid, but you've got the sickness." He meant it tongue-in-cheek. He was proud of me. But it stuck with me because it does feel like a sickness, doesn't it? A compulsion. So, the most difficult part was making the time and sacrificing other things in my life (like sleep, for one) in favor of the novel. But I knew it had to happen, regardless of the outcome, even if it was just to go in my drawer next to the other two. I have the sickness. If you do, too, you know what I mean.
---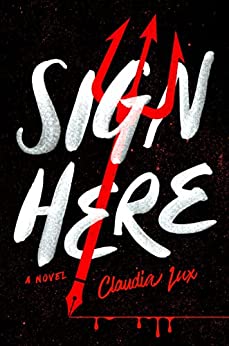 Sign Here by Claudia Lux
Genre: Fiction/ Supernatural Thriller
Sign Here tells the story of Peyote Trip who works in Hell (literally). He has a plan to get the soul of the Harrison family, but things aren't always as they seem.
Read more reviews ourthe book index here
Buy this Book: Amazon | Barnes & Noble | Books-a-million | Audible
---
Walk us through the writing process of Sign Here. Did you have this story in your head for a while?
The first kernel of the story started in that hotel room, but there was a while between that thought and when I started writing. At that time, I talked to people. I asked friends, coworkers, strangers I found myself standing near, whomever, what would go into their annoyance-based hells. The responses were not only numerous and enthusiastic but bonding. The commiseration led to bonds formed over recognition of one other's irritations. I knew I wanted that feeling for the reader: that "Oh my god, I HATE it when that happens!!!" kind of feeling, which is part of why I created Pey to be able to communicate with the reader, to keep them close. The Harrisons came along in answer to that.
Did you always want to be a writer?
It's a crazy thing, being a writer. I often say it is as close to being schizophrenic as it gets: so many voices in your head, demanding attention, swearing they have a more compelling story than reality. I was an avid reader and wrote a lot of stories starting really young, and I always wanted to be a fiction writer when I grew up.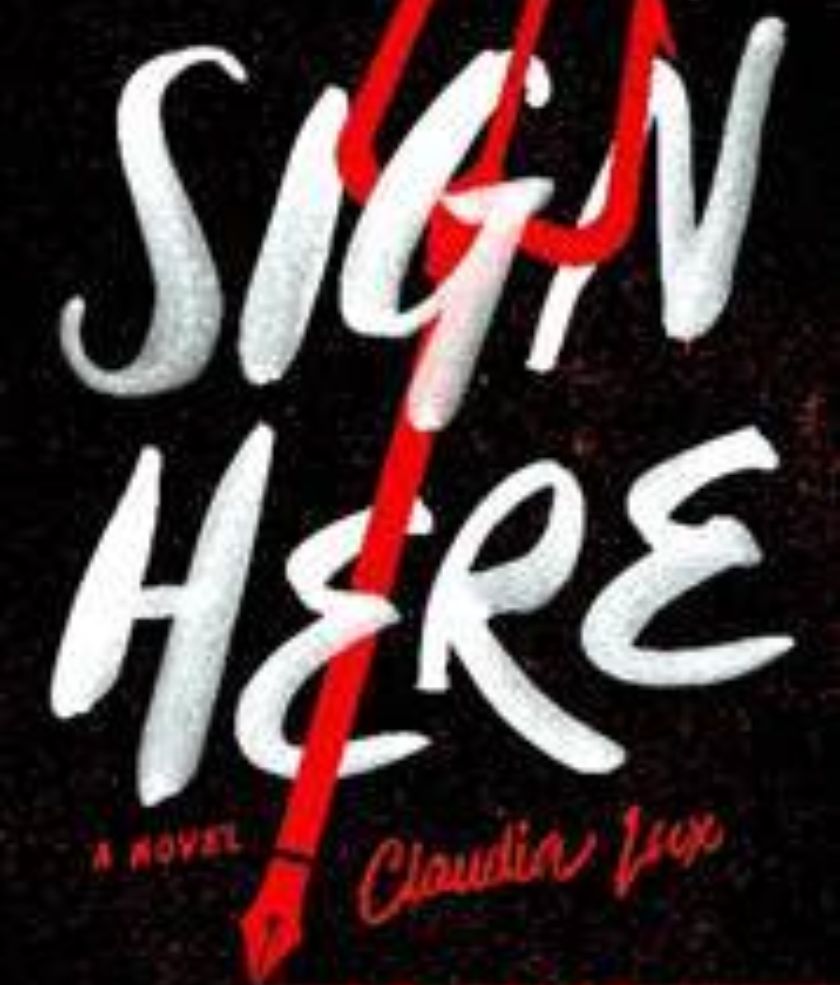 As the only child of a non-fiction writer and a poet, Jean Kilbourne and Thomas Lux, I am lucky that the goal of being a writer was never discouraged by my parents, and I had examples of success in the field. But on the flip side, as I got older, I was intimidated by my parents' success, certain that I would be the exception. So, I followed other passions.
I got my Master's Degree in social work and became a therapist. I value this degree, career, and the people I met deeply, and I use what I learned all the time in my writing as well as out in the world. I am not done with this work. But the need to write—the sickness—was always with me, and eventually, I couldn't deny it any longer. I had to know how the stories in my head would turn out.
Will there be a sequel to Sign Here?
I don't think there will be a sequel, but never say never! I have another book with Penguin's Berkley in 2024, which has similar components: a wrench is thrown into what we consider normal and a rollercoaster mystery throughout. It should be some good, twisted fun!
Where can readers find you on social media?
My website, www.claudialux.com, has all the best ways to find me. My Instagram is @signedclaudialux, and I have an author Facebook page under Claudia Lux.
Before I let you go, is there anything else you want to add?
I'll leave y'all with one insider tip: my website has a link for bits of the Hell Orientation packet that Pey and Cal are always referencing! It's a fun resource if you want to learn more about what happens on each floor or what the different Deal Department methods mean.
And to any folks who live in Massachusetts, I'm doing a book launch reading at Brookline Booksmith on October 27th! Check out their website to register: https://www.brooklinebooksmith.com/event/live-brookline-booksmith-claudia-lux-sign-here
Thank you so much for these questions! It has been a blast.
Did you enjoy my interview with Author Claudia Lux?
Drop a comment or emoji below!