This post may contain affiliate links, which means I may receive a small commission, at no cost to you, if you make a purchase through a link!
The first time I came across the book Nora Goes Off Script by Annabel Monaghan at the bookstore, I picked it up. I absolutely adored the color combination on the cover. Then, I read the back cover and was hooked. I immediately went home and started reading, putting aside the other books on my ever-growing TBR. I was so glad I did, too. I could not put this book down and read it in a day!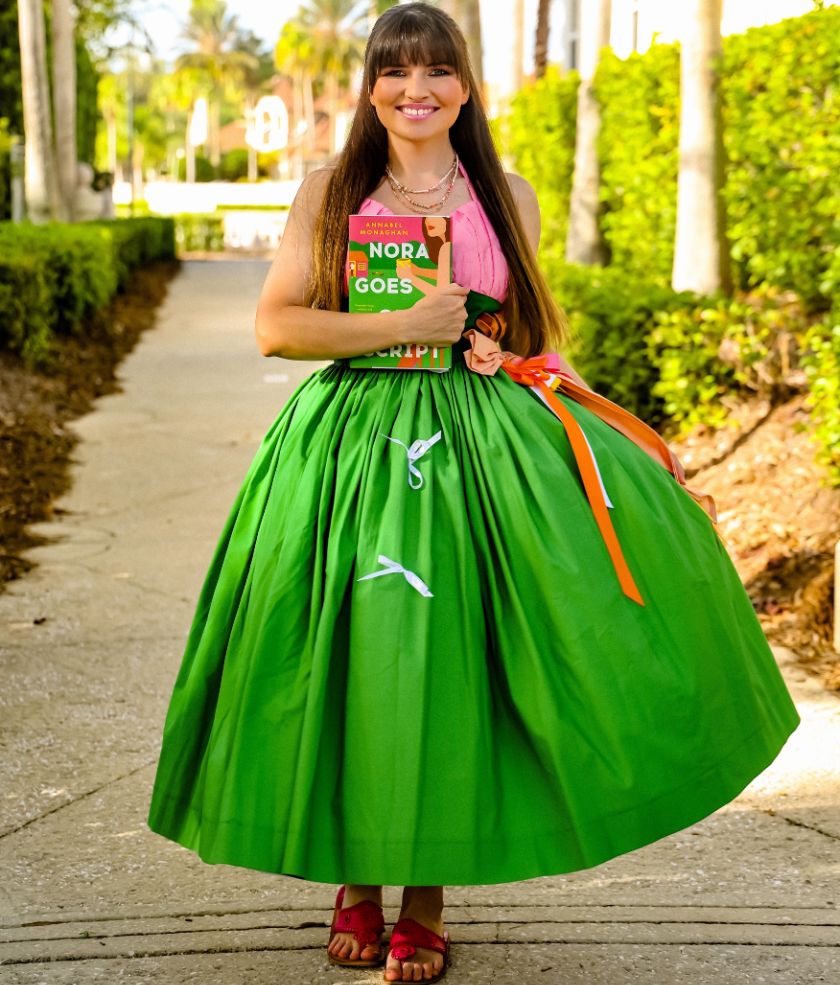 Nora Goes Off Script by Annabel Monaghan tells the story of Nora Hamilton. She is a romance screenwriter who knows how to craft a romance and what beats need to be where. But her life gets turned upside down when her husband leaves her and their two kids. Nora decides to do what anyone would do. She writes a script about it. She doesn't expect it to be a hit, nor does she expect it to be made into a big-screen movie. What she really doesn't expect is former Sexist Man Alive, Leo Vance,  to be cast as her husband.
When filming wraps up, Leo remains behind. He wants to stay at Nora's house, where the shooting took place. Better yet, he'll pay her seven thousand dollars for the week. Nora agrees. What harm could a week do? She soon learns that seven days is enough time to find love again. But is it lasting love?
I absolutely adored this book. It was such a wonderful read. Nora is a great protagonist and the storyline was unlike any others I've read. I could not wait to talk to Jacqueline Firkens, who designs all the book dresses, about it. She grabbed a copy and dove in, also loving the plotline, so we decided to collaborate and turn the cover into a book dress.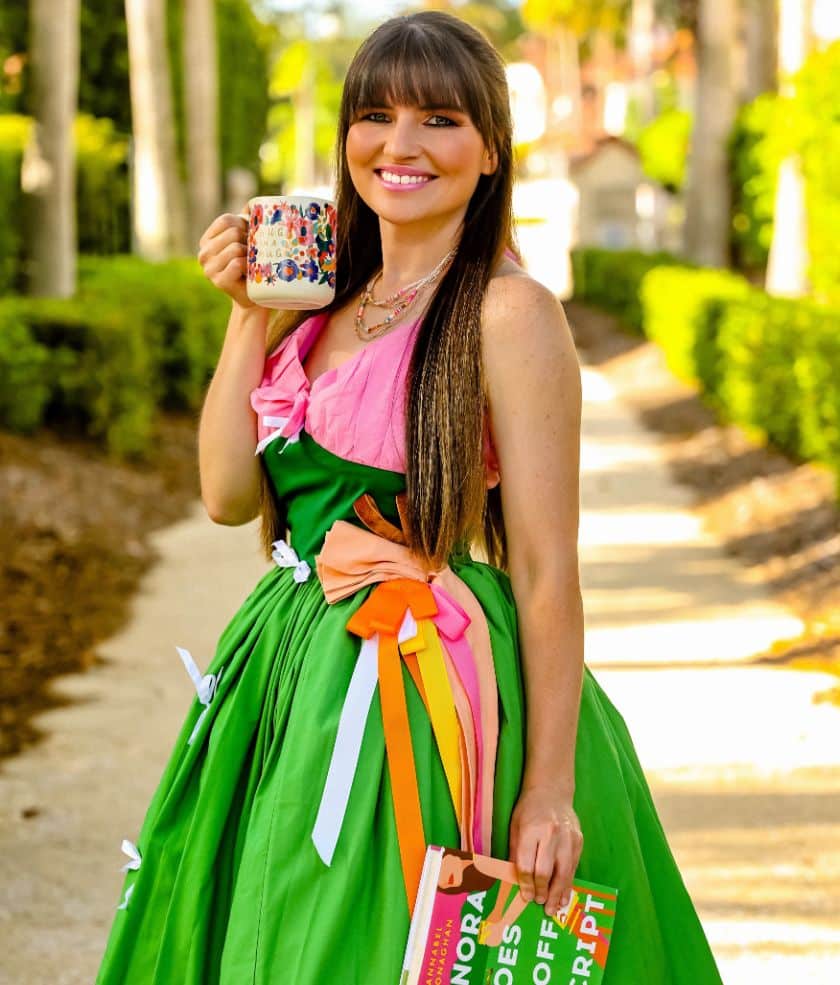 The color combination and the added bow on the side are my favorite parts of the dress. It really pulls in all the colors from the cover. Not only that, but the pink bodice against the green combo on the halter makes the dress stand out.The white bows down the front give this book dress a feminine touch, reminding me of Nora's character. I decided to pair the dress with pink Jack Rogers sandals, since the dress has a fun summer vibe.
I talked to Jacqueline, and this is what she said about this book dress!
'For the design, this color combo was such a unique one to play with on a dress, and I ran with it. I divided the dress into three main sections—bust, waist, and skirt—rather than trying to literally reproduce the landscape. There's a lot going on with the cover, and I tried several variations of how much detail to include or leave out. In the end, I lost the hut and male figure, as well as the film slate/clapboard, keeping only the bow representing the figure and railing on the right, and the white ribbons to bring in the title. Everything else got too busy against a pink & green color combo that already had plenty of pop. It's a dress style that suits a Santa Monica beach picnic before a Hollywood movie premiere.'
I definitely agree that this book dress suits a Santa Monica beach picnic. It is one of my favorite designs, mainly due to the unique colors and how they offset this book cover.
What's your favorite book dress so far? You can check more out here.
What do you think of this Nora Goes Off Script Book Dress?
Drop a comment or give this post an emoji!
---
Shop the book!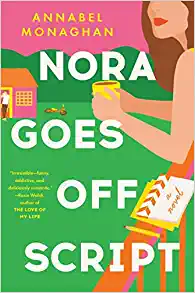 Nora Goes off Script by Annabel Monaghan
Genre: Fiction/Romance
This story follows Nora who is a romance screenwriter. After her husband leaves her she writers a script about her life resulting in it being turned into a big budget film. But she never expects to fall for the leading man.
Read more reviews on our book index here
Buy this Book: Amazon | Barnes & Noble | Books-a-million | Audible