This post may contain affiliate links, which means I may receive a small commission, at no cost to you, if you make a purchase through a link!
Today, author Willow Aster joins me to chat all about Unforgettable! I can't wait to chat with Willow about this release and find out more about the upcoming books in the series.
Willow, welcome! Tell us more about your new romance read, Unforgettable.
My latest book, Unforgettable, is the first book in my new small-town Landmark Mountain series. Jamison and Scarlett have an unforgettable night together and expect to never see each other again, so imagine their surprise when they find out they have to work together!
What are you most excited for readers to read in Unforgettable?
I'm excited for readers to fall in love with Jamison and Scarlett, their families, and all the fun and quirky characters in Landmark Mountain.
Who was your favorite character to craft?
I fell hard for Lucia and Delgado, two furry sidekicks.
What did you enjoy most about crafting this love story compared to your other romance novels?
I've never written about a one-night stand before, so that was fun! I wanted to make sure Jamison and Scarlett had an undeniable connection and yet for it to seem realistic for two people who had never met to fall into bed together. 😊
Unforgettable is book 1 in your new series. Will the other books follow the same character?
Each book in the rest of the series will be about one of Scarlett's brothers, who we meet in Unforgettable. And for anyone interested…Jamison is a side character in my last book, Autumn Nights…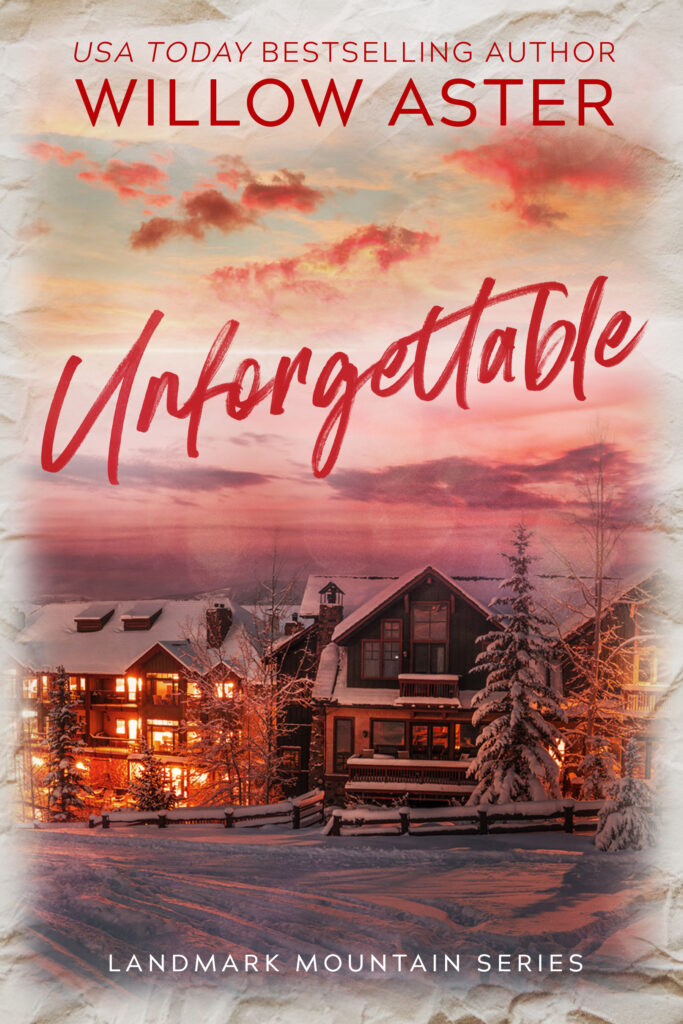 Let's talk about your writing! How do you keep all your stories straight? Do you outline? Keep a notebook?
I do keep a notebook, and I write in Scrivener, so there's room for lots of notes and character descriptions. I usually have pictures of anyone who reminds me of a character, along with details of everything from their eye color to their favorite drink. I'd say I loosely outline, so I know the main plot points for the entire story…it's all the little details in between that come as I'm writing.
Do you have an all-time favorite novel you've written?
In the Fields is my favorite…and True Love Story will always be too.
What's your favorite part of being an author?
I love being able to do what I enjoy most—write! And the fact that people read my stories is still something I pinch myself about. I absolutely love being an author!
When can readers expect book 2 in this series or your next release?
June 29th, hopefully, and no later than July 13th
Anything else you want to add before I let you go?
Thanks so much for having me! XOXO, Willow
Thanks for joining me! If you all have any questions drop them below and give this post an emoji! I really enjoyed chatting about Unforgettable, and if you've read it, let me know your thoughts too!
Table of Contents