This post may contain affiliate links, which means I may receive a small commission, at no cost to you, if you make a purchase through a link!
My Killer Vacation by Tessa Bailey Review is here. For the month of July, my book club picked My Killer Vacation to be our July book pick. I have to say I was very excited. This book was said to be not only a mystery but also a rom-com. Two combinations I have not seen in a book before! Now, before I give you all the gritty details of my review, let me tell you what this book is about!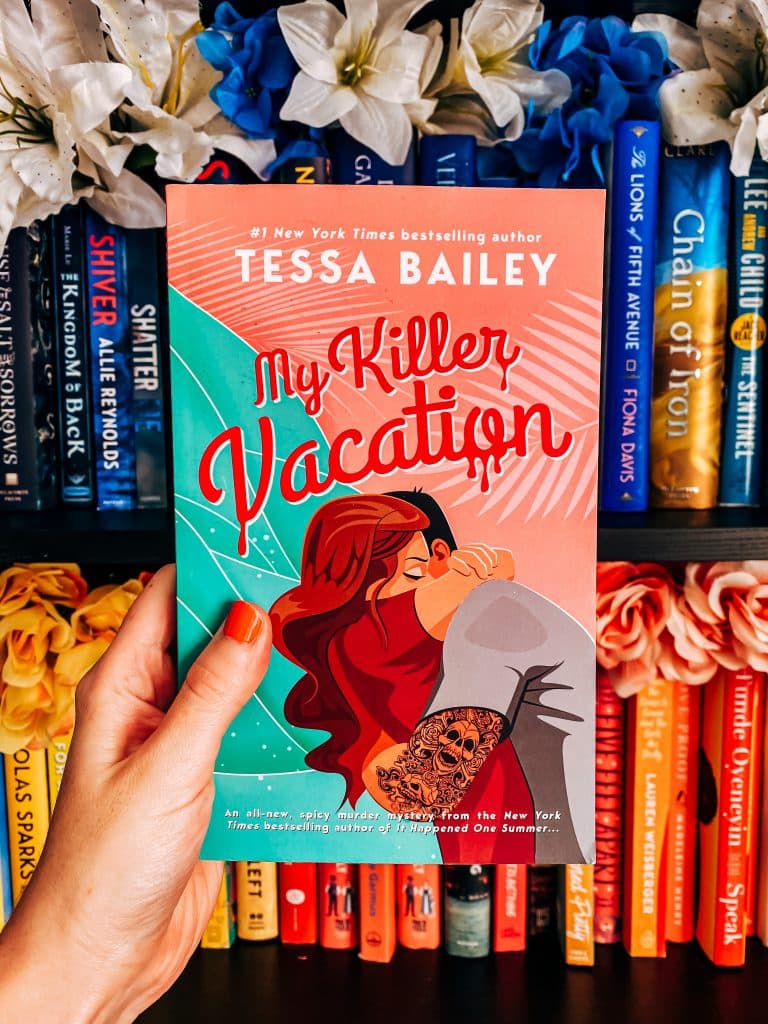 Synopsis:
This book centers around Taylor, who is a teacher. She has saved up enough money to rent a really nice house in Cape Cod, bringing her brother, Jude, with her. Taylor cannot wait to spend the week there, telling her brother this vacation is for him to just relax. Jude insists Taylor needs to enjoy it too, but upon planning a relaxing soak in the claw tub, Taylor finds a dead body. Needless to say, this vacation takes a turn for the worst! The body belongs to the owner of the house. After police contacted his family, his sister shows up and decides to hire a bounty hunter to find out what happened to her late brother. Enter bounty hunter Myles, who is not only rough around the edges but plans on getting in and out of this sunshine town as fast as his motorcycle brings him in.
But things change when he meets Taylor, and the two form an instant connection. But with a killer still lurking around and whose next target is Taylor, is there time for a lasting relationship? Myles finds his main priority is keeping Taylor safe, but with his focus on her, will he let the killer slip through his fingers? Find out when you read My Killer Vacation!
Review:
My Killer Vacation was not for me. I thought the characters were underdeveloped. There were so many grammatical mistakes, and the chapter flow did not make sense. I also was not a fan of the instant love between Taylor and Myles. I admit, at first, that the premise of a murder/mystery/romcom sounded appealing. But after Chapter 1, that quickly disappeared. The book suddenly became more about the physical relationship between Taylor and Myles, leaving the mystery behind.
Taylor, I did not find, was a very developed character. It made reading from her POV not as entertaining as I hoped. I was not sure of her goal throughout the book. At first, it sounded like she needed a vacation (which I still have no idea why). It was hinted something happened, which made me think Taylor required one, but we never found out. Then her goal shifted to exploring the unfulfilled physical aspect of her relationships. Again, this made the whole murder mystery theme seem to be forgotten throughout the chapters. I also thought Myles was underdeveloped. He came across as crude and not someone I liked. It wasn't until close to the end that I understood his roughness, but still it didn't seem to coherently match his characterization. His stalker vibes and roughness with Taylor behind closed door was not appealing to me personally.
Next came the grammatical mistakes.
There were so many errors that it frustrated me reading. My biggest pet peeve while reading is grammatical errors. Even with the book being indie, I still felt like there was way too many mistakes to excuse it.
The chapter flows also made no sense to me. The scenes were all about Taylor and Myles getting to super spicy scenes (which I have nothing against), but again, it didn't fit with the plot. It may have if there was no mystery aspect. But even if there was no mystery, the spice scenes were…SPICY! I HAVE Nothing against spice in a book, but am I the only one who noticed them first getting together only feet away from where she found a dead body HOURS before? Then there was the whole parking lot scene and church scene. Again for me, I wasn't a fan of the layout as I didn't find it appealing.
Taylor and Myles's instant love connection also fell flat. Sometimes, I do like the whole meet at first sight and fall in love. Part of Your World touched upon that, but the plot also let the relationship develop between Alexis and Daniel. In My Killer Vacation, it was too much overwhelming physical connection with no real relationship behind it all in a murder/mystery situation that made it all the more unbelievable. I mean, think about it, did Taylor know Myles's favorite color or anything of value before she suddenly fell in love with him? Personally, I didn't see it.
I will say the cover is great and the mystery had the bones. The whole peepholes in the ceiling and the twist at the end were good, but it was so underdeveloped I didn't really feel much when there was this big reveal. How about you? If you've read My Killer Vacation let me know your thoughts!
Discloser: this article may contain affiliate links. At no cost to you, HeyitsCarlyRae will receive a commission if you chose to click through and use the link to make a purchase.