This post may contain affiliate links, which means I may receive a small commission, at no cost to you, if you make a purchase through a link!
The Lifeguards by Amanda Eyre Ward Book Dress is here. So a few months ago, I got to interview Amanda Eyre Ward on YouTube! We had so much fun chatting! Amanda is not just a great author. She's a great person. You can watch our interview here.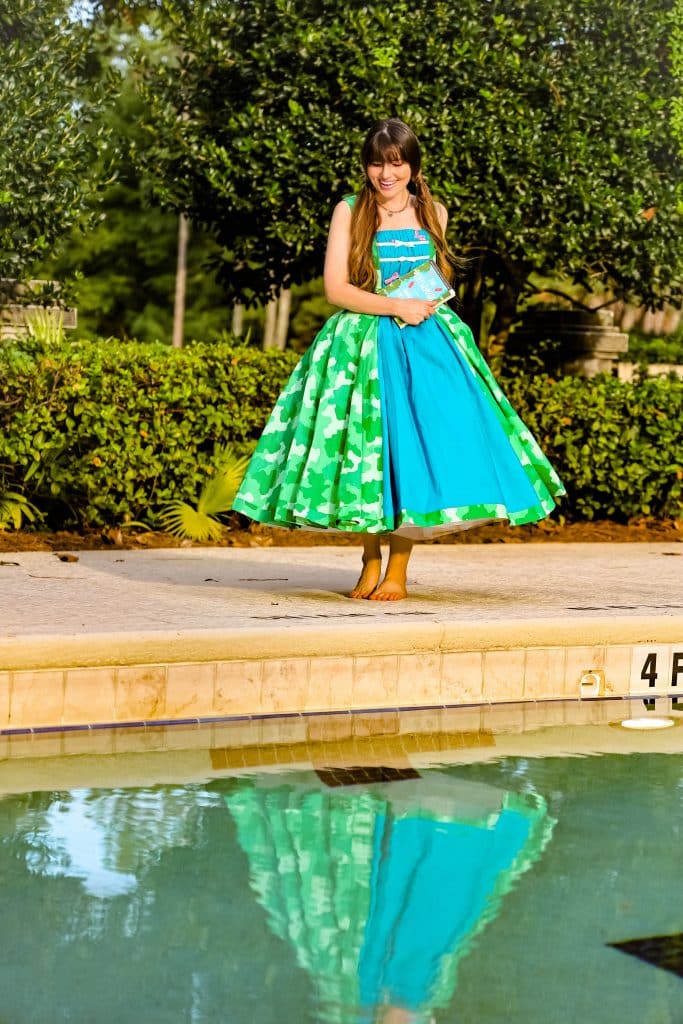 Anyway, Random House contacted me a few months before The Lifeguards was set to release and sent me an ARC of the book. Needless to say, I loved the story! It centers around Whitney, Annette, and Lisa. They have known each other for more than fifteen years and have raised their children together in the Austin, Texas, neighborhood of Zilker Park. (Fun fact: the town is actually based on the town Amanda resides in)! Anyway, one night as the moms are having their usual happy hour, the boys who are lifeguards for the summer come back with a secret. A secret that will shatter the perfect, safe world their mothers think they created. This suspense story will keep you on your toes, but the better question is what secret will be told and who will keep it? Better yet, will these characters ever be the same?
I found out the answer when you read this book (if you haven't already)! As soon as I finished reading, I reached out to Jacqueline, who designs all my book dresses, telling her to read this novel. She got an ARC and enjoyed the story, too, leading us to collaborate on this book dress! I will say Jacqueline is not just an amazing designer. She has become a great friend. We chat all the time about books, and our conversations have become one of the highlights of my days.
For The Lifeguards book dress, Jacqueline outdid herself…again! I LOVE how this book dress reflects the cover of this book. The design on the sides to the straight blue color down the middle truly reflects the cover of The Lifeguards. I also love the tiny bows on the front! Overall, this is another book dress I really, really love! I know I always say that but asking me to pick a favorite book dress is like asking me to pick a favorite book. It's impossible!

What do you think of this book dress? Comment below and let me know!
You can follow me on Instagram, Twitter, Facebook, and Pinterest. Don't forget to check out my feature on Feedspot's Top 100 YA Book Blogs! You can also contact me about new reads today!