This post may contain affiliate links, which means I may receive a small commission, at no cost to you, if you make a purchase through a link!
The Unhoneymooners by Christina Lauren centers around Olive and Ethan who go on their siblings honeymoon after they come down with severe food poisoning.
What is The Unhoneymooners by Christina Lauren about?
This book centers around Olive Torres, who deems herself permanently unlucky in everything she does, unlike her twin sister Ami. Ami uses her luck and plans an elaborate wedding to her fiancé Dane, hardly having to pay anything because she wins contest after contest. On the day of the wedding, though, Ami's luck runs out, and everyone gets severe food poisoning from the seafood buffet. Everyone except Olive and the best man Ethan Thomas, whom Olive detests.
One thing leads to another, and Ethan and Olive go on Ami and Dane's honeymoon in Hawaii. There they pose as a married couple, so Ami doesn't lose out and have to pay. But neither wishes the other was there because Ethan doesn't think Olive likes him, and Olive thinks Ethan doesn't like her because she isn't stick thin.
Regardless the two are stuck on this honeymoon together. It only gets more complicated when Olive's new boss Mr. Hamiliton and his wife discover she is there on her honeymoon, while Ethan's ex-girlfriend is there with her new boyfriend.
The two form a truce and put up a united front, and start to do all the honeymoon activities the resort offers. Will these two finally find common ground? Meanwhile, when the two arrive back home, will reality change things, thrusting them back into their old bickering ways? Find out when you read The Unhoneymooners.
The Unhoneymooners by Christina Lauren Review: 5 stars, and here's why…
Review is here. As many of you know, this book was my May Book Club Pick! I was so excited to read this one because it was my very first Christina Lauren book ever! Yes, I know, I know I have no idea why I didn't read their books sooner! I will say I wish I had because this book may be my new favorite! But before I get ahead of myself, let's talk about this book!
I have to say The Unhoneymooners may just be my new favorite read, especially for summer. It's funny, heartfelt, and fast-paced. I honestly had no idea what to expect when I started reading this book. I'd never read a Christina Lauren book. But oh my gosh, this book was hilarious! Olive is a strong, well-rounded character.
Her dialogue with Ethan is beyond hilarious, and the two really offset each other, allowing me to laugh harder than I ever have before when reading a book! The descriptions were perfect. I've never been to Hawaii, but a reader in my book club went there this month for her honeymoon and said the descriptions were spot on. I will definitely be booking a trip there one day, thanks to these authors!

I also loved the side story of Ami and Dane. If you've read this book, you know what I'm talking about when I say I loved the scene at the end when Ami stands up for herself. It was a great layer in this book that sealed its five-star review.
Overall, I recommend reading The Unhoneymooners. Even if you aren't a huge romance reader, I feel like you'd still enjoy this book. It's fast-paced (I read it in a day and a half), and the characters are heartwarming. Olive is a strong protagonist who carried the plot of this book throughout and made me want to keep reading. Seriously, I couldn't read this book fast enough!
Have you read The Unhoneymooners? Share your thoughts! If you haven't, order your copy today!
You can follow me on Instagram, Twitter, Facebook, and Pinterest. Don't forget to check out my feature on Feedspot's Top 100 YA Book Blogs! You can also contact me about new reads today!
The UnHoneymooners by Christina Lauren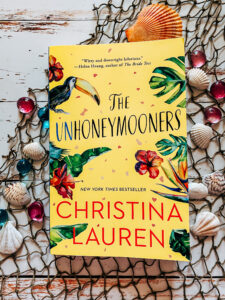 The Unhoneymooners by Christina Lauren centers around Olive and Ethan who go on their siblings honeymoon after they come down with severe food poisoning.
URL: https://amzn.to/3QyBwv4
Author: Christina Lauren