This post may contain affiliate links, which means I may receive a small commission, at no cost to you, if you make a purchase through a link!
R. Eric Thomas Exclusive Interview is here. I'm so excited to welcome Eric to Chit Chat. For those that don't know, he just released his debut novel Kings of B'more. I discovered his book thanks to Random House sending me an exclusive book box! The colors and the vibrant twists grabbed my attention, and I jumped into reading his book. It's fabulous! The Ferris Bueller's Day Off inspiration really jumps out of the pages. But before I get ahead of myself, let's get Eric to jump in and answer some questions for us!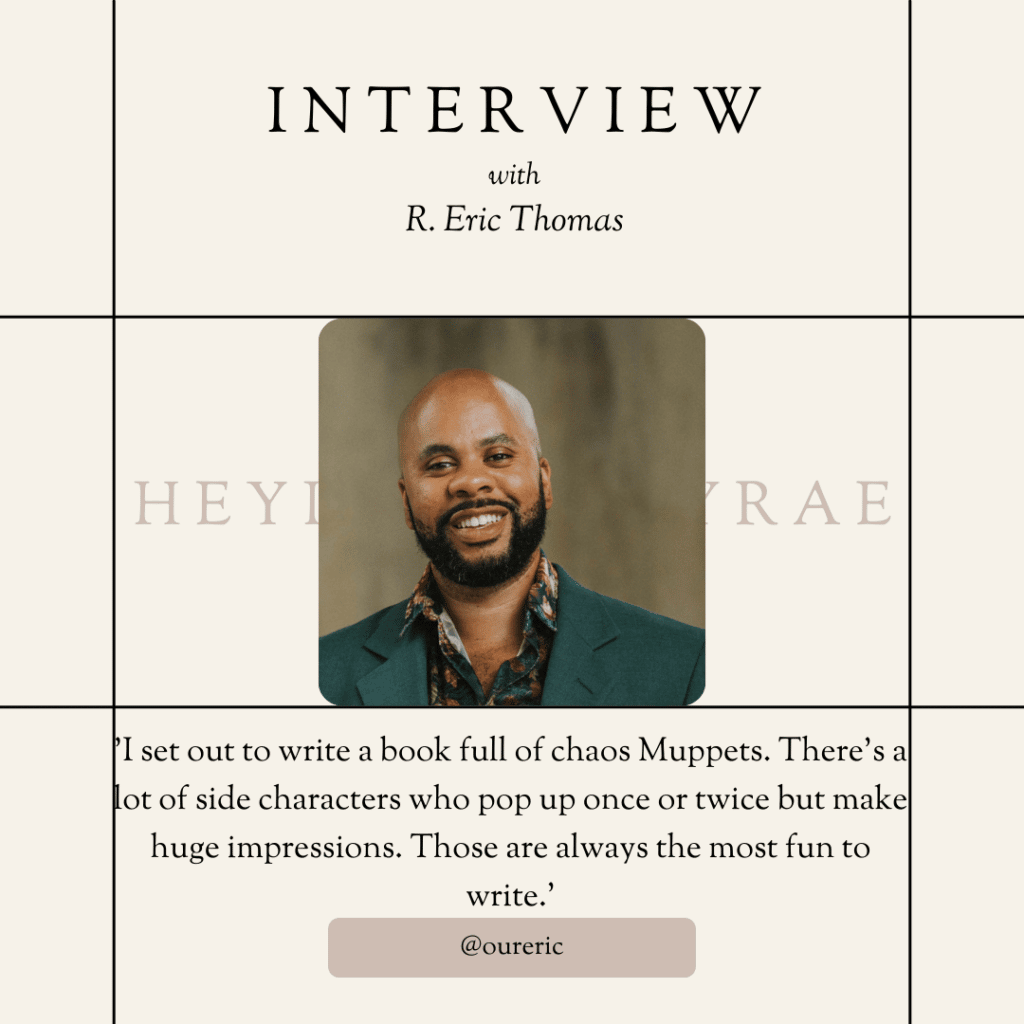 Tell us about Kings of B'more.
Kings of B'more is my Young Adult novel debut, and it's a summer romp. It follows two Black, queer 16-year-old best friends who are about to be separated by a move. Scared to lose their connection and inspired by Ferris Bueller's Day Off, one of them plans an epic day of city shenanigans that quickly goes off the rails but changes both of them forever.
Do you have a favorite chapter in Kings of B'more you can't wait for readers to read?
Oh, there's so many great moments that I loved writing. There's a chapter set at the Pride street festival that's really vibrant and full of big characters and a lot of heart. I think that's my favorite; it reads like a mini-movie.
Let's talk characters. Do you have a favorite?
I set out to write a book full of chaos Muppets. There's a lot of side characters who pop up once or twice but make huge impressions. Those are always the most fun to write.
The cover is great. It's vibrant and really sets the tone for your story. Were you involved in the design process?
I was fortunate to be included from the beginning, but everyone is such a talented professional. I really just got to sit back and watch the magic happen. They sent me a couple of cover artist options, and Alexis Franklin's work immediately stood out to me. When I saw what she did with Harrison and Linus, I gasped. That's them!
Did you always want to write a book?
Yes and no. I love reading and always have. Even before I could actually read, I loved books. And I love writing. But I didn't set out to write a book, per se. I set out to express myself, and I feel really lucky that books are one of the forms of expression that will have me.

Some readers may not know this, but you were a Senior Staff Writer at ELLE.com until 2020. Does writing for Elle differ from writing a novel?
It was all very immediate. Things would happen in the morning, and I'd be publishing a piece on them by noon. It was also all jokes–I was writing a humor column about politics and pop culture—so there wasn't the same need for narrative or pathos that a novel has.
Walk us through a day in your life when writing. Are you organized? Have to write at a certain time of day?
Oh, it's all chaos. Since I have a lot of different projects going on, every day is different. I also write for television. I'm subbing for Dear Prudence, the Slate advice column, I write two weekly newsletters and have a number of plays in production, so I'm always writing something. I have a desk and an office at home, but since I'm away a lot, much of my writing time is spent on the couch or on planes or trains. But it all gets done! Well, most of it gets done.
What advice would you give to writers out there hoping to maybe one day publish a book?
Write for your own enjoyment and never pass up an opportunity to work on your craft, be it through a workshop or a book, or article.
What is one thing you hope readers take away from Kings of B'more?
I sometimes call this a platonic love story, so what I'd like readers to take away is the power of having a friend who truly knows you.
Finally, where can readers find you on social media?
I'm on Twitter and IG at @oureric
Thank you so much for joining us, Eric! Definitely don't miss your chance to get your copy of Kings of B'more! Stay tuned for more author interviews! Comment below any questions you have for Eric too!

You can follow me on Instagram, Twitter, Facebook, and Pinterest. Don't forget to check out my feature on Feedspot's Top 100 YA Book Blogs! You can also contact me about new reads today!