This post may contain affiliate links, which means I may receive a small commission, at no cost to you, if you make a purchase through a link!
Run, Rose, Run by James Patterson Review is here. I did a buddy read with this book in my book club on Instagram and I was so excited because this book is co-written with Dolly Parton! Admittedly, at first, I was hesitant. I wasn't sure what to expect and if it would be Patterson's strongest book. But I was definitely surprised in a good way.
What is Run, Rose, Run about?
This book centers around AnnieLee Keyes. She is running away from her old life and heads to Nashville, Tennessee to pursue her dreams of being a country music singer. In Nashville, AnnieLee is determined to prove herself. She ends up singing in one of the saloons in downtown Nashville where she meets Ethan Blake. A fellow musician with his own set of secrets. However, Ethan knows the Ruthanna Ryder, who is basically country music royalty. This character is also based on Dolly Parton, and it shows! Ethan introduces the two, and from there, Ruthanna takes AnnieLee under her wing. Ruthanna knows, though, that there is a part of AnnieLee's former life she can't unfold. Still, Ruthanna doesn't give up on AnnieLee and shows her the ins and outs of Nashville, leading her to not just achieve her dreams but to make them last.
Right when AnnieLee starts to make a name for herself and form a deeper attachment to Ethan, her past catches up with her. No longer can AnnieLee outrun her past, and it puts her in a very dangerous position. Will Ruthanna be able to help AnnieLee when she discovers this girl is not who she said? Moreover, will AnnieLee be able to save herself from her past life? Find out when you read Run, Rose, Run.
Review:
Alright, I give this book 4-stars. It is definitely not the strongest Patterson mystery by a long shot. I read a lot of thrillers, so I compared it to them, and it just didn't do it for me. If you're looking for twists in this book, I don't think you'll find them. In a way, the mystery felt like a piece of this book that didn't need to be there.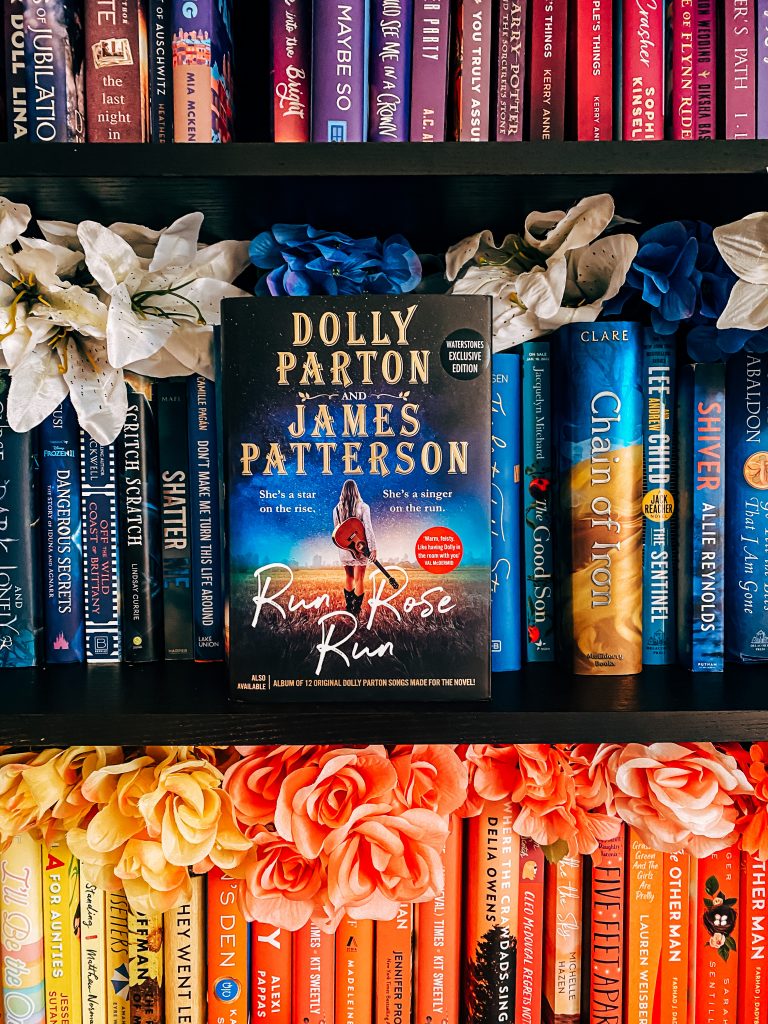 However, the storyline felt so authentic that it overshadowed that flaw and why it still gets a 4-star. I really enjoyed Dolly's strong voice in this book and how she brought her Nashville life into this story and made it feel real. You could tell she really used her personal experience in Nashville to bring to life this plot and the cast of characters. It all felt very true and made me feel like I was right there with the characters. Even in the sections where the characters sang a song, the lines paused, and I loved how we got to feel right there with them on stage.
My final thoughts/recommendation with this book is to download the audio. I hardly listen to audiobooks, but I listened to this one when I heard Dolly voiced Ruthanna. She did a fabulous job. In fact, the entire audio cast did amazing. It made this book stand out even stronger for me. Anytime I recommend this book, I recommend listening to the audio!
If you've read this book, share your thoughts!
Oh, and there is a soundtrack to match this book too! It is great! You can follow me on Instagram, Twitter, Facebook, and Pinterest. Don't forget to check out my feature on Feedspot's Top 100 YA Book Blogs! You can also contact me about new reads today!