This post may contain affiliate links, which means I may receive a small commission, at no cost to you, if you make a purchase through a link!
Sinai Unhinged by Joanna Evans is out now.
Lethal mistakes during a secret experiment drive scientists insane and plunge their therapist into a frightening search for the truth—and a dangerous fight for her life.
As the cries of a volatile patient in the psychiatric ward of Sinai General haunt therapist Alexandra Kraig, she realizes something terrifying has happened at the Complex. Mistakes have occurred there, mistakes that have changed him. When Alex's closest friend, also a scientist at the Complex, develops deeply disturbing behavior, she becomes determined to uncover the truth about the particle physics experiment hidden deep within the Complex walls, a project her missing father warned against many years before.
With her friend on the brink of madness, Alex resurrects her father's research, infiltrates the Complex, and races to halt the experiment's destructive force. A dark element has another plan, hijacking the system, intensifying an already looming catastrophe, and propelling the Complex toward implosion. Battling the enemy and the machine, Alex faces a ticking clock as she struggles to find the answer buried somewhere in her father's secrets, an answer she desperately needs if she is to save her own life and the lives of thousands more.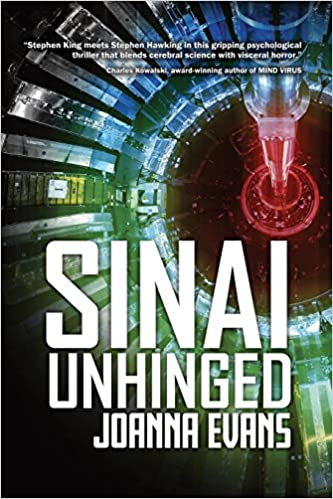 Sinai Unhinged was a great read! This book had mystery mixed with sci-fi…and I LOVED it! My favorite character was Alex. I really enjoyed everything about this character. The plotline was great too. It was fast-paced and held my interest until the end. What gripped me into this book was the original sci-fi world author Joanna Evans crafted. I loved the names of the projects, especially Destabilizer. Overall, I recommend putting this as your next read!
Growing up in Michigan, Author Joanna Evans was an avid reader at a young age. Her wild imagination led her sixth-grade teacher to encourage her to become a writer.
Instead, she aspired to be like Dr. Joyce Brothers. Upon completing her Master's in Social Work from the University of Michigan, she moved to North Carolina and led a successful career as a psychotherapist for adults and children, with specific expertise in trauma treatment. But, her love for books and writing never left her.

Inspired by Stephen Hawking's A BRIEF HISTORY OF TIME, Gary Zukav's THE DANCING WU LI MASTERS, and any ancient spiritual or religious text she could find, she became fascinated with particle physics, the purpose of life, and the need for a story that illustrated how intertwined we all really are. Eventually, her craving for an action-adventure set inside a place like CERN led to the creation of Sinai Unhinged.

Additionally, because where there is darkness, there must also be light, her romantic holiday screenplay, A CRYSTAL CHRISTMAS, has been optioned by Citizen Skull Productions.

In her spare time, she and her husband can be found traveling up and down the southeast coast in any season, even the hot and steamy summer. More information can be found at joannaevanswriter.com.
You can get your copy of this novel on Amazon  today! You can find out more Author Joanna Evans on: Facebook, Twitter, her website, and Instagram.
Have you read this novel? Want to get your book feature? Contact me! Also, don't forget to check out my feature on Feedspot's Top 100 YA Book Blogs!
Note: information (besides review) along with the photo of author and book cover were provided by author.