This post may contain affiliate links, which means I may receive a small commission, at no cost to you, if you make a purchase through a link!
Between Conversations by Mark Watson
Tales From the World of Ryuujin
The newest anthology of history and future by Canada's own,
Marc Watson
Set for release and sold internationally on Sept 26th, 2020 in Ebook and Print Format!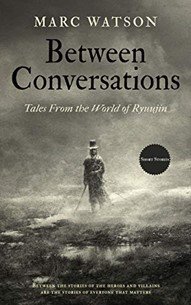 In the world of Ryuujin, heroes rise and fall, but there are always stories that slip through the cracks. The tales of the people who shape the years to come. Heroism and betrayal. Conversations between friends and enemies that will change the course of the world.

These are nine stories from a world that is historic, modern, and terrifyingly futuristic. A world where science and magic intertwine, and give birth to the unknown souls who become heroes, and the legends who fade away into history.
From the author of the renowned dark comedy Death Dresses Poorly, and from the world of his hit science-fantasy duology Catching Hell comes a collection of adventure, drama, joy, and terror as we look into the lives of the powerful, the meek, and the people who make the world turn over the course of centuries.
OTHER WORKS BY MARC WATSON:
Ethan is a directionless twenty-something who has finally cast off the heartbreaking responsibilities of his broken boyhood home, but not without irreversible scars and sarcasm. After surviving a tragic accident, he begins to suspect he may actually have something to live for. Is it a hidden purpose? His new beginning? Finding a decent cup of coffee?

The answer is unclear, until one morning a familiar stranger appears. The poorly dressed man at Ethan's door seems to have all the answers. But with those answers comes a grave proposition.
Witty and realistically sarcastic; full of self-redemption and the dark, cosmic inner-workings of life and death. Comically sharp yet lighthearted, Death Dresses Poorly is the bittersweet tale of a young man's journey through the discarded baggage of his childhood.
COMING SOON: CATCHING HELL PART ONE AND TWO

ABOUT THE AUTHOR:
Marc Watson is an author of genre fiction of all lengths and styles. He began writing at the age of 15 and continues to be a part-time writing student at Athabasca University. He has been published on flash fiction site www.101words.org (find his stories here) as well as comedy site www.thecorrectness.com.
Marc lives in Calgary, Alberta. He is a husband and proud father of two. He is an avid outdoors-man, martial artist, baseball player, and lover of all Mexican foods. He can be found at online www.marcwatson.ca, as well as on Facebook at www.facebook.com/marcwroteabook, and on twitter at @writewatson.
To request additional review copies or an interview with Marc Watson, please contact Mickey Mikkelson at Creative Edge Publicity: [email protected] / 403.464.6925.
Have you read these novels? Want to get your book feature? Contact me! Also, don't forget to check out my feature on Feedspot's Top 100 YA Book Blogs!