This post may contain affiliate links, which means I may receive a small commission, at no cost to you, if you make a purchase through a link!
Not That Girl by Alisha Perkins is on Amazon!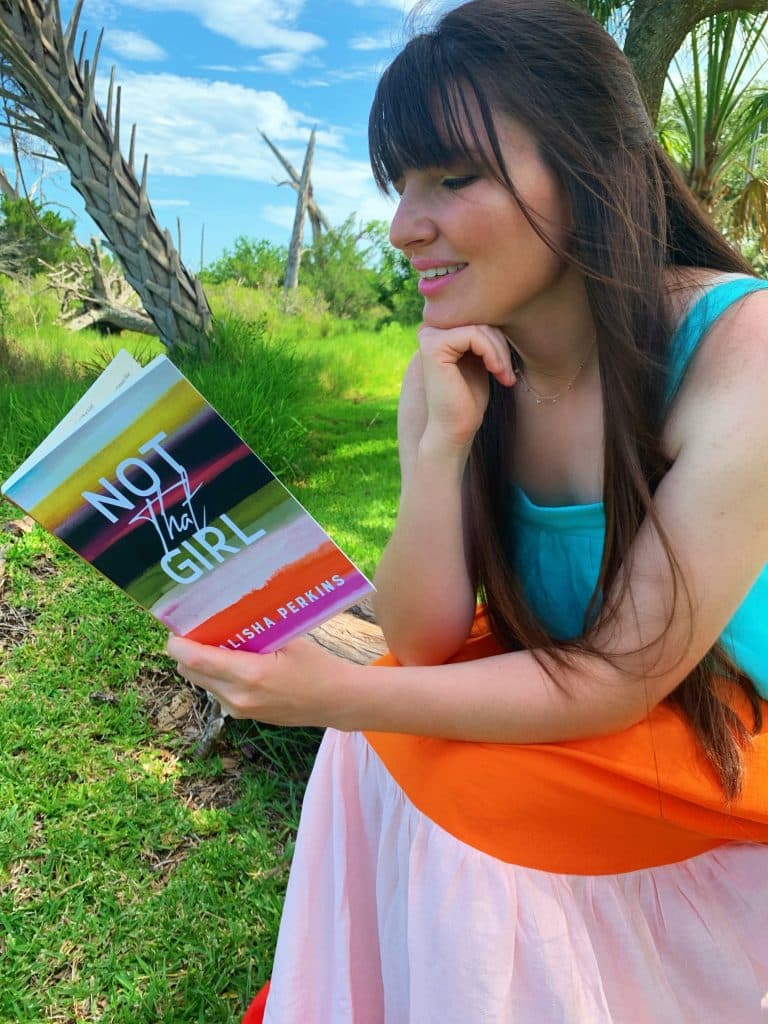 When Finley Harper returns to Hadleigh, the objective is clear: clean out the old house and wrap up Grace's estate as quickly as possible so Finn can return to Boston and leave this town behind for good. After all, it wasn't exactly a storybook childhood. Finn was never close with Grace, who had been a detached mother at best, and Finn made sure to keep a safe distance all these years from the old friends who might bring back not-so-fond memories —Nick, of Gramps, of a nameless father Finn, has never known.
In this town of marrying types and mothering types, Finn has been the odd one out, and while the old Finn might have cared, Finn was not that girl anymore. Armed with a new pair of running shoes and a standby pack of cigarettes, Finn arrives in Hadleigh, ready to put an end to the old Finley and start fresh. But within hours of arrival, Finn runs quite literally into a man who has the potential to change everything: James Barden, Grace's lawyer, who has a gorgeous smile, persistent nature, and a cardboard box of Grace's archives that read like a roadmap of clues: old journal entries, a stack of newspaper clippings…and a promise from beyond the grave: "Your mother said it will explain everything."
writer. author. speaker.
I have to say Not That Girl by Alisha Perkins was an amazing read. The protagonist, Finley, was great and propelled the story along beautifully. However, it was the ending of this book, proving to always embrace who you are no matter what that made the story for me. I definitely recommend adding this novel to your TBR pile if you haven't already.
Author Alisha Perkins is mom to two girls, wife to Glen Perkins (3-time All-Star Minnesota Twins pitcher), and owner to dog Harry Potter (among a zillion other animals at Gala Farms). Her first and only non-fiction book Running Home was released on May 31st, 2016. Her story of dealing with mental illness in a world full of insane stigma.
​In September of 2019, Perkins released her first fiction novel, MARTYRED. A feminist thriller where cultural misogyny meets the power of female friendships. Other writing has appeared in Women's Running, Huffington Post, Like the Wind Magazine, Fitness Most Magazine, Scary Mommy, Another Mother Runner, The Red Current, Minneapolis Running, Star Tribune, Girls with Sole, and Minnesota Twins Magazine.
Perkins has spoken about her struggles with anxiety and depression openly, honestly, and hopefully, a little humorously for several years. She tries not to take herself too seriously, but she also wants to be taken seriously. Perkins is complicated, contradictory, illogical, and ironic, but at the end of the day, she is 'just me.' She tries to be honest and authentic, but she's also a wimp who doesn't want to offend. 'I walk the line.'
She also gave her first TEDX talk entitled "How Many Celebrities Does it Take to Change a Stigma" in May 2019, centering around breaking the stigma surrounding mental illness in our society.
You can get a copy of the book on Amazon! You can also follow Author Alisha Perkins on: Twitter, Instagram, Pinterest, and Facebook. Also, check-out Hadleigh House here.
Have you read this novel? Want to get your book feature? Contact me! Also, don't forget to check out my feature on Feedspot's Top 100 YA Book Blogs!
Note: I was provided a copy of this novel.