This post may contain affiliate links, which means I may receive a small commission, at no cost to you, if you make a purchase through a link!
A Palm Beach Scandal by Susannah Marren is out now.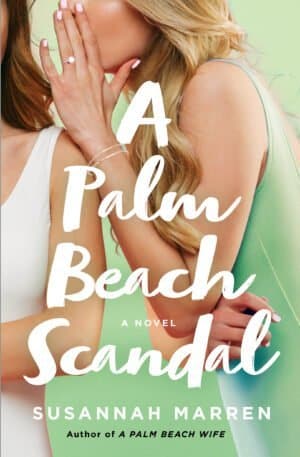 Past Praise for "A Palm Beach Wife"
"Marren shows the importance of status for a woman in Palm Beach, Fla., and how easily a few dangerous secrets can take it all away…the mystery and intrigue will keep readers holding on until the shocking ending they won't see coming."
– Publishers Weekly
"The lavish settings and designer name-dropping bring to mind Kevin Kwan's Crazy Rich Asians (2013), and while Marren's crazy rich Americans aren't as frothy or fun, their dramatic ups and downs are plenty entertaining, providing everything readers are looking for in a beach read."
– Booklist
"'A Palm Beach Wife' is a thoroughly enjoyable book about the rich and high society of Palm Beach and how one woman will do what she has to do to save her family from scandal and losing everything. A well-written story of a strong female character and at its core a story about family, with some fun twists and turns."
– Red Carpet Crash
"A superbly crafted and thoroughly entertaining read from first page to last, "A Palm Beach Wife" showcases author Susannah Marren's impressive storytelling skills and flair for deftly woven narratives."
– Midwest Book Reviews
"Susannah Marren's intimate scenes stole the show. It takes some real skill to write decent sweet nothings, and she pulls it off."
– Fresh Fiction
"The first scene of the thoughtfully dishy new novel 'A Palm Beach Wife' paints a vivid portrait of a lively social gathering on the Island: tightly-concealed secrets, carefully maintained physiques and a spirit of fierce competition hiding behind every perfect smile."
– Palm Beach Post
A PALM BEACH SCANDAL By Susannah Marren
From Susannah Marren, author of A Palm Beach Wife, comes her next book set in the exclusive, glamorous world of Palm Beach. In A PALM BEACH SCANDAL (September 15, 2020, St. Martin's Griffin), Marren follows two sisters as one offers the ultimate selfless act to the other, proving the very meaning of family, in this novel of artifice and intrigue.

Veronica and Simon Cutler and their dazzling adult daughters, Elodie and Aubrey, strike an enviable pose, the ultimate Palm Beach family. In a town where social aspirations, wealth and charm prevail, they are transcendent. While the sisters are polar opposites, they are fiercely loyal to each other. When Elodie receives the shocking news that she is no longer able to conceive a baby, she turns to Aubrey.

Aubrey, a free spirit, isn't interested in marriage or children, yet when her sister asks her to carry her child, she can't say no, despite her mother's warnings. And then one stupefying secret, meant to be buried forever, is unearthed and no one in the Cutler clan is able to turn back. As the family is shaken to their core, Aubrey and Elodie must realize their places in the world and the lives they want to lead.

In the midst of the unforgiving opulence of Palm Beach, A Palm Beach Scandal is a story for our times, a captivating tale of discovery, sisterhood, and love for others where you least expect it.
SUSAN SHAPIRO BARASH (aka Susannah Marren)
Susan Shapiro Barash is an established writer of thirteen nonfiction women's issue books, and fiction under her pen name Susannah Marren. She has been featured in The New York Times, The Wall Street Journal, The New York Post, The Chicago Tribune, Elle, Marie Claire, and has appeared on national television including the Today Show, Good Morning America, CBS, CNN, and MSNBC. Barash has been a guest on national radio including NPR and Sirius Radio. Speaking appearances include Credit Suisse, Bayer Diagnostics, UBS, United Way, Kravis Center and the Society of the Four Arts. Several of her titles have been optioned by Lifetime and HBO. Her nonfiction titles include Tripping the Prom Queen, Toxic Friends and The Nine Phases of Marriage. Her novels are Between the Tides and A Palm Beach Wife. Her new novel, A Palm Beach Scandal, will be released in September 2020.
A PALM BEACH SCANDAL
By Susannah Marren
St. Martin's Griffin; September 15, 2020
$30.00 Hardcover; 336 pages
ISBN-10: 1250772753
ISBN-13: 978-1250772756
First of all, I love the cover and the title of this book. The characters were very well-written, especially Aubrey. I love the aspect of family in this book and how the author wrote it within the story. It was the plotline of this book that left me unable to put it down until the very end…even then, I flipped back through the book to re-read it. I say if you haven't read this book, get your copy!
You can get a copy of this novel on Amazon. You can also follow the author on Twitter, Facebook, Instagram, or her website.
Have you read this novel? Want to get your book feature? Contact me! Also, don't forget to check out my feature on Feedspot's Top 100 YA Book Blogs!
Note the author provided the author photo and the information expect for the review.