This post may contain affiliate links, which means I may receive a small commission, at no cost to you, if you make a purchase through a link!
Swamp Thing: Twin Branches by Maggie Stiefvater is out today!
Swamp Thing: Twin Branches
Written by Maggie Stiefvater
Illustrated by Morgan Beem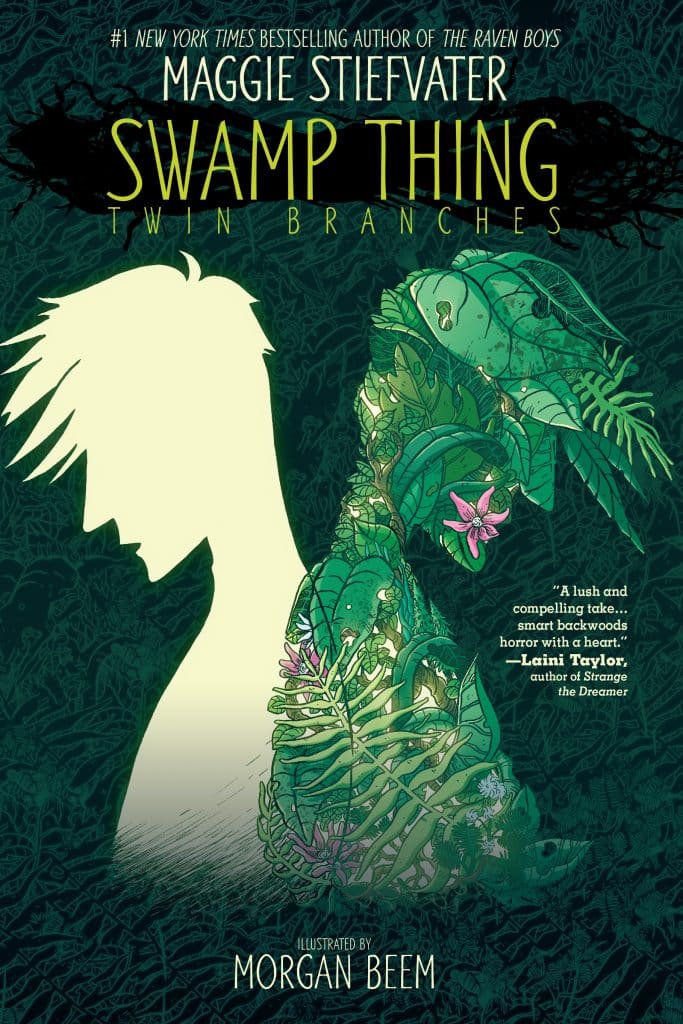 From #1‑New York Times‑bestselling author Maggie Stiefvater (the Raven Cycle series) and artist Morgan Beem comes DC's newest young adult original graphic novel, the spine-tingling saga Swamp Thing: Twin Branches. In the pages of this haunting retelling of the Swamp Thing origin story, teenage twin brothers Alec and Walker Holland arrive in Virginia for their last summer before college, but while Walker thrives in the light of parties and social life, Alec recedes into the cool darkness of the lab, driven to finding answers in his plant experiment on consciousness and memory. But what Alec comes to realize is that the experiment isn't about solving nature's riddles, but about finding out who he really is. And though these twin brothers have grown apart, they share the same roots – and will unite once more before splintering apart forever.
Swamp Thing: Twins Branches is a haunting coming-of-age story about growing into who you're meant to be, and the sacrifices you make to protect the people you love. This original young adult graphic novel is aimed at readers ages 13+ and deftly interweaves in social issues like bullying, peer pressure and living with a medical condition, while examining themes like growing up, the importance of communication, sharing memories and experiences, and overcoming trauma. Swamp Thing: Twin Branches hits stores everywhere books are sold on 10/13/2020.
Twins Alec and Walker Holland have a reputation around town. One is quiet and the other is the life of any party, but they are inseparable. Spending their last summer before college together, the two leave the city to live with their rural cousins, where they find that the swamp holds far darker depths than they could have imagined. This season, both brothers must confront truths, ancient and familial, and as their lives diverge, tensions increase and dormant memories claw to the surface.
About Maggie Stiefvater
Maggie Stiefvater is the #1 New York Times bestselling author of The Raven Cycle, the Shiver trilogy, and other novels for young people and adults. She is also an artist, an auto enthusiast, and a bagpiper. She lives on a farm in the Shenandoah Valley with her husband, her two children, and an assortment of fainting goats. Find her online at www.maggiestiefvater.com.
About Morgan Beem
Morgan Beem is a freelance artist and member of the Jam House collective located in Denver, Colorado. Her work is predominantly in comics and illustration. She has worked on such properties as Adventure Time, Planet of the Apes, and Buffy the Vampire Slayer and is the co-creator, alongside writers Justin Jordan and Nikki Ryan, of the series The Family Trade from Image Comics.
About DC's YA Graphic Novels
DC's young adult graphic novels introduce DC's most iconic Super Heroes to a new generation of fans with stories told by some of the most successful authors from the young adult publishing space. The YA titles are standalone stories, not part of DC's ongoing continuity, and completely accessible to new readers who have no previous knowledge of DC characters.
Praise for Swamp Thing: Twin Branches:
"HIGH-DEMAND BACKSTORY: Fans have flocked to Stiefvater's high-concept YA series (The Wolves of Mercy Falls, The Raven Cycle). Her first graphic novel serves up everything they love."—Booklist
"An appealing coming-of-age story infused with horror-movie sensibilities, Swamp Thing: Twin Branches makes for, asthe Swamp Thing's tagline once read, "sophisticated suspense."—Foreword Reviews
Praise for Maggie Stiefvater's works:
"Stiefvater is a master storyteller."—USA Today (for The Raven Boys)
"A dizzying paranormal romance."—The Los Angeles Times (for The Raven Boys)
"Stiefvater's razor-sharp characterizations, drily witty dialogue, and knack for unexpected metaphors and turns of phrase make for sumptuous, thrilling reading."—Publishers Weekly, starred review of Blue Lily, Lily Blue
"The prose is crisp and dazzling and the dialogue positively crackles."—School Library Journal, starred review of Blue Lily, Lily Blue

"Richly written and filled with figurative language… this story of secrets and dreams, of brothers and of all-too-real magic is an absolute marvel of imagination and an irresistible invitation to wonder." —Booklist, starred review of The Dream Thieves

"Mind-blowingly spectacular… Stiefvater's careful exploration of class and wealth and their limitations and opportunities astounds with its sensitivity and sophistication. The pace is electric, the prose marvelously sure-footed and strong, but it's the complicated characters . . . that meld magic and reality into an engrossing, believable whole." —Kirkus Reviews, starred review of The Dream Thieves
Have you read this novel? Want to get your book feature? Contact me! Also, don't forget to check out my feature on Feedspot's Top 100 YA Book Blogs! 
Thank you Warner Bros,. for sending me a copy of this book.