This post may contain affiliate links, which means I may receive a small commission, at no cost to you, if you make a purchase through a link!
This post is all about Secretly Yours by Tessa Bailey Book Review.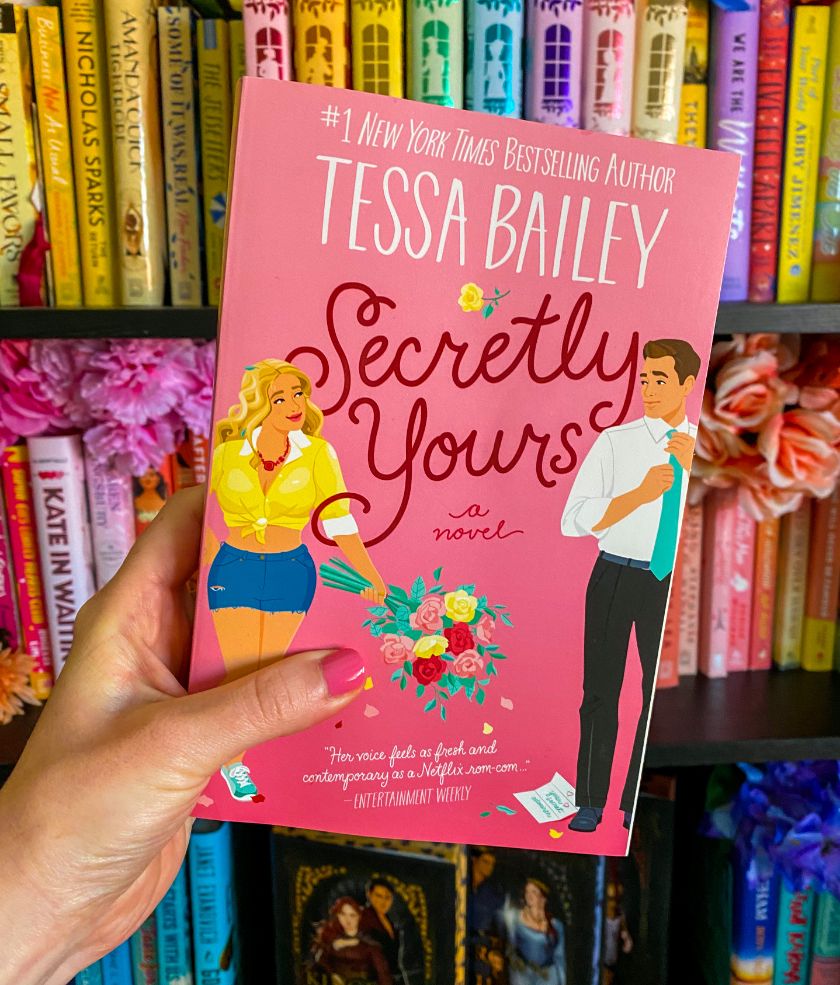 It's no secret that Tessa Bailey remains one of the top rom-com authors. Admittedly, I've read some of her books I've loved and some I've hated. I love a good romance but also a book with depth. I'm not a fan of a book where everything centers around physical attraction between the characters, leaving loose ends in the plot.
I decided to pick Secretly Yours by Tessa Bailey as my February book club pick. I got an ARC copy and was excited. After all, I love a good romance read around Valentine's Day.
I was pleasantly surprised by how much I did enjoy this read. There were things I wasn't a fan of, but overall this is a rom-com read I recommend because it's fast-paced with a cute backstory.
Carly-Rae's favorite things about Secretly Yours by Tessa Bailey
The cover:
"The cover is gorgeous. The pink really grabs my attention, and I love the characters on the front. It reflects the Tessa Bailey aesthetic readers have come to love."
The backstory:
"I adored that the characters were not surface-level. Each character had depth, and so did the relationship. It wasn't just a physical attraction. Readers get to learn why these two characters fit so well together."
The pacing:
"I love a good fast-paced read. Secretly Yours by Tessa Bailey was just that. I read this book in a day!"
Now in my Secretly Yours by Tessa Bailey Book Review, I'm aware that some readers may not have read this book yet, so let me give you a little bit of backstory.
Summary: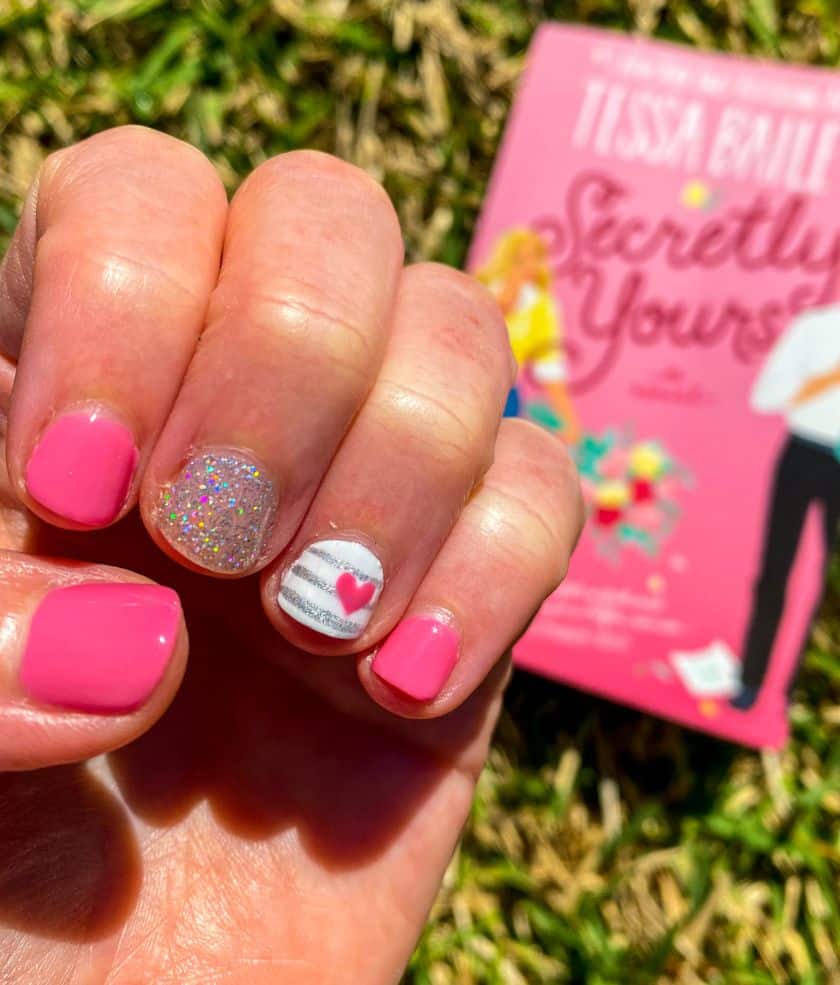 Secretly Yours by Tessa Bailey centers around Hallie Welch and Julian Vos. Hallie is a local gardener in Napa Valley and hears that Julian is back in town. It's as if her teenage dreams have finally come true, as Hallie had the biggest crush on Julian growing up. When she was fourteen, they almost kissed; since then, Hallie has never forgotten the Julian Vos.
Julian is now a professor and has returned to the Vos estate to write. When Hallie takes a job there, he finds he can't get much done with her around. Not only is she loud and unruly, but she is also stuck in his head, and he feels as if they had met before. Hallie feels slighted. He doesn't remember there almost kiss and, after a night of drinking, writes a secret letter to him, only signing secretly yours to the bottom. She immediately regrets it the next morning, but the letter is gone and already in Julian's hands.
Meanwhile, Julian finds himself in a tug of war-with the person behind the letter and Hallie. Will he figure out who's behind the letters? Will Hallie finally live out her crush on the handsome than ever Julian Vos? It's a love-at-first-sight combined with second-chance and friends-to-lover trope all in one.
---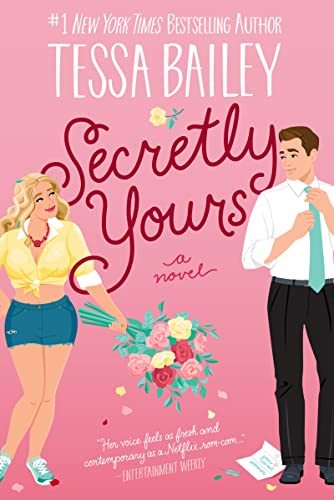 Secretly Yours by Tessa Bailey
Genre: Rom-Com
This book centers around Hallie and Julian. Hallie is a local gardener in Napa Valley and Julian is from a wealthy family who has their own vineyard. The two have a history and when fate brings them together again will the two find a way to be together?
Read more reviews on the book index here
Buy this Book: Amazon
---
Things I loved:
I really loved that the characters are not just surface-level. I previously read My Killer Vacation and was greatly disappointed with it. I was not a fan of the characters because there wasn't not much to their characterization. It was one reason I was hesitated to read Secretly Yours by Tessa Bailey. However, I ended up really enjoying the characters. They were well-rounded and their characterization was strong.
Hallie was not just someone who liked flowers. Readers get to learn her backstory why she moved and we were showed through other characters Hallie's personality. The same goes for Julian. He wasn't just a professor. Yes, he was from a wealthy character but there was more to him like when there was the fire at the vineyard and how that affected him.
The spice level was another plus. I enjoy rom-com reads with spice but not to the point it takes over the plot. I still want to know the character's goal and motivation for acting the way the do. I feel like in some rom-coms that gets lost, but I was pleasantly surprised this book it did not happen. There was (for me) just the right amount of spice and it didn't overtake the plot. It kept luring me to want to read.
I also enjoyed how fast paced this novel was from start to finish. I didn't feel like there was a chapter that slowed the momentum. It started out right in the action of Hallie spying on another wine tasting restaurant and ended on a great note. I am a huge fan of novels that are fast-paced. It really drives the plot forward while getting in line with the character goals.
Things I didn't like:
However, the pacing is also a reason why I didn't like Secretly Yours by Tessa Bailey. The book seemed to take place in too short of a timeframe for how in love Hallie and Julian were by the end of the book. I wanted a touch more time to go by for these characters to experience a relationship before there was the THE END of the book. It felt like I had just started reading when the story was already over. Yes, we did get backstory, but it seemed to go by too quickly.
I was also not a fan of the end where Julian doesn't respond to Hallie for what ends up being weeks! First, it seriously did not feel like weeks and second I felt like his history wasn't explain enough to constitute such a severe reaction. I felt like if that history of Julian (because it was a strong characterization) was more developed than it would have been stronger.
Overall, I do recommend this book! What did you think of my Secretly Yours by Tessa Bailey Book Review? If you've read Secretly Yours comment below and let me know!
Table of Contents