This post may contain affiliate links, which means I may receive a small commission, at no cost to you, if you make a purchase through a link!
Salt + Stilettos by Janet Walden-West is out now. Sweet Home Alabama meets Top Chef when Miami's most determined image consultant clashes with Samoa's most uncooperative chef in a race to rebrand him as South Beach's newest star.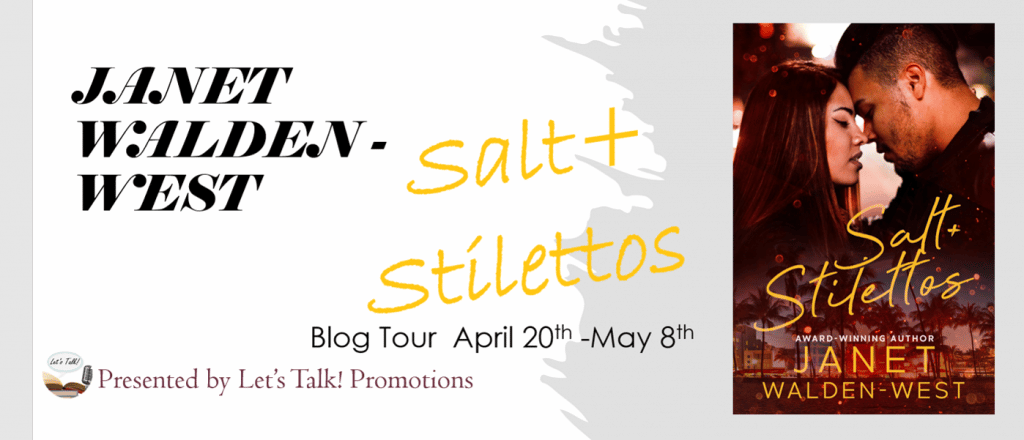 Brett Fontaine learned early that appearance matters and not to count on anyone but yourself. Trading her red-dirt roots for the title of Miami's go-to image consultant, she refuses to let anything jeopardize her new life.
Not an influential client-turned-stalker who's up for parole.
Not post-kidnapping panic attacks.
Certainly not the stubborn, attention-phobic chef she's challenged to transform into a celeb in ninety days.
Will Te'o can almost taste the dream he sacrificed American Samoa, culture, and cherished family ties for—opening a four star restaurant in the most cut-throat culinary location in North America.
Unfortunately, that requires navigating it's equally cut-throat social scene. When his first public performance ends in a social media spectacle, his only option is turning to the stiletto-wearing nemesis who's invaded his kitchen.
Neither expected to share anything but barbs, yet somewhere between accidentally bonding over comfort food and office-wrecking sex, they're named South Beach's hottest pairing. Until Brett's stalker engineers a reputation-shattering reveal. She may be going down, but she's not taking Will's dreams with her. Now, Will's pulling out all his new skills and cooking up a last-ditch event. He'll prove to Brett that relying on the right person makes for the perfect recipe—or be left heartbroken in the spotlight.
Janet Walden-West lives in the southeast with a pack of show dogs, a couple of kids, and a husband who didn't read the fine print. A card carrying Weird Dog Show Lady, she's easily distracted by great cars and bad coffee. A founding member of The Million Words craft blog, she is also a member of the East Tennessee Creative Writers Alliance and Romance Writers of America.
She pens Urban Fantasy that escapes the neat confines of the city limits in favor of map-dot hillbilly towns, and inclusive Paranormal and Contemporary Romance. A 2X PitchWars alum, 2019 Pitch Wars Mentor, and Golden Heart® finalist, her debut multicultural Contemporary Romance, SALT+STILETTOS, is due out Spring 2020 from City Owl Press.
Below is my exclusive interview with Janet!
What inspired you to start writing? Fun fact—I never considered myself creative enough to be a writer. There's a professor out there with a chronic eye-twitch thanks to The Great Thesis Crisis of 20mumble-mumble. I only picked up a pen, thanks to a newborn. Who. Would. Not. Sleep. I multitasked while also not-sleeping, and caught up on a favorite show where the writers killed off my favorite character. DED, dead. I'm blaming it on the sleep deprivation because my (very fuzzy) thought process went something like 'What? WHAT??? Are you kidding me?' I could come up with a better ending." Yeah, not really. But that sleep-deprived moment led to my debut coming out this year.
What inspired you to write Salt + Stilettos? Most of my story's inspiration arrives in the form of characters popping into my head, fully formed. At first, Brett and Will seemed to have little in common, aside from the outer plot arc of a consultant butting heads with a stubborn, publicity averse chef. But once I began writing, it became clear that despite a three-thousand-mile difference between where they were raised, and different experiences with family, they both shared a common issue in reconciling cultural expectations in a world where they weren't part of the privileged majority.
Did you ever feel so overwhelmed you almost stopped writing your debut novel? Actually, yes. After getting feedback from some wonderful critique partners, I had done some significant revisions to the story. Then I opened my document one morning—at it was blank. So was the file in the external drive I use for backups. All 90,000 words, gone. Cue the angst. I couldn't imagine starting over. Fortunately, I found a tech willing to try to retrieve enough information from my laptop and drive to recreate the document. It took several months, but he was successful.
How did you feel when your novel was finally out of the editing stage and finished? I still haven't processed that my story is done, and that out will be out in the world. I don't think it will sink in until I'm holding the first author copy in my hands!
Is this the first story you ever wrote? Salt+Stilettos is my debut novel, but my first completed manuscript was an Urban Fantasy with plenty of steam and a bit of romance. Hopefully, it will be out in 2021.
You can follow Janet on Twitter, Facebook, Instagram, and on her website. You can purchase her novel on Amazon today!
Have you read this novel? Want to get your book feature? Contact me! Also, don't forget to check out my feature on Feedspot's Top 100 YA Book Blogs!