This post may contain affiliate links, which means I may receive a small commission, at no cost to you, if you make a purchase through a link!
This is a reimaging of Disney's Snow White and the seven dwarfs. It centers around Princess Charlotta-Sidonia Wilhelmina Sophia of the Greenlands, aka Sophie. She has been raised by her stepmother, who constantly tells Sophie that she is too kind, too forgiving. Her stepmother always reminds her that she is a woman ruler, meaning she needs people to fear her not think of her as being kind.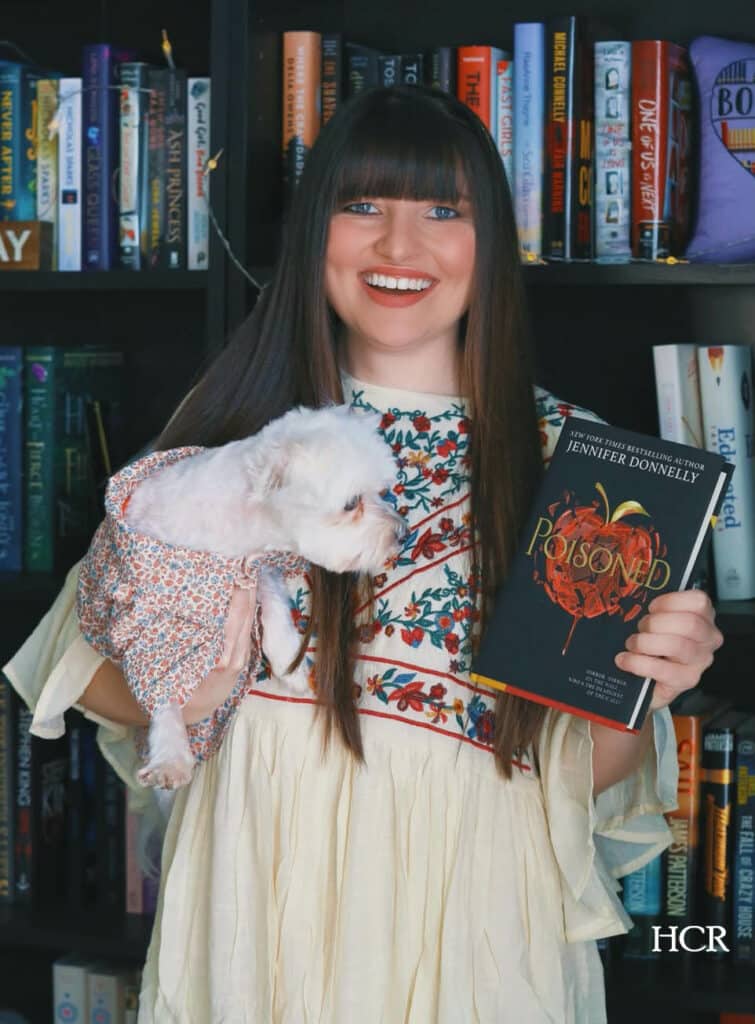 Staying true to Disney's Snow White, her stepmother always consults her magic mirror. The King of Crow Corvinus appears and tells her things she needs to hear to find her way. When he informs her that Sophie will stand in her way, her stepmother sends Sophie out for an early ride with her huntsman. Again, this is true to the original Snow White, but in Poisoned, Sophie's heart is literally ripped out of her. However, the seven dwarfs and their giant spider (yes, you read that right) find Sophie and save her soul, allowing them time to build Sophie a clock heart. Again, you read that right too.
Sophie remembers that the huntsman confessed her evil stepmother was behind this, and as Sophie regains her strength, she is convinced her Prince will come and save her. When she thinks, he must think she really did die. Sophie sets out to get her heart back because her clock heart will give out. It is on her journey she stumbles upon a boy. Will he turn out to be her handsome Prince? Or is he someone sent by her evil stepmother?
Find out when you read this novel!
I have to say I was NOT a fan of this book. I have been obsessing over fairytale retellings ever since I got into Gena Showalter's novel The Evil Queen and Disney's Twisted tales. When I saw this cover, I immediately got my copy, adding it to my January TBR. But I have to say I was REALLY disappointed. I was not drawn into the plot. The fantasy felt way too out there to the point where it was not believable. There were giant spiders and ladybugs and scorpions—not to mention Sophie's clock heart. It all felt like pieces of a puzzle that did not belong together.
Get your copy on Amazon! Tell me your thoughts.
I was also disappointed in the seven dwarf's appearance. They are my favorite part of Snow White, and in this book, I could not even remember their names! I also found a few grammar mistakes, which is one of my pet peeves when reading.
Finally, let's talk about the romance in this book. I was SO disappointed with it. I wanted so much more out of the romantic relationships, and every time I thought we might see it, we didn't. For me, this book is not one I would recommend reading. What about you? Have you read this book? Do you have a favorite fairytale retelling?
Have you read this novel? Want to get your book feature? Contact me! Also, don't forget to check out my feature on Feedspot's Top 100 YA Book Blogs!