This post may contain affiliate links, which means I may receive a small commission, at no cost to you, if you make a purchase through a link!
FOR THE BEST by Vanessa Lillie is out now.
This novel is a timely and provocative thriller. It explores the depths of white female privilege as a woman suspected of murder takes an unusual approach to prove her innocence. Jules Worthington-Smith starts a true-crime vlog, revealing not only her demons but the flaws in the system designed to protect someone like her.
For The Best was my first Vanessa Lillie book, and it most definitely won't be my last! I LOVED the character of Jules Worthington-Smith and the mystery that follows her throughout this novel.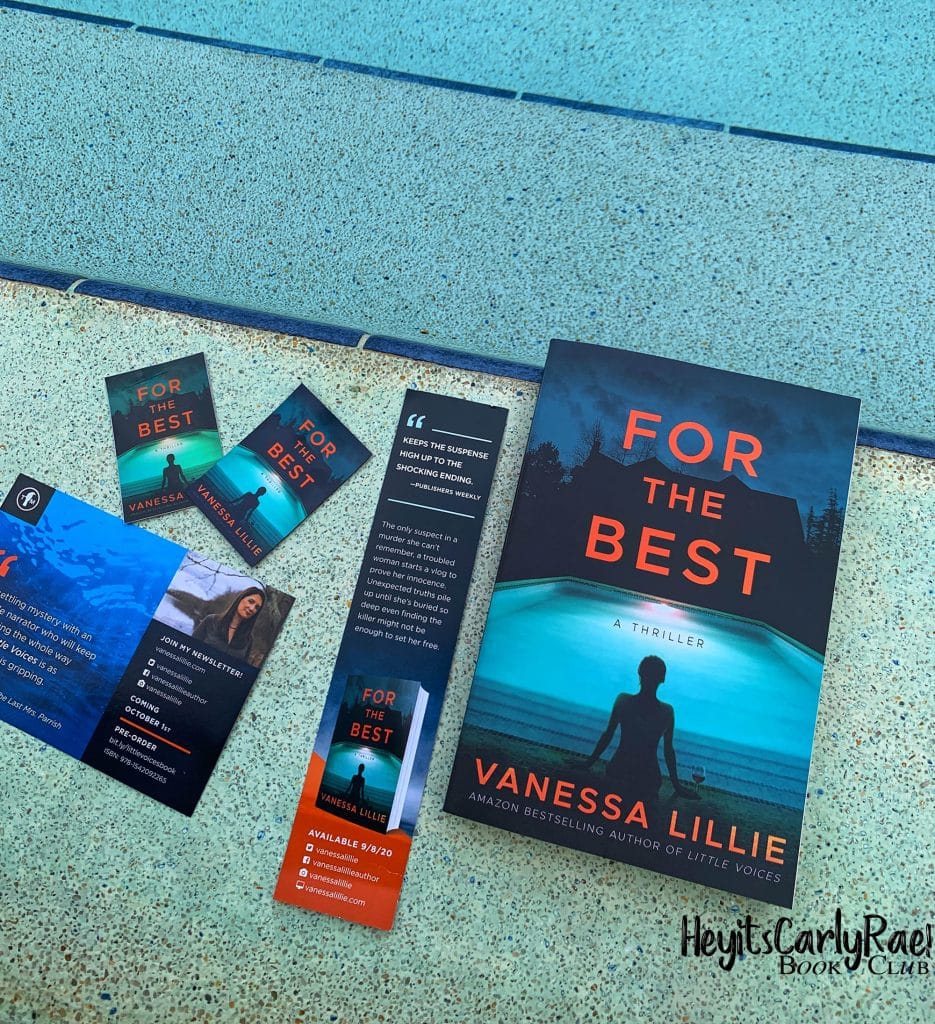 The twists and turns written by Lillie were great. I didn't see them coming, which made me turn the pages as soon as I finished. However, what really stood out to me was the video transcripts peppered throughout the novel. I found it interesting and a great addition.
If you haven't read this thriller, I definitely recommend getting a copy. It's time you emerge yourself in Jules Worthington-Smith's life!
Author Vanessa Lillie's breakout debut Little Voices received starred reviews from Publishers Weekly and Library Journal and was an Amazon bestseller and #1 psychological thriller all of September 2019. Little Voices made numerous must-read lists from Refinery29 to Real Simple and was featured in a New York Times article titled "What to Expect When You're Expecting Evil," about thrillers that deal with the fears and anxieties of motherhood.
Her second thriller, For the Best, was named a POPSUGAR Best Book of September 2020, and CrimeReads said, "For the Best, Lillie's timely and unsettling tale of white privilege, is fascinating."
She's originally from Miami, Oklahoma, and is a member of the Oklahoma Cherokee Nation. She now lives in Providence, Rhode Island, with her husband and sloth-obsessed son. She's a Board Member of Sisters in Crime and weekly columnist in The Providence Journal. She's currently working on her third thriller, which is set in northeastern Oklahoma. Hang out with her on Instagram @vanessalillie
You can get a copy of the book on Amazon! You can also follow Author Vanessa Lillie on: Twitter, Facebook, Instagram, and website.
Have you read this novel? Want to get your book feature? Contact me! Also, don't forget to check out my feature on Feedspot's Top 100 YA Book Blogs!
Note: Author provided bio & blurb & author photo. I received this product for free for this paid feature, but the honest review is all mine.