This post may contain affiliate links, which means I may receive a small commission, at no cost to you, if you make a purchase through a link!
DEVIL DAYS IN DEADWOOD by Ann Charles!
Book 11 
The New Novel by USA TODAY Bestselling Author
ANN CHARLES!
Released May 2020
The books will be available worldwide, in digital, print, and audio format, across all platforms!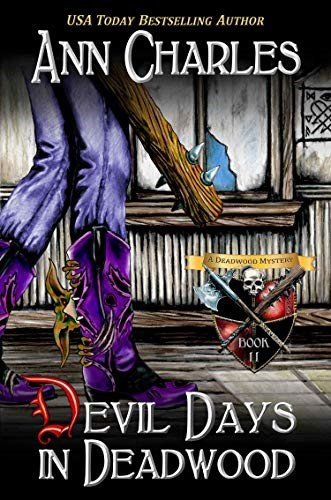 "Hell is empty and all the devils are here." ~William Shakespeare
Violet Parker knows better than to play with devils. They always cheat, especially when lives are at stake. Deadwood's charming, troublemaking, and soul-sucking devils are no different, and they're biting at her heels.
But the clock is ticking and Violet has no choice—she must risk her life to save her treasured Aunt Zoe. With any luck, she might be able to trick the devils and beat the old terrors at their own game. If not, Deadwood could end up short one Executioner.
"Executioners don't duck, they swing." ~Violet Parker
You can purchase this novel on: Amazon, Kobo, Nook, and Apple.
Other Books In The Series:
About The Author:
Ann Charles is a USA Today Best-Selling author who writes spicy, award-winning mysteries full of mayhem, adventure, comedy, and suspense. She writes the Deadwood Mystery Series, Jackrabbit Junction Mystery Series, Dig Site Mystery Series, Deadwood Undertaker Series (with her husband, Sam Lucky), and AC Silly Circus Mystery Series. Her Deadwood Mystery Series has won multiple national awards, including the Daphne du Maurier for Excellence in Mystery/Suspense. Ann has a B.A. in English with an emphasis on creative writing from the University of Washington and is a member of Sisters in Crime and Western Writers of America. She is currently toiling away on her next book, wishing she was on a Mexican beach with an ice-cold Corona in one hand and a book in the other. When she is not dabbling in fiction, she is arm wrestling with her two kids, attempting to seduce her husband, and arguing with her sassy cats.
To request additional review copies or an interview with Ann Charles, please contact Mickey Mikkelson at Creative Edge Publicity: mickey.creativeed[email protected] / 403.464.6925.    We look forward to the coverage!
Have you read this novel? Want to get your book feature? Contact me! Also, don't forget to check out my feature on Feedspot's Top 100 YA Book Blogs!