This post may contain affiliate links, which means I may receive a small commission, at no cost to you, if you make a purchase through a link!
Amelia Diane Coombs Author Interview is here! I'm so excited to chat with Amelia on Chit Chat. Her latest book out is Exactly Where You Need to Be and I cannot tell you how excited I am for others to read it. Before I get ahead of myself, I will let Amelia join in!
Welcome, Amelia! So excited to chat with you today! Tell us more about Exactly Where You Need to Be.
Exactly Where You Need to Be is my third Young Adult novel, and it follows Florie—an eighteen-year-old recent high school grad—as she embarks on a road trip with her best friend, Kacey, and her crush, Sam, to see a podcast live show in San Francisco. Like Florie, I was diagnosed with OCD in high school, which is one reason why this book is incredibly special to me. It also includes one of my weirder personal interests/hobbies: true crime! I'm including the link to my publisher's synopsis since it can explain the book in much better detail than I can: CLICK HERE to read the synopsis.
I really love the idea of having Florie and Kacey go on a road trip alongside her older brother Sam. Who I might add Florie has a crush on. What inspired you to create this tricky and fun situation for these characters?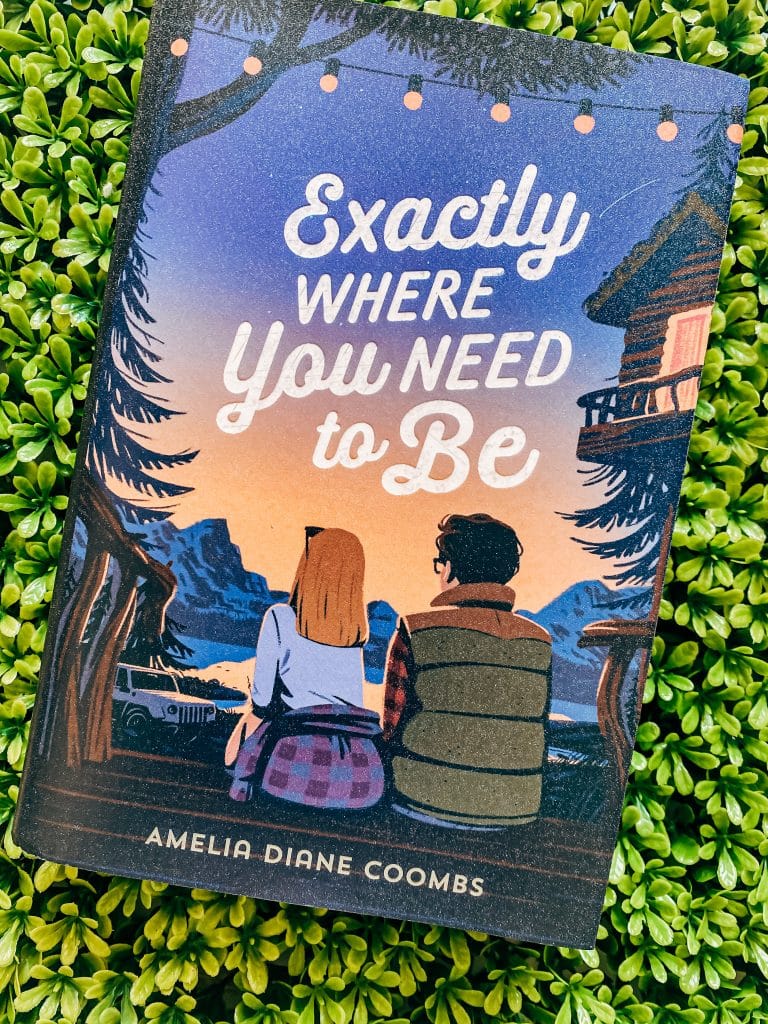 I love a good road trip—both in real life and in books! When it comes to writing about mental health, I try to craft a plot that is 1) propulsive on its own and 2) can tie into the deeper meaning of the character's arc. For Florie, that's pushing her self-made boundaries and putting herself in unknown situations that are out of her control. A road trip perfectly encapsulated everything Florie was afraid of and provided a vehicle (pun intended) for her to explore how far she'd come in therapy. And what better way to dial-up that tension than to have Sam—the boy she's been avoiding for six months—in the car with her? Sam, and Florie's relationship with Sam, is another anxiety to overcome, and it was really fun to weave all those elements into an eight-hundred-mile road trip.
While writing Exactly Where You Need to Be, did you have a favorite character?
I have a huge soft spot for Florie since she's so close to my heart! But I really enjoyed writing Kacey. Kacey is such a loving and supportive best friend to Florie. She was just a joy to write and explore. For any teenager—but definitely, those struggling with mental health—a good support system is worth its weight in gold. And Kacey really represents that. She loves Florie and understands her but isn't afraid to (gently) nudge her out of her comfort zone when necessary.
What do you hope readers take away from Exactly Where You Need to Be?
So many things! But the most important message—if I were to have one—would be that having a mental illness doesn't mean you're incapable of living a full life. Florie starts off the book with many misconceptions about herself and her abilities, due to her struggles with OCD. But throughout the novel, she realizes she's much more resilient and capable than she ever thought. Also, I hope readers walk away wanting to sleep in a tree house at some point in their life. (Just kidding. Mostly.)
The writing process is long and doesn't happen overnight. Share with us your favorite stage of writing and editing Exactly Where You Need to Be.
This is probably the only time I'll ever say this, but my favorite stage was drafting. Usually, I consider drafting as a necessary evil and will pick revisions any day. But the revisions for Exactly Where You Need to Be were pretty brutal. The book underwent, essentially, a page one rewrite once I began working with my editor in fall of 2020. I'm pretty sure I was making my very final edits just weeks before the book went to print!

The cover is great. It really matches the setting of the book. Were you involved in the design process?
Isn't it beautiful?! I've gotten very lucky in general, given how little influence I have in the design process. But this cover is definitely my favorite. I wish I could take more credit, but my only contribution was sending along with a mood board for inspiration very early on in the process. A few months later, my editor emailed me that Jeff Ostberg would be doing the cover art. I was thrilled. I've adored Jeff's other covers, and I even got a few sneak peeks at his early sketches on his Instagram account!
Will readers see a sequel to Exactly Where You Need to Be?
Sadly not! Exactly Where You Need to Be is a standalone, but I'm very happy with how Florie's story ends. The ending wraps everything up pretty neatly, but I'd like to think it's ambiguous enough for readers to envision what's next for Florie, Kacey, and Sam! I wouldn't count out the possibility of one of them making a little cameo in a future book, though.

Before I let you go, tell readers where they can find you on social media?
Thanks so much for having me, Carly-Rae! I'm @sincerelyamelia on Twitter, @sincerely_amelia on Instagram, and my website is ameliadianecoombs.com.
Thank you so much for joining us, Amelia! Definitely don't miss your chance to get your copy of Exactly Where You Need to Be! Stay tuned for more author interviews! Comment below any questions you have for Amelia too!
You can follow me on Instagram, Twitter, Facebook, and Pinterest. Don't forget to check out my feature on Feedspot's Top 100 YA Book Blogs! You can also contact me about new reads today!