This post may contain affiliate links, which means I may receive a small commission, at no cost to you, if you make a purchase through a link!
Exactly Where You Need to Be by Amelia Diane Coombs is a book that needs to be on your TBR! Why may you ask? Well, let me tell you what this book is about!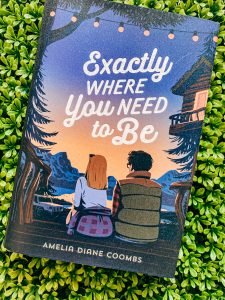 Florie has major OCD, and between that and her hovering mother, she has missed out on the fun things in high school—and even some of the basic things like getting a driver's license. Now that high school is behind her and Kacey, her best friend is headed to school in Portland, while Florie is taking a gap year, she starts questioning her life. But everything changes when Florie wins tickets to see her favorite crime podcast hosts live in California. She doesn't tell her parents where she is going and hitches a ride with Kacey and Kacey's older brother Sam. Sounds perfect, right? Well, the problem is Florie has had a crush on Sam forever and, after seeing him during winter break, wants to hurry up and get to California—and out of this car with him. But can she escape her feelings for Sam? Better yet, will Floria finally discover who she is and what she wants?
I cannot tell you how excited I am about this book. It sounds so fun and unlike any other books, I've read! Have you read it yet? Or seen it out? COMMENT and let me know!
You can follow me on Instagram, Twitter, Facebook, and Pinterest. Don't forget to check out my feature on Feedspot's Top 100 YA Book Blogs! You can also contact me about new reads today!