This post may contain affiliate links, which means I may receive a small commission, at no cost to you, if you make a purchase through a link!
The Femdom Felony by Thomas Moffatt is out now. This new mystery novel has just been published to Amazon, Kobo, and various other digital platforms and is now available in e-book and paperback formats. The Femdom Felony is a virtual book launch due to the restrictions imposed by the COVID-19 pandemic. The book is the debut novel of Southern Alberta author Thomas Moffatt.

Jay Mitchell is on the run from the law. How did it happen? Jay isn't sure how it all went wrong, but it started when he talked to the Catwoman. It wasn't long ago he was perfectly happy, being a live-in submissive to a beautiful female dominant and conquering challenges at his job as a computer technician. The BDSM community is like any other community, there are good people, and there are bad people.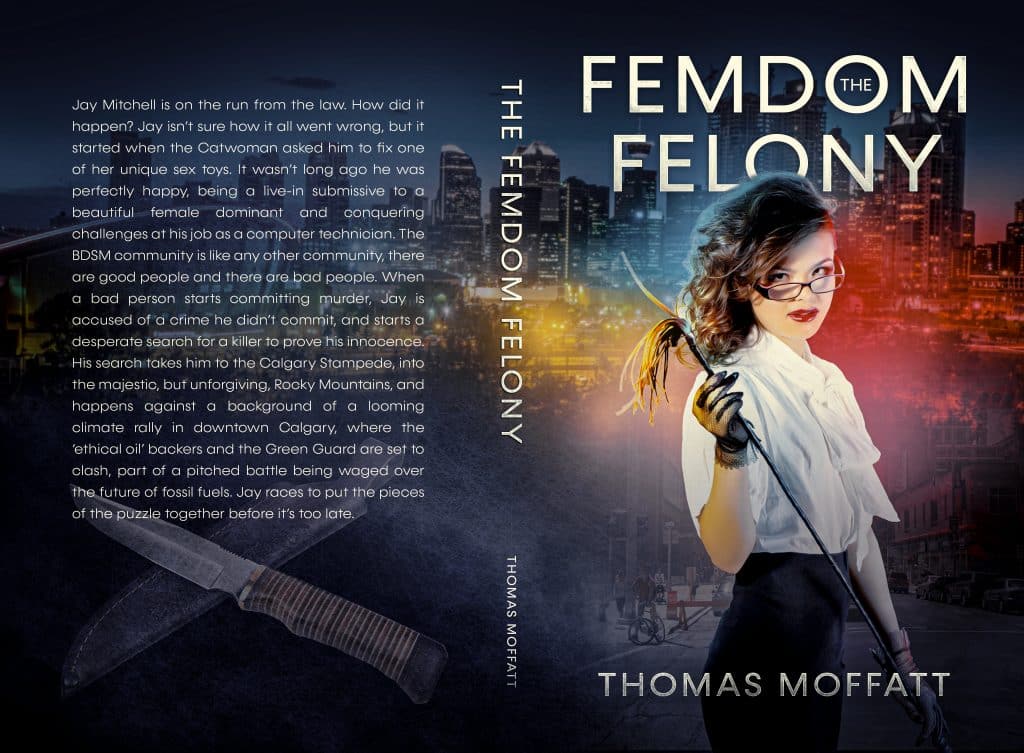 When a bad actor tries to disguise a murder as role-playing went bad, Jay is accused of a crime he didn't commit and starts a desperate search for a killer to prove his innocence. His search takes him to the Calgary Stampede, into the majestic—but unforgiving—Rocky Mountains. It happens against a background of a looming climate rally in downtown Calgary, where the 'ethical oil' backers and the Green Guard are set to clash, part of a pitched battle being waged over the future of fossil fuels. Jay races to put the pieces of the puzzle together before it's too late.
Author Moffatt says, "I lived in the City of Calgary for many years, and used this experience to create the background for this murder mystery. This crime story incorporates many social issues that are prevalent in Calgary but are also relevant worldwide. LGBTQ issues, the BDSM community, domestic abuse, and climate change all play a role in the story, as does the natural beauty of the Alberta landscape."
You can get a copy of the book on Amazon! Have you read this novel? Want to get your book feature? Contact me! Also, don't forget to check out my feature on Feedspot's Top 100 YA Book Blogs!
Note: Author provided bio & blurb & photos.