This post may contain affiliate links, which means I may receive a small commission, at no cost to you, if you make a purchase through a link!
Rites of Passage by Chad Lehrmann is available on Amazon!
Sawyer Shepherd arrives in Sage City, Colorado, with the intent of finding something beautiful in a world that has only shown him pain and loss. Since his parents were murdered in a mass shooting two years ago, Sawyer has struggled to accept his new station in life. Now on a journey of self-discovery, he has come to the defunct mining town seeking rest but instead will find something dark and evil awaits in the shuddered mines
At the same time, New York developer Lucius Furr and associates Lennox Dupree and Elena Cordova have come to the failing little town nestled in the mountains with plans to turn it into a tourist destination at any cost. Their greed will serve to awaken a force that once ravaged the town and created the need for a powerful lie to hide the truth that a consuming wickedness is in the heart of these mountains, and it is hungry.
Soon, Sawyer meets Eli Romer, the alleged town drunk, and Mandy Jane, a college intern with the Forest Service. In Eli, he finds a surprising and quirky mentor. In Mandy, he finds a genuinely captivating young lady and a willing partner in the battle against evil. As a trio, they dive deep into the secrets of Sage City and find that not everything they have been told about the past is the truth.
Sawyer Shepherd has to choose whether to keep running from his tragic past or begin running toward his terrifying destiny. He must seek to overcome the demons of his past while also trying to survive a living, breathing demon that seems to aim only to consume. But is it possible that this monster is just preparing a way for an even greater and more powerful evil to emerge?
Author Chad Lehrmann takes the years of developing his imagination as an only child on a ranch in Central Texas and thoroughly enjoys creating new worlds to play in. In this, his first novel, Lehrmann, draws inspiration from the writings of Rick Riordan and Stephen King and throws a bit of the Supernatural television show in for good measure.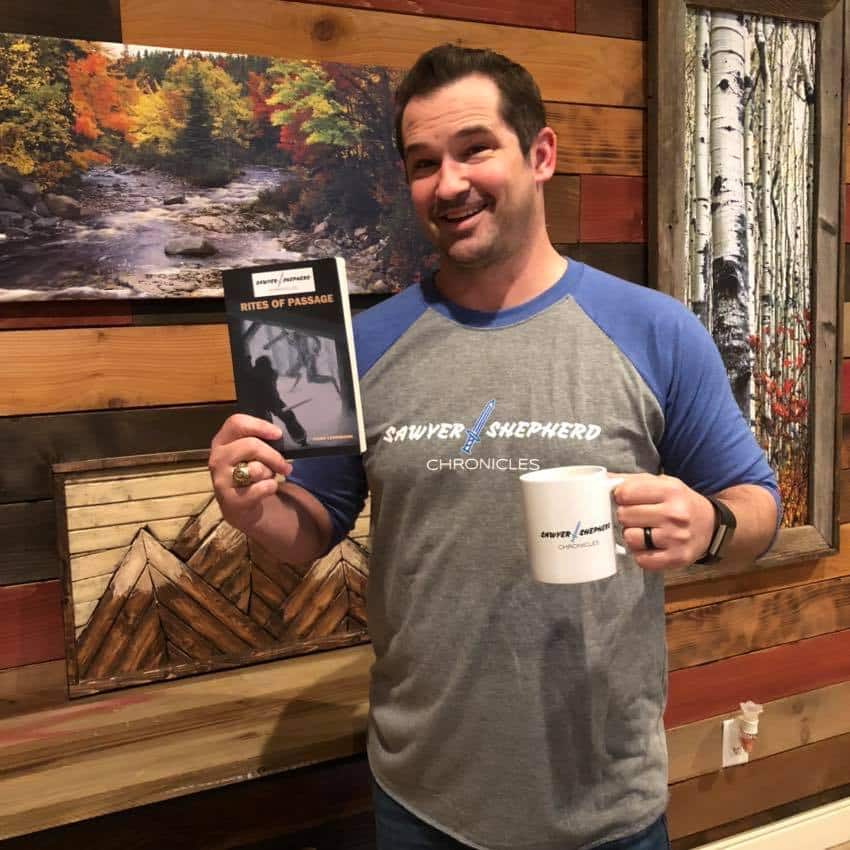 Lehrmann is a high school Psychology, Sociology, and Debate teacher for his day job. He is married and has two teenage daughters. As a family, they love vacationing in the mountains, which are a strong inspiration for the stories he writes. He also has hobbies of woodworking and collecting action figures. Like Sawyer Shepherd, he uses sarcasm and child-like wonder as a defense mechanism.
Rites of Passage is the first novel by author Chad Lehrmann and the first novel in the Sawyer Shepherd Chronicles. This story introduces you to a world where demons take the form of monsters, and a small number of people act as "judges" for the rest of us by offering protection from the supernatural "wolves" that are hunting us. Equal parts humor, horror, and heart, you will find heroes to cheer, villains to fear, and mysteries to unravel as you explore a world where destiny may not be all that it seems.
You can get a copy of the book on Amazon! Follow him on: Instagram, Twitter, and Facebook. Have you read this novel? Want to get your book feature? Contact me! Also, don't forget to check out my feature on Feedspot's Top 100 YA Book Blogs!
Note: Author provided bio & blurb & author photo. I received this product for free for this paid feature, but the honest review is all mine.