This post may contain affiliate links, which means I may receive a small commission, at no cost to you, if you make a purchase through a link!
Jackie Fraser Exclusive Author Interview is here. I am so excited to have Jackie on my blog to chat all about her latest novel, The Bookshop of Second Chances!
Hi Carly-Rae! I'm delighted you enjoyed the book and thrilled to be featured on your blog!
The Bookshop of Second Chances is your debut novel, congrats! Tell readers more about it without giving away spoilers.
It's about Thea, a woman in her mid-forties, who loses her job and finds out her husband's been cheating on her at more or less the same moment. Luckily for her, just as everything's looking pretty grim, she inherits her great-uncle's house in the Lowlands of Scotland, as well as his collection of books. Heading north to sort things out, she doesn't plan on staying for long. She finds the little town of Baldochrie unexpectedly charming and meets various people, including local minor aristocracy in the suave form of Charles, Lord Hollinshaw, and his grumpy brother, Edward, who owns an antiquarian and second-hand bookshop in the town.
I'm curious, have you been to Scotland? Is Thea's home she inherits based on an actual place you stayed at?
We live about as far from Scotland as is possible on the UK mainland, but my partner is half-Scottish. His family lives in the Highlands, much farther north than the book is set, but we regularly go up for holidays, exploring other parts of the country, mostly looking at castles, stone circles, and burial chambers like Thea does when she's exploring.
I've always liked lodge buildings – you can see some examples on my Pinterest – and when we stayed in Dumfries and Galloway, we saw some good ones. Thea's house doesn't exist, but if it did it would be reasonably close to the very cool farmhouse (dating back to the 18th century) that we stayed in, near Carsluith.
What inspired the story of Thea Mottram?
I really wanted to write about someone a bit older. I was Thea's age when I started the book (now I'm older than Edward, alas, time does fly), and I thought it would be interesting to think about how it might feel to start over again after the breakdown of a long relationship. It's easy to think nothing nice will ever happen again when things go badly wrong, but really you never know what's around the corner, and that's one of the things I'd like people to take from the book. Meeting new people can be hard, but it's generally worth it.
Have you always loved the romance genre?
I read a lot and always have done, in pretty much every genre. I find a nice romantic novel very comforting, and although there are lots of people out there who've read tons more romances than I have, the Regency novels of Georgette Heyer have been a comfort and inspiration for pretty much my whole life. My mum had a lovely set of the 1960s Pan editions, which she was often reading and re-reading while I was growing up, and I've been reading them myself since I was about twelve. When I left home, I started collecting vintage copies of my own. If you wondered why I made Charles and Edward 'landed gentry,' the answer is Georgette Heyer. 😊
Do you have a favorite chapter in The Bookshop of Second Chances?
I do – it's the one where Thea and Edward go to The Shed, his cabin at the beach. I loved writing this chapter. Also I really enjoyed writing the scene where Thea yells at Edward in the bookshop, but everything about their time at The Shed was such fun to imagine and write. I loved seeing them get to know each other. And, like Thea, I love beaches and beachcombing. I don't always know exactly what will happen in a scene or chapter, so it's always fun to find out. I really enjoy their awkwardness during this chapter, but also (I hope) managing to convey the way it feels to make a new friend, each new revelation adding to your picture of a person.
What is it you hope readers take away from your debut novel?
I think as I said earlier, it would be that you never know what might happen. When someone breaks your heart, it's a terrible terrible feeling, but it doesn't kill you, and you should always try to grasp opportunities. You're never too old for adventures, even if they're quite small ones.
Before I let you go, tell us what is next in your writing journey?
I've been working on two new novels during lockdown. Hopefully at least one of them might follow The Bookshop of Second Chances onto the bookshelves. Both are about women in mid-life wondering about their choices. One's about Jess, who's run away from home, and the others about Isabel, who likes to pretend she's over her ex.
Get your copy of The Bookshop of Second Chances on Amazon!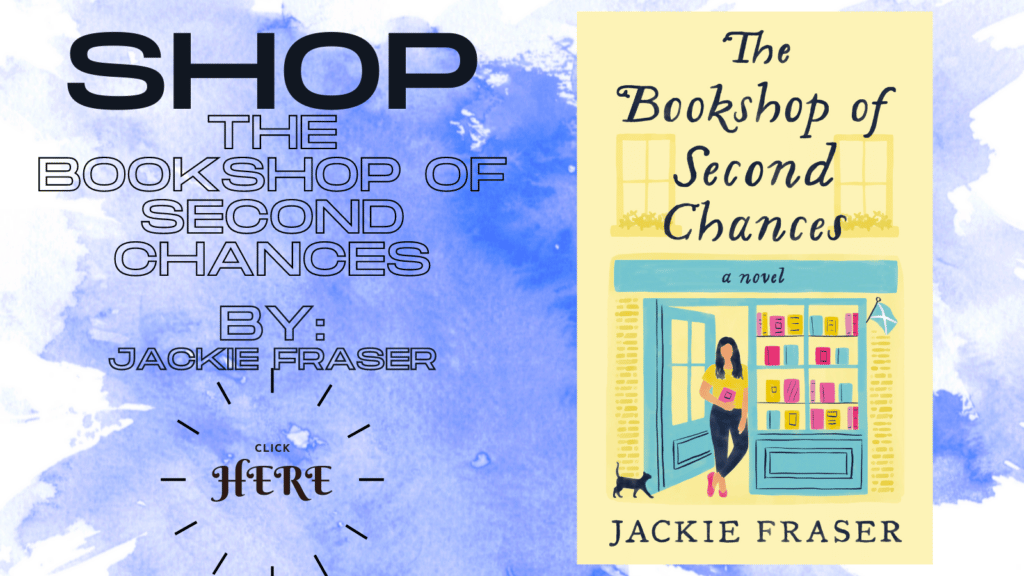 Don't forget to check out my feature on Feedspot's Top 100 YA Book Blogs!