This post may contain affiliate links, which means I may receive a small commission, at no cost to you, if you make a purchase through a link!
Alyssa Embree Schwartz and Jessica Koosed Etting Exclusive Author Interview is here. I'm so excited to have Alyssa and Jessica join me for an exclusive interview. They are also guests of my YouTube Talk Show, Book Hour. You can scroll below and watch their exclusive episode. I first saw Fade into the Bright online and could not wait to read it. The storyline is one that will touch so many! Now, without any further wait, let's get started into today's chat with the authors because, yes, TWO authors wrote this fabulous novel!
Welcome, Jessica and Alyssa! I'm excited to have you here. Tell us more about Fade into the Bright.
We're excited to be here! FADE INTO THE BRIGHT is a contemporary YA fiction novel that tells the story of two sisters, one summer, and a diagnosis that changes everything:
Abby needs to escape a life that she no longer recognizes as her own. Her old life—the one where she was a high school volleyball star with a textbook-perfect future—has been ripped away. Abby and her sister, Brooke, have received a letter from their estranged dad informing them he has Huntington's disease, a fatal, degenerative disorder that you wouldn't wish on your worst enemy. And when the sisters agree to genetic testing, one of them tests positive.

Fleeing to Catalina Island for the summer, Abby is relieved to be in a place where no one knows her tragic history. But when she meets aspiring documentary filmmaker Ben—tall, outdoorsy, easygoing, with eyes that don't miss a thing—she's thrown off her game. Ben's the kind of guy who loves to figure out people's stories. What if he learns hers?
Fade into the Bright has gotten rave reviews and been compared to Five Feet Apart and Fault in Our Stars. Were you fans of those novels? Did those novels inspire you to write Fade into the Bright?
We are fans of both of those novels and grateful to be put in the same company! However, while those books tackle some similar themes and have characters facing complicated issues, they didn't specifically inspire this particular story—for us, it was more personal. We were initially inspired to write this book after watching some people very close to us test for Huntington's disease and handle the aftermath of that. We, like most people out there, had never even heard of HD before this experience, and suddenly, we couldn't help but start imagining a character facing it, and the story organically grew from there.
Abby is such a powerful character. How did you come up with her storyline?
While our initial idea for the book was based on personal experience, the story and characters are, of course, fictional. We loved developing Abby's character and storyline. Creating characters is our favorite part of writing. We like to give ourselves a lot of time to find their voices and then create a journey for them that feels authentic. In the case of Abby, she has had experiences in her past that have really defined who she is and how she deals with things (or not!) So, we then wanted to explore how the knowledge that comes with testing for HD would impact her and the choices she makes in the months that follow. When she escapes to Catalina for the summer and meets Ben, who is determined to discover her secrets, it sets up a push and pull that helps catapult Abby forward.
Tell us, how did you both come about writing novels together, making them seem as if one author wrote them?
We've been writing as a team for 18 years in TV, film, and books, so at this point, we have a very well-honed system! We each write a chapter, then we swap and edit each other's drafts. Then swap and edit again, over and over, until we're both happy. We go back and forth like this so many times that we can't even tell who wrote what parts by the end of it! It definitely helps that we have the same writing style and that we've been friends for so long. We usually know what the other one is going to write before they even start typing.
Does one of you do the writing and one the outlining? How do you go about crafting novels?
We do all the initial brainstorming of the story and characters together (and by together, we mean on FaceTime because Jessica lives in Los Angeles and Alyssa lives in D.C.). We like to do very extensive outlines, and use a shared Google doc that would probably make no sense to anyone but us. At this point, we have a shorthand for our shorthand! We always keep the last few chapters in the outline loose because we know how quickly the story or characters can shift as we're writing. Sometimes there's a character we think is going to show up once or twice in the book. We end up loving the character so much, we have to go back to the outline and reframe it. After we've outlined the book and the major beats of each chapter, we split up the first few chapters and start our swap and edit process.
What was your favorite thing about writing Fade into the Bright?
Definitely, the three-day trip we took to Two Harbors on Catalina Island, where Fade into the Bright is set. The location is a huge part of the book, and though we'd both been there before, it had been years. When we arrived, we found out that there is basically no Wi-Fi on the tiny island. But after the shock wore off (and Jessica figured out a way she could still watch the Bachelor finale), we realized it was a blessing in disguise. It was an amazing experience immersing ourselves in the magic of Two Harbors without the usual distractions. We met so many great people who ended up inspiring several of our characters. We also found the most peaceful, ocean-view spot to write from every day. The fact we were actually sitting across from each other and not staring into the void of Facetime, was the icing on the cake!
Tell readers a fun fact about yourselves someone may not know.
We met in our first class on our first day of freshmen year of college and hated each other at first! A month into school, we both had to stay late to talk to our professor. We ended up walking back to our dorms together. During the short walk, we discovered we had the exact same taste in books. We had grown up on opposite coasts, both loving The Babysitters Club and Sweet Valley Twins books—as well as darker, twisty thrillers. (And also, weirdly that we both had the same favorite movie—Robin Hood: Prince of Thieves). Insta-bond! Best friends ever since!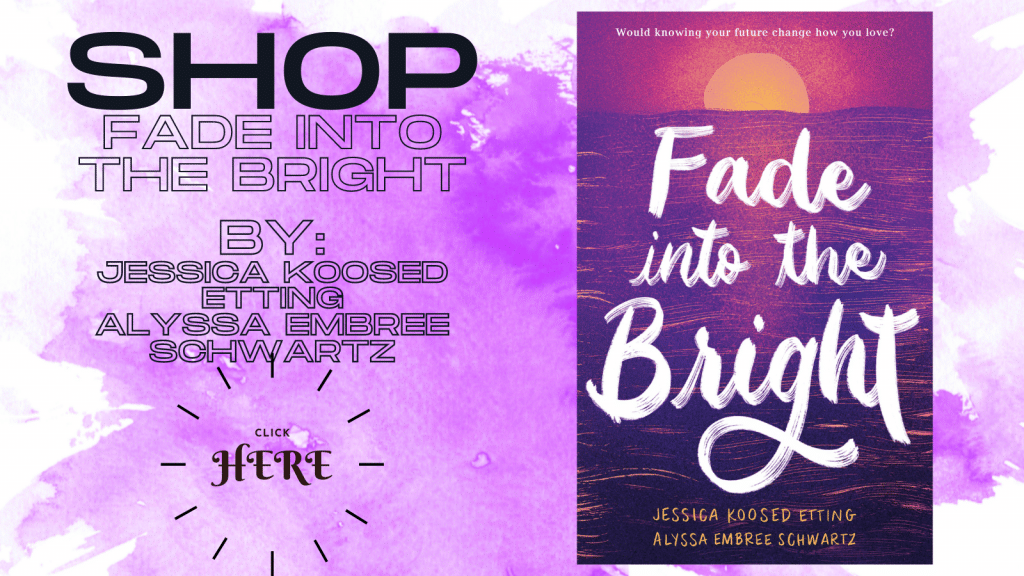 Before I let you go, tell us what's next? Can we expect more books? Books to movies? Any sequels?
We're always thinking about our next book! We put our Lost Causes sequel on hold to write this book, so we may be revisiting that! In addition, we are (fingers crossed!) in early chats about turning Fade into a movie so stay tuned!!
Comment below your thoughts on today's exclusive interview!
Watch Alyssa and Jessica on Book Hour!
Get your copy of Fade into the Bright on Amazon!
Are you an author, publisher, or publicist? Want to get an author interview? Contact me! Also, don't forget to check out my feature on Feedspot's Top 100 YA Book Blogs!