This post may contain affiliate links, which means I may receive a small commission, at no cost to you, if you make a purchase through a link!
Sheila Roberts Exclusive Author Interview is an interview I have been so excited for. I am a huge fan of Sheila's books and LOVE her Moonlight Harbor series. Today, we chat all about her latest book in the series, Sunset on Moonlight Beach. She also joins me on Book Hour and talks all about her writing journey. Watch the exclusive YouTube interview below as well!
Sunset on Moonlight Beach is your latest novel out and perfect for summer! It is part of your Moonlight Harbor series too! Tell us more about Jenna Jones and the story we will see unfold.
I love Jenna! She may go through hard times and get discouraged, but she always picks herself up and gets back in the race. When we first met her in this series, she was newly divorced and barely making ends meet, all while trying to pay spousal support to her ex, the "struggling" artist, who just happened to find his perfect muse… another woman! Jenna wound up hitting restart on her life in the beach town of Moonlight Harbor on the Washington Coast, running the vintage motel, the Driftwood Inn. She's had some interesting adventures so far, but life's about to get really interesting in this book as Jenna gets ready to take a second chance on love.
Did you have an all-time favorite character in Sunset on Moonlight Beach?
I guess you can already tell. It's Jenna. But I love her great aunt, Edie, who is quite the character (and a pretty smart woman, also). And I have a lot of fun with Edie's parrot, Jolly Roger, who always has something interesting to say.
Can you tell us how many books we can expect in your Moonlight Harbor series?
This is the fifth, and I'm planning on at least three more. Hopefully! J
When writing a series, do you already have an idea of what storylines will be in the series, or do you write the books as you go?
While I do plan out each book, the stories of different characters in Moonlight Harbor have been unfolding as I go along, which I'm enjoying!
Walk us through your typical day of writing. Do you have to sit in a particular area? Write at a certain time of day?
Since I have a laptop, I can work pretty much anywhere in the house. While I don't have a set writing time, I'm driven enough that the writing happens every day. Plus, I happen to love what I do, so it's not like I have to force myself to go to work. One thing I don't do is listen to music when I'm writing (unless it's instrumental). Otherwise, I get too distracted singing along. Once a musician, always a musician.
Do you ever get writer's block?
Ages ago, when I was starting a big contract with my publisher, I had a short period of mental panic. But getting your imagination going is a little like starting a car. You keep turning over the starter, and eventually, you get rolling. I've been happily rolling for many years now.
What books can we expect to see after Sunset on Moonlight Beach? Will we will any of your books being adapted into movies?
I am always hoping. I'm very excited about my upcoming Scrooge tale, due out later this year, A Little Christmas Spirit. I love my main character. He's a grumpy widower who's going to get a little prodding from someone special to help him rediscover his Christmas spirit. Sure would love to see that made into a movie. Are you listening, Tom Hanks?
You can see Sheila Roberts on Book Hour below!
Get your copy of Sunset on Moonlight Beach on Amazon!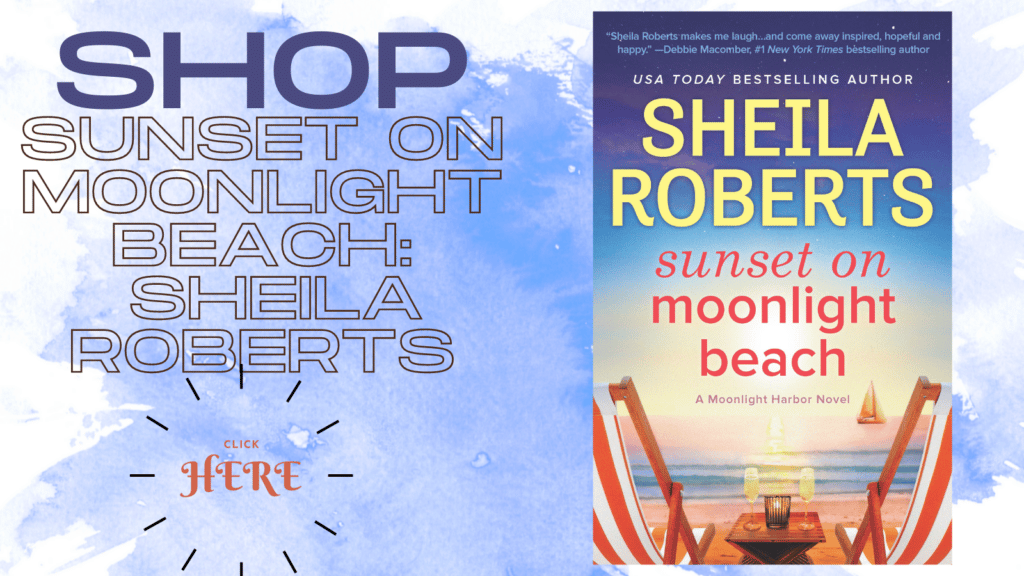 You can follow Sheila Roberts on: Twitter, Facebook, and Instagram.
Be sure to comment below too and let me know what you think of today's exclusive Author Interview with Sheila Roberts!
Are you an author, publisher, or publicist? Want to get an author interview? Contact me! Also, don't forget to check out my feature on Feedspot's Top 100 YA Book Blogs!