This post may contain affiliate links, which means I may receive a small commission, at no cost to you, if you make a purchase through a link!
Jen Calonita Exclusive Author Interview is here and I am so excited! I have talked to Jen before about another one of her Disney Twisted Tales, Conceal, Don't Feel. But today I am excited to say it is all about her latest Disney Twisted Tale based on Disney's Hercules! So without further delay let's get started!
Welcome, Jen! I'm so excited to have you back to talk about your latest Disney Twisted Tale, Go The Distance. For those that aren't aware, it's a twist on Hercules and Meg! Tell us more, without giving away spoilers!
I'm so happy to be here! The way I like to sum up this story is like this: Imagine you had to go to the Underworld to save the soul of the woman your ex-boyfriend left you for. That's Meg's quest in Go the Distance.
What is your favorite part of Go the Distance?
I love the journey Meg goes on. She's got a lot of baggage when we start this quest—how she feels about an ex she never really got closure with, a complicated childhood and the loss of her mother at a young age, plus this new relationship with Wonder Boy and where it might lead. I love how she evolves with each step.
How do you craft a twisted tale? Did you always have these questions about Disney's classic tales growing up?
It's so much fun to think about the twists in a fairy tale, isn't it? I love coming up with a new play on a story you already love where you get to explore new aspects of your favorite characters.
When writing Go the Distance, did you go back and read the original tale closely?
I found myself watching Hercules over and over, trying to nail Meg's voice and attitude and to catch all the little details I knew readers would want me to include.
What is a fun fact readers don't know about you?
When I was a kid, I was a very reluctant reader! It took one of my teachers patiently helping me find books that would interest me to turn it all around. I discovered Tales of a Fourth Grade Nothing by Judy Blume, and it all turned around.
Before I let you go, can we expect more Disney twisted tales from you coming soon?
The next Twisted Tale is coming from Liz Braswell this fall and is Tangled-themed. My next Disney adventure is a middle grade called The Rise of Flynn Rider and is a Flynn origin story.
Get your copy of Go The Distance on Amazon!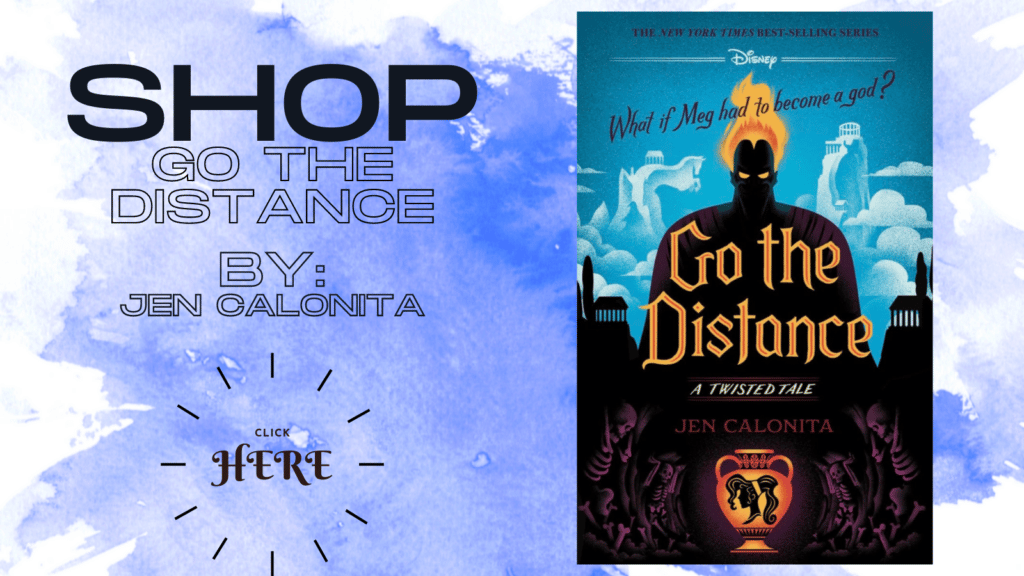 Watch Jen on Book Hour on my YouTube Channel too!
Don't forget to check out my feature on Feedspot's Top 100 YA Book Blogs!