This post may contain affiliate links, which means I may receive a small commission, at no cost to you, if you make a purchase through a link!
Today is the day for my interview with Author Freya Sampson. I really enjoyed reading The Lost Ticket and could hardly wait to chat with Freya about it!
Freya! Welcome! Tell us more about The Lost Ticket.
The Lost Ticket tells the story of two strangers who meet on a London bus, 29-year-old Libby and 82-year-old Frank. Frank tells Libby about the time in 1962 when he met a beautiful red-headed artist on the 88 bus. They made plans for a date, but Frank lost the ticket with the girl's phone number written on. He's spent the past 60 years riding the same bus trying to find her. This story inspires Libby, and with the help of an unlikely companion she meets on the bus, she vows to help find Frank's girl.
I love Frank's storyline. It is almost two books intertwined as one. Share with readers about Frank and what you enjoyed most about crafting his storyline.
Frank was a wonderful character to write. He's a proper English gentleman and a true romantic, a trained actor who has worked with many of the greats during his career. He's also extremely friendly and loves talking to strangers, and he's touched the lives of many people he's met on the bus over the years. Now aged 82, he's recently been diagnosed with dementia. Although it's still in the early stages, he's terrified that as the symptoms worsen, he'll no longer be able to remember the red-headed artist he's been searching for all these years.
What inspired you to craft The Lost Ticket?
When I was writing my debut book, The Last Chance Library, I heard an amazing story that really stuck with me. A 102-year-old woman had spent years searching for a book she remembered her father reading to her as a child, but she'd never been able to find it. She mentioned the book in passing to a librarian, who was spurred to action. Not only did the librarian locate a copy of the book, but then she and other library workers took turns recording themselves reading the story so the old woman could listen to it one last time. I was hugely moved by this idea of a lifelong search and of a stranger who was willing to go to such lengths to help them. But I also loved the idea of a ripple effect of kindness, and how the search touched the lives of so many different people. This was this nugget that inspired the idea for The Lost Ticket.
How did you get the setting so spot on? Are you familiar with the buses in London?
I've lived in London for over twenty years and must have ridden the 88 bus thousands of times. It's a brilliant route because it crosses London from the north to the south, passing many of the city's most famous sights on the way. So I hope that American readers will recognize lots of famous landmarks when they read the story, even if they've never visited London (and if you do ever come here, I highly recommend the 88 bus as a way to see the city!)
If there is one thing you hope readers take away from The Lost Ticket, what would it be?
I wrote much of The Lost Ticket during lockdowns here in the UK, when I was desperately missing my friends, family, and human interaction. So I wanted to write a story that celebrated the power of connection and love and how much we can gain if we open ourselves up to other people.
The cover is vibrant and fun, were you involved in the design process?
I'm so glad you like the cover. I love it too! I'm afraid I can't take any credit for the brilliant design. It was all the work of my publishers and the amazing illustrator Sandra Chiu. I did get sent early designs to approve, but I loved them straight away and had very little feedback. I especially love that, like the cover for my first novel, you get a taste of the characters straight away. Plus, the bright colors are wonderful!
---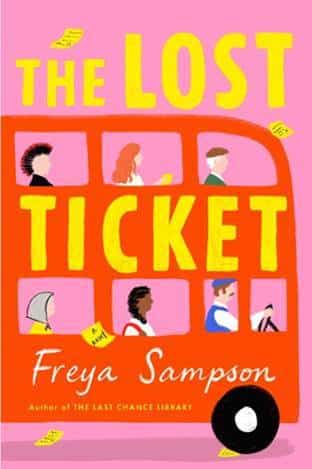 The Lost Ticket by Freya Sampson
Genre: Contempoary Romance/ Humorous Fiction
The Lost Ticket follows the story of Libby who on a bus rides meets an elderly man named Frank. He has dementia and tells her the story of his lost love. Now, Libby is determined to find her and along the ride she also finds herself.
Buy this Book: Amazon | Books-a-million | Barnes & Noble | Audible
---
What is your favorite thing about crafting a novel?
I find first drafts HARD, but I love the editing process. It usually takes me writing the whole first draft before I work out what the story is about and who the characters are, and then I love going back and building up the different layers of the story.
Walk us through a day in your life when writing.
I have young children, so that tends to dictate the shape of my writing day. I drop them at school at nine and then usually go for a walk on Hampstead Heath – walking is an important part of my writing process as it's where I get my best thinking done! I try to be in front of my laptop by 10.30, either in a café, the library, or at home, and then I work pretty solidly until I have to pick the kids up from school. If I'm on deadline, I'll probably do more writing and editing in the evening after they've gone to bed, but I find I'm never that productive after 5 pm!
Before I let you go, tell readers where they can find you on social media.
I'm on Instagram and Facebook as @FreyaSampsonAuthor or you can find me on Twitter at @SampsonF (although I'm not there very much – I find it too distracting!)
Anything else you want to add?
Thanks so much for this interview. It's been lovely to chat with you. And if readers enjoy The Lost Ticket, I really hope they'll like my first novel, The Last Chance Library too! Thank you.
The concludes my interview with Author Freya Sampson!
THANK YOU for joining me, Freya! If you enjoyed today's interview drop a comment below. If you want to see another author join me or you're author interested in an interview contact me today!
---
Other Popular books from the author
---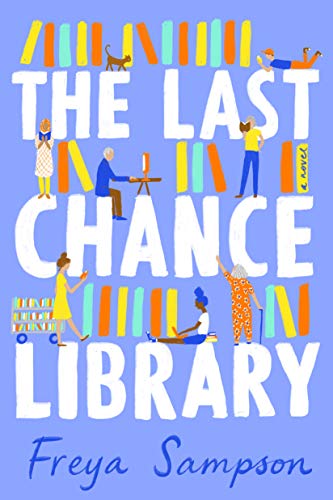 The Last Chance Library
Genre: Romance/ Humor/ Humorous Fiction
The Last Chance Romance tells the story of librarian June Jones. She is determined to save her local library. June is used to staying buried in a book, but now at thirty she must change her ways if she is going to keep the library opened. She is no longer that quiet librarian, instead she is finding her voice.
Buy this Book: Amazon | Books-a-million | Barnes & Noble | Audible