This post may contain affiliate links, which means I may receive a small commission, at no cost to you, if you make a purchase through a link!
Today is my interview with author Kerry Rea, and I am so excited. I first 'met' Kerry on Instagram after reading her first novel, The Wedding Ringer. When I saw her release, Lucy on the Wild Side, I knew I needed to have her come on and chat with me. From the cover to the blurb—this book is too cute!
Kerry! Welcome! Lucy on the Wild Side is your latest novel out! Tell us more about it!
Lucy on the Wild Side is a fun and heartfelt romantic comedy about Lucy Rourke, a zookeeper at the Columbus Zoo and Aquarium. Lucy has two great loves in her life: reality TV and the gorilla troop she cares for. So when hotshot TV personality Kai Bridges announces that he's chosen the zoo as the next filming location for his wildlife docuseries, Lucy sees an opportunity to showcase her beloved gorillas to the world and land a starring role in her department.
When Kai and his film crew arrive, however, Lucy gets the impression that Kai cares more about sky-high ratings than the gorillas, and Kai thinks Lucy's a camera-averse know-it-all who wears too much khaki. But when Lucy and Kai must team up to save an orphaned baby gorilla, she's surprised to discover there's more to him than his rugged good looks and cheesy catchphrases and that maybe a promotion isn't the only thing she wants. And when secrets from the past threaten to complicate everything, Lucy discovers that happiness and success aren't the same things—and that finding joy might mean getting wild.
I love the concept of a zookeeper (Lucy Rouke) and a reality star (Kai Bridges) leading the way in this rom-com novel. What inspired you to tell this story?
Thank you! A few years ago, I visited the zoo on my birthday, and my sister treated me to a special behind-the-scenes experience where we toured the animal health center. In the hallway, we crossed paths with a film crew from National Geographic. They were preparing to get footage of a lynx undergoing surgery. I was able to chat with them for a few minutes, and it got me thinking: what if a well-known wildlife TV show host came to the zoo? What if he was adventurous and charming and had a killer accent, and what if he crossed paths with a fiercely devoted zookeeper who wanted nothing to do with the cameras? That's how I came up with Kai and Lucy. I thought their differences and shared passion for studying animals could lead to some great banter. I love a good workplace romance and enemies to lovers, and this seemed like a great chance to explore both.
Who was your favorite character to craft in Lucy on the Wild Side?
That's a tough one, but I'll say, Lucy. She grows so much as a person throughout the book, and I had a lot of fun writing her journey and figuring out how she would learn to open her heart. Also, she has an awesome job, and when I wrote Lucy's character, I did some fascinating research on gorillas and what it's like to work in a zoo. Lucy at the start of the book is vastly different from the Lucy we see at the end of the book, and writing her character arc was an experience I'll always cherish.
Are any of the characters based on people you know?
No, although I definitely get inspiration from people I know. Sometimes my husband or a friend will say something that sparks an idea for me, whether it's an idea for a character or a funny circumstance to put my characters into. And then I take that idea and run with it. So people I know influence my characters simply by influencing me. Some of my characters are actually written as people I wish I knew!
---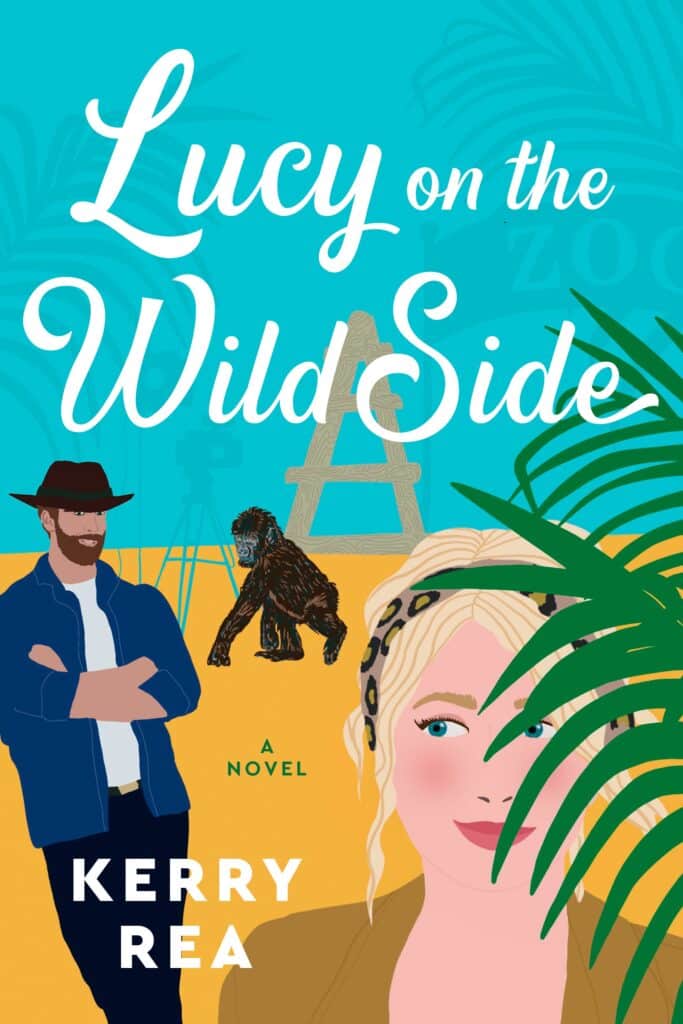 Lucy on the Wild Side
Genre: Fiction/Romance
Lucy on the Wild Side tells the story of Lucy. She loves gorillas and reality TV. But when a reality docuseries approached her to be on TV she jumps at the chance. But she soon learns that the host, Kai Bridges, doesn't really care about what she does. The two clash, but can they find common ground?
Buy this Book: Amazon | Books-a-million | Barnes & Noble | Audible
---
How long did it take you to draft this novel?
Before I write a manuscript, I sit down and create a detailed plot outline. It's usually around 12-15 pages and covers all the important stuff that happens in the book, along with some character background. For Lucy on the Wild Side, that process took about a month. Since Lucy is a primate keeper, I spent another month researching gorillas and what it's like to be a zookeeper. I wrote the actual manuscript in about eight weeks, which is pretty quick for me. It then went through several rounds of edits, each of which took a couple of weeks.
I love the cover and how it relates to the story. Were you involved in the process?
Thank you! I love the cover, too. You get a real sense of the setting and the characters' personalities just from a quick glance at the cover, and I LOVE that baby gorilla Keeva also makes an appearance! My editor asked me to brainstorm ideas, and I told her that I hoped the cover would include Kai and Lucy, some type of camera or equipment to show the TV aspect, and either a zoo animal or some kind of signage to indicate that the book takes place at a zoo.
The fantastic art department at Berkley sent me a black-and-white mockup of their initial draft and asked for my feedback. I loved it and only requested small changes to Kai's beard and the angle of Lucy's eyebrows. Then the art team sent me a color version, and we made some small adjustments to the background. And that was that!
Let's talk writing. Did you always want to be an author?
I've always loved books. I was obsessed with The Babysitters' Club and American Girl books when I was a kid. But I didn't really think of being an author as a job that regular people like me could have. When I was in eighth grade, I competed in a middle school writing competition called Power of the Pen. I made it all the way to the state championships, which was absolutely thrilling. At that competition, I got to meet author, Margaret Peterson Haddix. I cannot convey to you how excited I was about this. I loved her books, and she was so incredibly kind to me. I couldn't believe I was meeting an author in person. That was the first time I realized that it might be something I could become.
But it hasn't been a straight shot to writing professionally. I planned on being a doctor (I even went to medical school!) before realizing that I wanted to write more than I wanted to do anything else. For a few years, I worked full time while writing at night and on the weekends, and I wrote two books before I wrote my debut novel, The Wedding Ringer, which is the first book I sold.
Walk us through a day in your life when writing. Do you write in the mornings? At night? Do you have to have an outline done before you write?
Yes, I absolutely must have an outline done before I write! I've tried writing without one, but it doesn't work for me. It feels like taking a road trip without using a navigation app. And even before I write the outline, I use the Save the Cat beat sheet model to come up with my plot points. In terms of when I write, I pretty much squeeze it in whenever I can. I have a one-year-old at home, and my husband works nights, so it's a lot of chaos. I hope to get back to a more structured schedule now that my son is finally sleeping through the night! I work best from 10 am until early afternoon, but I just have to write whenever I can.
What do you hope readers take away from Lucy on the Wild Side?
First, I hope readers have a good time reading it! We all need more laughter and joy in our lives, and I hope this book brings some of that to you. (I apologize if you shed a tear or two in the process.) Secondly, I hope Lucy's story encourages readers to get a little "wild" in their own lives, whatever that means for them. Because whether your idea of adventure is swimming with sharks like Kai or staying up extra late to watch a reality TV marathon like Lucy, pursuing the things that make you happy is an act of courage in itself. Finally, I would be over the moon if the book draws anyone's attention to the importance of wildlife conservation and the ways we can support it.
Before I let you go, tell readers where they can find you on social media.
Instagram: @authorkerryrea Website: authorkerryrea.com
How fun was my interview with Author Kerry Rea?
Drop a comment below if you have anything you'd like to ask Kerry. You can also contact me about what authors you'd like to see on my site next!
Popular books from the author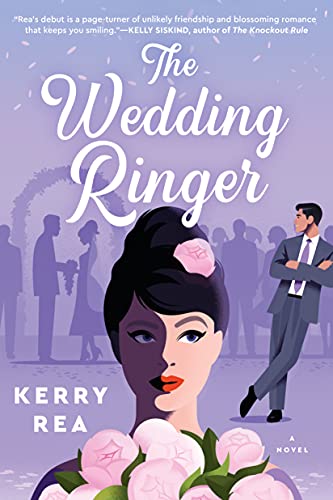 The Wedding Ringer
Genre: Fiction/Romance
The Wedding Ringer follows the story of Willa Callister. Willa abandons everything about her past life after finding her fiancé in bed with her best friend. Meanwhile, Maisie will pay a high price for having Willa be a bridesmaid, throwing her in the path of the handsome Liam Rafferty.
Buy this Book: Amazon | Books-a-million | Barnes & Noble | Audible