This post may contain affiliate links, which means I may receive a small commission, at no cost to you, if you make a purchase through a link!
This post is all about A Vow so Bold and Deadly by Brigid Kemmerer. This is the final installment in the Cursebreaker series. We come back to Rhen, Harper, Lia Mara, and Grey, reading chapters from the various protagonists' perspectives. You can get your copy on Amazon today!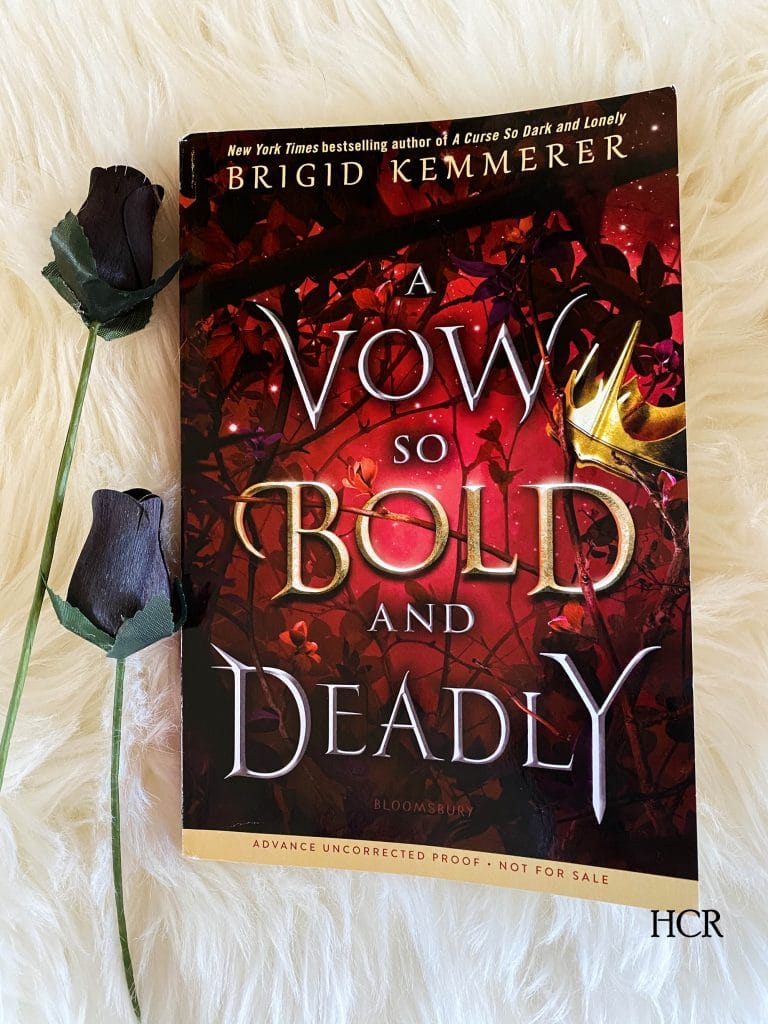 Rhen remains in Emberfall with Lilith in the shadows, torturing him, wanting him to go to war against Syhl Shallow and Grey. Lilith wants one thing, rule at Rhen's side. Rhen is struggling against his fear of magic, and holding a secret against Harper has put a strain on their relationship. Harper knows Rhen has pulled away, but she has too. She cannot forgive him for what he did to Grey in the previous novel. Will the two be able to come together? Better yet, if and when war arrives at Emberfall's doorstep, can Harper really stand at Rhen's side, watching as he fights her brother? The most pressing question is, what will happen to Harper if Lilith comes out of the shadows and reveals herself?
Meanwhile, in Syhl Shallow, Lia Mara is struggling as the new queen. She doesn't want to rule cruelly like her mother. She wants to be known as being fair. However, no one in Syhl Shallow likes magic, and they look down upon not only her kindness but the fact Grey is at her side. No man has ruled at the side of a queen, and they think Lia Mara is weak. It is up to Lia Mara to prove them wrong, but can she? Grey hopes so, always encouraging her to find her own path, loyally standing at her side. However, he faces his own struggles in gaining the confidence of his new people. They do not trust him because he holds magic and the fact, he used to be at Rhen's side. No one wants him there, and as they train for war; it becomes clear they do not believe in who they are fighting for. Can Lia Mara and Grey fix that before war breaks out?
Not only will these questions be answered, but we also get to finally see who ends up reigning Emberfall once and for all!
A Vow so Dark and Lonely is one I recommend reading. I have been waiting for the final installment since I finished reading A Heart so Fierce and Broken. The characters are great as we continue their story. I will say I wish we got a few more bonus chapters from Harper and Lia Mara's perspectives because I love them! However, I really did enjoy how the trilogy ended. It did not disappoint as everything came together in a great way. I was so glad I also got to chat with the author Brigid Kemmerer on my Book Hour on YouTube too. She is great, and her voice really shines in this final novel!
Get your copy on Amazon today!
Have you read this novel? Want to get your book feature? Contact me! Also, don't forget to check out my feature on Feedspot's Top 100 YA Book Blogs!