This post may contain affiliate links, which means I may receive a small commission, at no cost to you, if you make a purchase through a link!
I'm so excited to have Amanda join us! You're Invited is a thriller book I never realized I needed before now!
Welcome Amanda! I'm beyond excited about you joining us! You're Invited has so many original twists. Tell readers more about it!
I'm obviously a huge fan of twists, both when I read as well as when I write. Without giving too much away, let's just say that most of the wedding guests in You're Invited have secrets of their own, and even more of them hold a grudge against the bride. Whether or not they act on those grudges, well, that's a different story.
You grew up in Sir Lanka. Did you see a lot of over-the-top weddings there? Is that why you made it the setting of your novel?
Yes! In Sri Lanka, weddings with a hundred guests are known as "intimate, small affairs." Most venues don't even cater to less. They are definitely great fun, though, even as the thriller writer in me couldn't help but wonder what would happen if a dead body got thrown into the mix.
Who was your favorite character to craft?
Definitely, the "aunties" who gave interviews to the investigator after the bride was reported missing. They were a combination of the various aunties and socialites I've met in Colombo, and I had a lot of fun weaving conversations and phrases (not to mention gossip) I'd heard in real life into the narrative.
Do you have a favorite chapter?
I always love the very end of a novel, when all the puzzle pieces fall into place, and the truth is revealed—It's no different with You're Invited. That final conversation which takes place at the very end, was definitely my favorite section to write.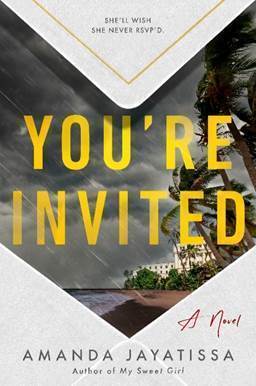 How long did it take you to write You're Invited? Did you ever change up any of the tricky twists?
I usually write my first drafts quickly—usually in about 2 or 3 months, but then spend as long as my editor will let me tweaking and adjusting because I often can't leave things alone! I think You're Invited took about nine months. The main twists stayed the same—I usually figure those out first, so they rarely change, but definitely, some of the smaller reveals changed over time.
Was being a writer always something you wanted to do?
It was always something I did, for as long as I could remember, without giving it too much thought. That I have now made a career out of it has been beyond my wildest dreams. Nine-year-old me, who was adamant about writing a mystery novel, would be very proud.
Have you always been drawn to the thriller genre?
Yes. I've always loved books that had a mystery at their heart—from Famous Five and Secret Seven to Nancy Drew. I was also an avid reader of R L Stine's Goosebumps and Fear Street series, so perhaps that's why I tend to love darker stories so much.
What was your favorite part of the process of releasing You're Invited?
So far, it's been the fantastic response I've been getting on social media. Waking up in the morning and seeing the posts, reviews, and messages from readers have been mind-blowing! I couldn't be more thankful.
I love the title. Was it always called You're Invited?
No! I'm absolutely rubbish at titles, and my editor and agent often have to help me out! You're Invited didn't even have a working title—I just called it Book 2. Thankfully, Candice Coote, my editor's assistant, came up with this title, and I loved it!
Before I let you go, tell readers where they can find you on social media.
It's pretty easy because everything is just my full name—@amandajayatissa on Instagram, Twitter, and Tiktok Facebook.com/amandajayatissa And my website is www.amandajayatissa.com
Comment any questions you have for Amanda! Thank you Amanda for joining us! Want to see another author on the site? Contact us today!