This post may contain affiliate links, which means I may receive a small commission, at no cost to you, if you make a purchase through a link!
Uncle Billy's Chicken Hut and Salvation Emporium by Jeffrey G. Roberts novel is here. West of the bustling metropolis of Phoenix, along Interstate Highway 10, is the magnificent and mystical desolation of the mountains of Southwestern Arizona. It is as alien as the planet Mars, and just as foreboding. Yet hidden away between the peaks and valleys and desert vistas, is a most incongruous edifice—part diner, part carnival atmosphere, with an equal measure of whimsy, and just a smidge of a nightmare. And it lay smack dab between the Eastern boundaries of imagination, and the Western shores of spooky. You can't get to it by car or plane, and you won't reach it by helicopter or even horseback. Nor is it on any map in existence. In fact—you won't find it at all.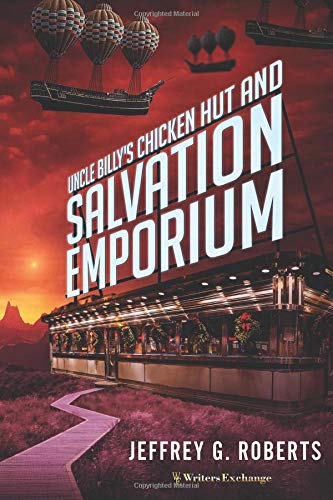 Unless you're dead. For this is Uncle Billy's Chicken Hut & Salvation Emporium. Welcome. Do you say your spirit can't move on until you find that 1995 issue of Jugs Galore with Miss February—before your wife does? Come on in! Never got a chance to see the dream realized of eating oysters on the half-shell? You've come to the right place! Not quite sure you're actually in the dead mode? Uncle Billy will steer you on the right path! You know you're dead, but you're not quite sure how it happened, or where to go? Uncle Billy will set you straight!
But just who is Uncle Billy, and who or what could have conferred upon him such God-like ability to ease the passing of muddled souls? Let's just say that some questions are best left un-asked, and thus un-answered. One then might ask how long Uncle Billy's Chicken Hut & Salvation Emporium had stood? And that would be another.
But whatever supernatural force called it into being, it was a cross between a 50's diner and a carnival funhouse. Nestled between two majestic mountain peaks, it contentedly sat in paranormal obscurity and trans-dimensional anonymity. But if you need to move on to the Happy Hunting Grounds, Nirvana, Paradise, Harp Central, etc., and there's this teensy-weensy impediment holding you back from achieving your eternal reward—or just desserts, if your Karmic pendulum swings that way, Uncle Billy's Chicken Hut & Salvation Emporium has what ails you. Yessiree! How? Well, come on in and set a spell. It's not like you're going anywhere. Uncle Billy and the girls will be happy to see you. Maybe. Pity you're dead. What? Well, how the hell else did you think you'd get in?
Author Jeffrey G. Roberts was born in New York City and graduated from North Miami Senior High School. Then he went on to get a bachelor's and Master's degree in writing and history, respectively, from Northern Arizona University, in Flagstaff, Arizona. Roberts has four novels on Amazon and Barnes and Noble, along with three more he's trying to get published and/or represented. He also has short stories published in most genres. Currently, Roberts resides in Tucson, Arizona, land of breathtaking natural vistas and brain-boiling summers. To get your copy of the novel CLICK HERE.
You can download your copy of Uncle Billy's Chicken Hut and Salvation Emporium HERE and follow Jeffrey G. Roberts on Twitter or Facebook. Have you read this novel? Comment below if you have and tell me your thoughts! Also, if you want to be the next featured indie author Contact me today!
Note: Information and photos were provided. The honest review is all mine my own thoughts and opinions.