This post may contain affiliate links, which means I may receive a small commission, at no cost to you, if you make a purchase through a link!
To Kill A King by W.L. Hawkin
THE HOLLYSTONE MYSTERY SERIES CONTINUES
URBAN FANTASY AT ITS BEST BY CRITICALLY ACCLAIMED CANADIAN AUTHOR, W.L. HAWKIN
Released and published by Bluehaven Press!
The book will be available worldwide in digital and print across all platforms on March 21, 2021!
"Sorcha's fingers flew to the fey butterfly tattooed on the back of her neck. Sometimes the butterfly brought her joy; other times, inspiration, but always a sense of hope. And she needed all three in this moment for her heart was breaking to see her man so broken."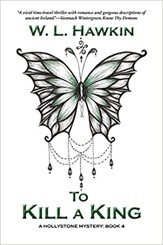 Sorcha just wanted to warn Ruairí of his fate until she saw him and fell in love. How could she leave him to be ritually murdered and cast in a bog to cure for two thousand years?
Though he's lost and grieving the loss of his lover, when Estrada realizes his friend, Sorcha, is trapped in Iron Age Ireland, he demands that Cernunnos take him and Dylan back through time to rescue her. The Horned God states the rules: you cannot change history or develop bonds with anyone. How can Sorcha, the spirited archaeologist, survive this prehistoric warrior culture? Assuming she's fey, Ruairí's unscrupulous rival wants her power; but worse still, Ruairí's lover, the wicked Crow Queen, wants her dead.
Can Estrada use his Wiccan powers and skills to defeat Iron Age Druids and bring his friends home?
A spin-off of To Sleep with Stones, book four tells the story of archaeologist Sorcha O'Hallorhan's deepest desire. Buy this romantic, time-traveling, prehistoric thriller today and find out what it takes To Kill a King.
Amazon.ca: To Kill a King: Amazon.ca: Hawkin, W L: Books
Amazon.com: Amazon.com: To Kill a King: A Hollystone Mystery: Book 4 (Hollystone Mysteries) eBook: Hawkin, Wendy: Books
OTHER BOOKS IN THE SERIES:
ABOUT W.L. HAWKIN:
W. L. Hawkin writes "edgy urban fantasy with a twist of murder" from her loft near Vancouver, B.C.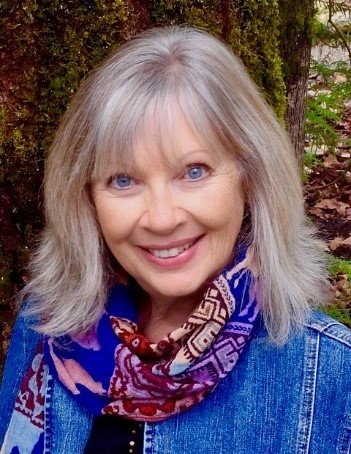 Her novels—To Charm a Killer, To Sleep with Stones, To Render a Raven, and To Kill a King each stand-alone but form the Hollystone Mysteries series. This coven of West Coast witches, and their eccentric friends, solve murders using ritual magic and a little help from the gods.
Although she's an introvert, in each book her characters go on a journey where Hawkin's traveled herself. She researches all her locales (Ireland, Scotland, the B.C. Coast) to soak up the sensory landscape. In 2017, she climbed Croghan Hill in Ireland to survey the land her king would rule in To Kill a King, a romantic time-travel thriller set in Iron Age Ireland.
A seeker and mystic, fascinated by language, archaeology, and mythology, Hawkin graduated from Trent University, Ontario, and has post-bac diplomas from SFU in B.C. Her background in Indigenous Studies and Humanities informs her work. She found her voice publishing poetry and Native Rights articles in Canadian news magazines and is now an Indie author/publisher at Blue Haven Press. http://bluehavenpress.com
To request additional review copies or an interview with W.L. Hawkin, please contact Mickey Mikkelson at Creative Edge Publicity: [email protected] / 403.464.6925.
We look forward to the coverage!
Don't forget to check out my feature on Feedspot's Top 100 YA Book Blogs! & Check-out To Kill A King by W.L. Hawkin!