This post may contain affiliate links, which means I may receive a small commission, at no cost to you, if you make a purchase through a link!
The Secret Life of Sofanishba Anguissola by Melissa Muldoon is out now.
This novel takes place in the sixteenth-century and tells the story of a woman wanting to paint and her adventure of doing just that. During this timeframe, women painters were not acknowledged like men. However, Sofonisba was recognized by Michelangelo and Vasari, praising her highly for her talent in painting. She goes on to be a court painter to Spanish King Phillip II, teaching his queen to paint.
Sofonisba lives an amazing life, and towards the end, decides to tell her story to Sir Anthony Van Dyke. She reveals a secret too, challenging Van Dyke to guess the lie under her extraordinary tales. Does he? You'll have to get this book to find out.
In a saga filled with intrigue, jealousy, buried treasure, unrequited love, espionage, and murder, Sofonisba's story is played out against the backdrop of Italy, Spain, and Sicily. She encounters talented artists, authoritative dukes, mad princes, religious kings, spying queens, vivacious viscounts, and dashing sea captains-even, a Barbary pirate throughout her life. But of all the people who fell in love with Sofonisba, only one captured her heart. The painter may have many secrets, but the truth of her life is crystal clear from the beginning. Always a strong, passionate woman with a dream, she was an intelligent artist who knew her self-worth and, in the end, as Michelangelo had done for her, Sofonisba passed her brush to a new generation.
Subscribe to our newsletter!
[newsletter_form type="minimal" lists="undefined" button_color="undefined"]
The Secret Life of Sofanishba Anguissola is another excellent novel from Author Melissa Muldoon! She has a way of capturing female protagonist's voices that hold their own from the start to the finish of a novel. This one is no exception! The amount of research Author Muldoon did to craft this novel is astounding and really paid off. This is now officially my new favorite book from her. My favorite part was reading about the painting aspect brought into this novel. I was not familiar with that during that timeframe and really learned a lot. I definitely recommend getting a copy of this novel!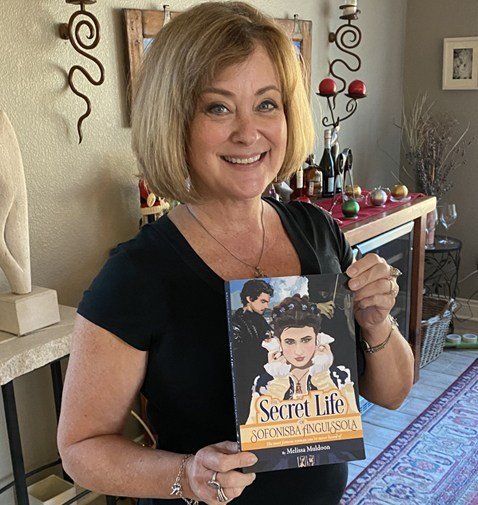 Melissa Muldoon is the author of four novels set in Italy: Dreaming Sophia, Waking Isabella, and Eternally Artemisia, and The Secret Life of Sofonisba Anguissola (coming Fall 2020). All four books are available on Amazon in print, Epub, and Audio. They tell the stories of women and their journeys of self-discovery to find love, uncover hidden truths, and follow their destinies to shape a better future for themselves.
As a student, Melissa lived in Florence with an Italian family. She studied art history and painting and took beginner Italian classes. When Melissa returned home, she threw away her Italian dictionary. However, after launching a successful design career and starting a family, she realized something was missing. That "thing" was the connection she had made with Italy and the friends who live there.
Living in Florence was indeed a life-changing event. Wanting to reconnect with Italy, she decided to start learning the language again from scratch. As if indeed possessed by an Italian muse, she bought a new Italian dictionary and began her journey to fluency—a path that has led her back to Italy many times and enriched her life in countless ways. Now, many dictionaries and grammar books later, she dedicates her time to promoting Italian language studies, traveling, and sharing her stories and insights about Italy in novels set in Italy.
Purchase Your Copy on Amazon!
You can also follow Melissa on: Amazon, Facebook, Instagram, Twitter, Pinterest, her website, or YouTube.
Have you read this novel? Want to get your book feature? Contact me! Also, don't forget to check out my feature on Feedspot's Top 100 YA Book Blogs!
Note: Author provided author bio, author photo, and blurb of novel.