This post may contain affiliate links, which means I may receive a small commission, at no cost to you, if you make a purchase through a link!
Ignite your inner adventurer and delve into the unknown on this journey of transformation. The Inside Hustle shakes off the ordinary for the extraordinary, delivering thought-provoking wisdom for the now moment with fierce authenticity, honesty, and humor.
Living through 9/11 in New York, author Joanna Walden experienced a moment of clarity, which propelled her to search for something greater than her 9-5 existence. Leaving her successful advertising career on Madison Avenue behind her, Joanna set off in search of her purpose and a greater truth hiking the Camino de Santiago through Spain. This adventure is the start of the hilarious comedy of errors that best describes her personal journey of transformation towards a higher perspective.
Seeking her purpose through a career in London, Joanna falls into old patterns of self-sabotage through the misuse of drugs, alcohol, and men. Determined to solve the problem herself, Joanna enlists intuitive healers, imbibes plant medicine, and then climbs Mount Kilimanjaro, on an often farcical spiritual search that does nothing to answer the calling of her heart.
Joanna's haphazard quest for authentic spiritual adventures continues at a controversial Brazilian spiritual retreat center before meeting an octogenarian shaman in Argentina who prophesies her future, however her path to enlightenment is derailed again by her father's terminal cancer diagnosis.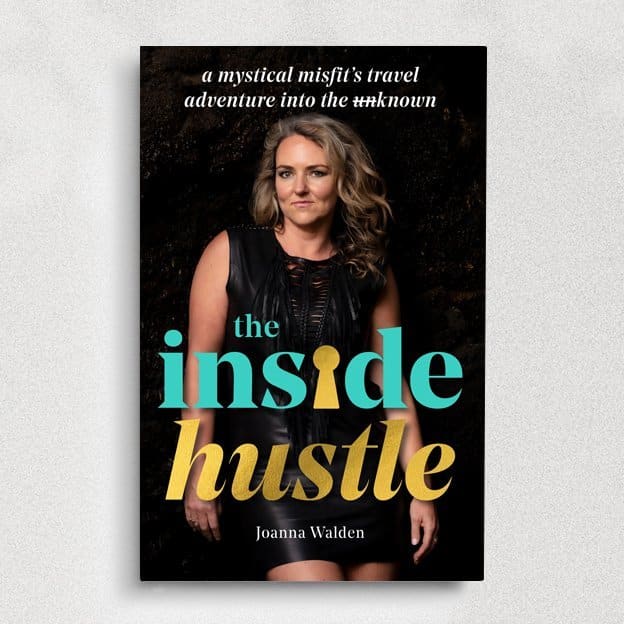 After the death of her father, Joanna quits the corporate world, swaps her Brazilian boyfriend for a Brazilian girlfriend, and finds answers right on her doorstep back home in New Zealand. It's sex, drugs & spirituality, an unconventional path from dark to light, and a modern version of personal evolution. It's a transformational travel adventure taking you on a wild ride, which is as entertaining as it is enlightening. Are you ready to unlock the truth of who you really are?
At the time of publication in April 2020, the world is gripped in the COVID-19 global health and financial crisis. Now more than ever, we are being asked to re-evaluate all that has gone before to remember what is truly important. To find new ways of living, being and working with each other, and the planet moving forward. This situation is asking us to dive deep into who we truly are, to face our fears, find the gold buried in the darkness, keep calm in the chaos and feel love and gratitude for everything and everyone above all else. The experiences in this memoir provide tools and wisdom to navigate these challenging times of uncertainty and may provide inspiration and comfort for all those needing it.
Joanna Walden has spent twenty years working in advertising around the world and exploring everything from Transcendental Meditation to quantum physics. Currently residing in Auckland, New Zealand, Joanna quit the corporate world to start a holistic brand consulting and personal transformation business, and begin sharing her knowledge and voice with the world.
You can get a copy of The Inside Hustle on Amazon, iBooks, or Kobo!
Follow Author Joanna Walden on Instagram and Facebook.
For hard copies can be made on www.joannawalden.com or on Amazon!
Note: Author provided bio & blurb & photos. I received this product for free for this paid feature, but the honest review is all mine.