This post may contain affiliate links, which means I may receive a small commission, at no cost to you, if you make a purchase through a link!
What happens when heroes are as broken as the world they must reforge?
​A mad king's genocide destroyed Alea's home and left her sanity in tatters. Caught in the crossfire between the gods and their creators, Alea realizes the darkness inside her is the only thing that can end the bloodshed. Across enemy lines, bastard lieutenant Brentemir Barrackborn is horrified by the blood on his hands. He must choose between the gods he worships and newfound family if he has any hope of redemption—or surviving the war…
Winner of New Apple Literary's 2015 Excellence in Independent Publishing Award
"Holmes's writing style is somehow both lyrical and direct, and I was impressed with her patient attention to detail. If you're looking for a fantasy series to invest yourself in, this is it!" – Page Morgan, author of The Dispossessed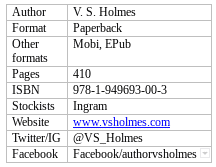 "Holmes didn't disappoint with dropping tidbits of emotion, character growth, and internal struggle among all the action and war-time maneuvers." – Kathrin Hutson, international bestselling author of Sleepwater Beat
Series:
Smoke and Rain,
Lightning and Flames,
Madness and Gods,
Blood and Mercy (out 2020 from Amphibian Press)
"The Tempest" (Anthology: Out of the Darkness)
V. S. Holmes is an international Bestselling gender-queer science fiction and fantasy author. She has written the REFORGED series and the NEL BENTLY BOOKS. Smoke and Rain, the first book in her fantasy quartet, won New Apple Literary's Excellence in Independent Publishing Award in 2015. In addition, she has published short fiction in several anthologies.
When not writing, she works as a contract archaeologist throughout the northeastern U.S. She lives in a Tiny House with her spouse, a fellow archaeologist, their not-so-tiny dog, and owns too many books for such a small space.
V.S. Holmes is available for interviews, media appearances, speaking engagements, and/or book review requests – please contact [email protected] by email or by phone at 403.464.6925. We look forward to hearing from you about coverage.
You can also follow V.S. Holmes on Twitter and Facebook
If you're interested in getting your press release featured Contact Me!