This post may contain affiliate links, which means I may receive a small commission, at no cost to you, if you make a purchase through a link!
Sisters of the Undertow by Johnnie Bernhard is available on Amazon.
Sisters of the Undertow explores the complexities of sibling rivalry and fate when two sisters, born sixteen months apart, one an Olympian idea of perfection, and the other, a preemie with cognitive and physical disabilities, chose different paths in life. They discover luck is not a matter of fate but choices made.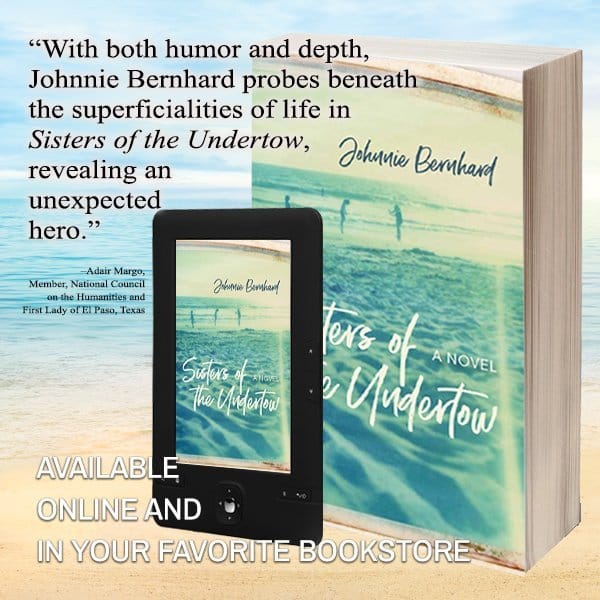 Physically and mentally gifted, Kim is a member of an elite scholastic group, The Blue Birds. This sets a benchmark for her, as she judges herself and others by "blue-bird" characteristics. She becomes self-absorbed and escapes through books, a coping mechanism she develops as a child when frustrated by her special needs sister. Choosing a career as a librarian, Kim manages a large downtown branch, where her patrons are the homeless and disenfranchised. Confused by this twist of fate, Kim begins questioning the choices she's made, including the fragmented relationship with her sister, Kathy Renee.
Kathy Renee remains loyal to her sister, despite being criticized for her lifestyle. An unassuming, loving woman, she devotes herself to her career as a CNA at a nursing home.
Each sister is challenged by failed relationships, health issues, and, ultimately, a life and death decision when Hurricane Harvey delivers a catastrophic flood to Houston. Sisters of the Undertow examines the connotations of lucky and unlucky, the complexities of sibling rivalry, and the hand fate delivers without reason.
You can get a copy of this novel on Amazon today!
Have you read this novel? Want to get your book feature? Contact me! Also, don't forget to check out my feature on Feedspot's Top 100 YA Book Blogs!
Note: information and photos were provided by author.