This post may contain affiliate links, which means I may receive a small commission, at no cost to you, if you make a purchase through a link!
My Top 5 Beach Reads 2021 are here, and I am so excited to unveil them! Everyone has been writing in asking me what I recommend reading at the beach. I decided to put together an unveiling to let you all know my picks, and I will say this wasn't easy. Seriously, I read SO many books that it is SO hard for me to decide only 5 I recommend.
Butttttt…I took the plunge and put together my top 5 picks!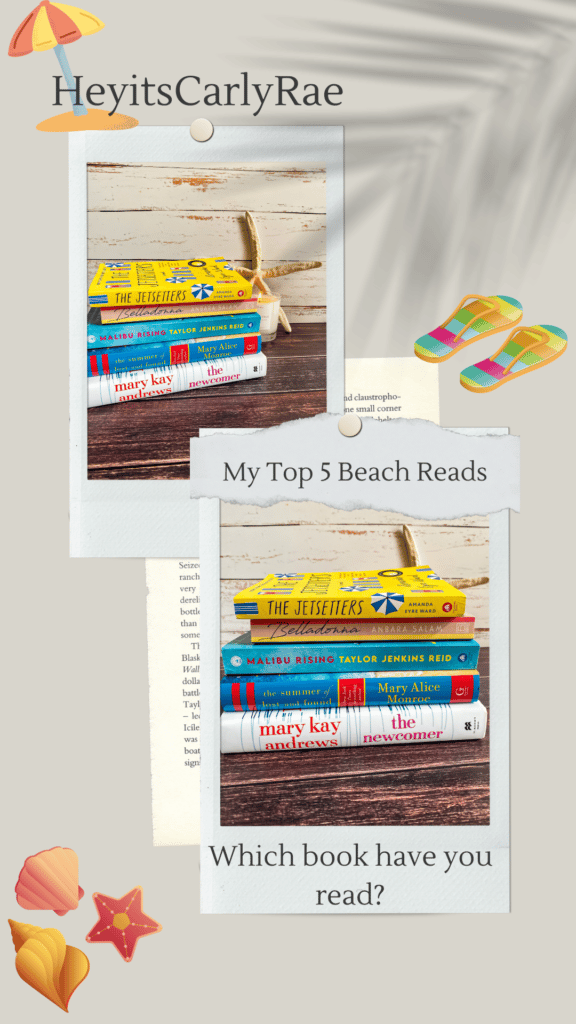 First on the list is The Jetsetters by Amanda Eyre Ward. First, the cover made me fall in love with this book. However, the story was the cherry on top. I loved this plot and the character of Charlotte Perkins. She MADE this book along with her children. I definitely recommend reading this book.
Second, on the list is Belladonna by Anbara Salam. Berkeley Publishing sent me this book and I LOVED the cover immediately. It caught my attention, and I dove right into this plotline. This historical fiction novel takes place in 1957 around Isabella and Bridget. Unlike others I have read, Belladonna is a historical one that has twists I did not see coming.
Third on the list is Malibu Rising by Taylor Jenkins Reid. The publisher sent me an early copy, and oh my goodness, everything about this book is great. It is my first book by Reid, and I love her writing style. She set up a fantastic beach read with this book, from the cover to the plot. Nina is a great character, along with the entire Riva family. They really built this book, and Reid did a great job!
Before I go on, comment if you have read any of these books so far!
Fourth on the list is The Summer of Lost and Found by Mary Alice Monroe. I was so excited to interview Monroe on my channel and even more excited to read her latest novel. I instantly connected to Linnea Rutledge. Her story is so great. I read this book in about three days straight. It came with me in my beach bag every time I went tanning, and the story stayed with me every minute of the day!
Finally, my fifth pick is The Newcomers by Mary Kay Andrews. Oh, my goodness, bravo to Mary Kay Andrews because this book is seriously one of my favorites by her. The mystery, the plot, the romance was all five-star reads for me. I recommend checking this book out. The publisher sent me an early copy and I could not read it fast enough!
So, there you have, my Top 5 Beach Reads for 2021! Leave a comment below and let me know your thoughts too!
Don't forget to check out my feature on Feedspot's Top 100 YA Book Blogs!