This post may contain affiliate links, which means I may receive a small commission, at no cost to you, if you make a purchase through a link!
Jennifer J. Chow Author Interview is here! I'm so excited to chat with Jennifer about her newest novel, Death by Bubbly Tea!
Jennifer! Welcome! Tell us more about Death by Bubble Tea.
Death By Bubble Tea is inspired by my trips to night markets held both in the U.S. and overseas. I also grew up working in the family restaurant, so a cozy culinary mystery seemed like a natural fit.
I love the aspect of having polar opposite protagonists. What inspired you to create their backstories?
Family is really important to me, so I decided to have two cousins work together. I thought it'd be great to have Celine and Yale not only come from different backgrounds (Hong Kong versus the United States) but also display opposite personalities. Celine is into tech and the glitzy, while Yale is bookish and reserved. I know people who inhabit these types of personalities and thought they'd be complementary during an investigation.
Who was your favorite character to write?
It's hard to play favorites with characters! I like both main characters, but I really enjoyed writing Ba. He brings a lot of heart into the story, and I love highlighting his perseverance and caring nature. (Plus, the dim sum descriptions are delightful to write!)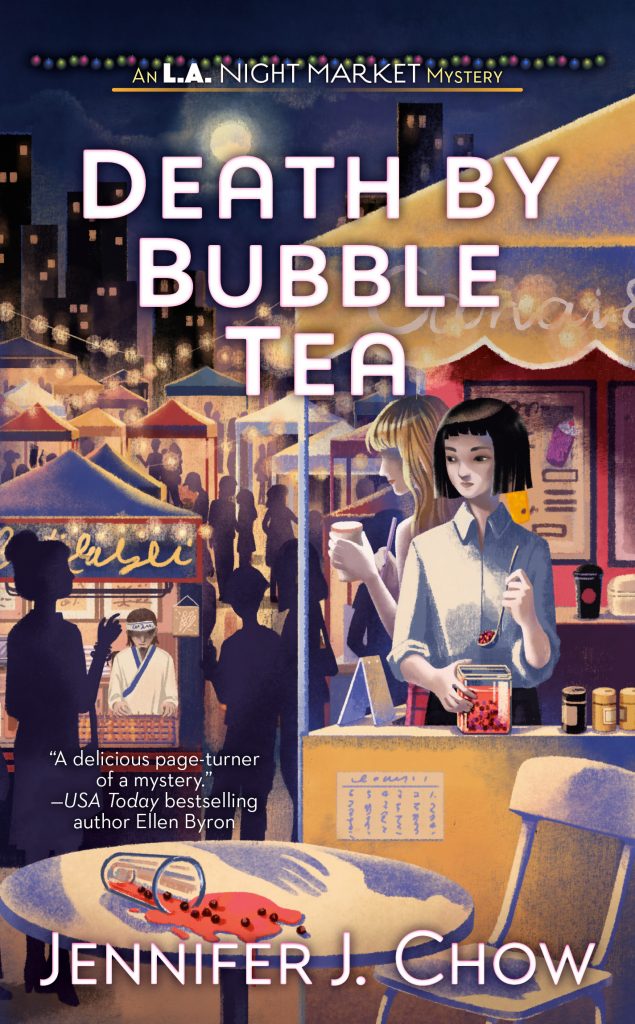 What is your favorite part of Death by Bubble Tea?
With any mystery, I love taking readers on a clue-filled journey—for Death By Bubble Tea. I got to double up and also take them on an eating adventure. Plus, I enjoyed inserting hidden local places by having Celine and Yale visit different real L.A. landmarks.
This cozy mystery has many twists. How did you come up with them? Did you always read a lot of mysteries?
Thank you! I appreciate you saying that. Personally, I like twisty mysteries, and it's always a challenge to make sure there are enough clues to play fair with the reader while also inserting abundant red herrings. I do enjoy mysteries and grew up reading many; my fondest memories are of sharing books by Agatha Christie with my mom.
Was writing something always something you wanted to do?
Ever since I got my library card and realized people could write books as a job, I have wanted to be a writer. I dabbled in stories as a kid by writing in ruled notebooks and borrowing an old typewriter to clack away on its keys. In high school, I got involved in the yearbook, newspaper, and literary magazine. I balanced working and writing for a while but am now a happy, full-time novelist.
Can readers expect another book with these same characters?
Yes! Book Two in the L.A. Night Market Mysteries, Hot Pot Murder, is coming out next spring.
Anything else you want to add about Death by Bubble Tea?
I've had a great time doing drink selfies with my book for marketing purposes. I invite readers to join in on the fun and tag me in their posts on social media.
Before I let you go, tell readers where they can find you on social media!
My website has all my links and an author newsletter sign-up. I also blog there regularly along with participating in a group blog called Chicks on the Case. You can find me directly on social media at Facebook, Twitter, and Instagram.

Happy chatting with you, Carly-Rae!
Thank you Jennifer! If you have questions for the author comment below! You can also contact me to let me know any other authors you'd like to see featured!