This post may contain affiliate links, which means I may receive a small commission, at no cost to you, if you make a purchase through a link!
Harrowing Roses by Barbara Cooper centers around Dana Fairchild. She is a twenty-two-year-old whose one escape from her dad's relatives is to go after her missing younger cousin. Dana's cousin is somewhere in the wetlands, and she decides to find her, unsure if she'll find her alive or dead. She gets help from someone who may or may not have psychic powers. But Dana doesn't know who to trust when he starts to know things about her missing cousin. Does Dana find her cousin? Is this boy she is getting help from helping or hurting the search? Find out when you read Harrowing Roses!
Now, for one of the best parts of today's feature! An interview with the author herself, Barbara Cooper. She joins me to talk all about her new book!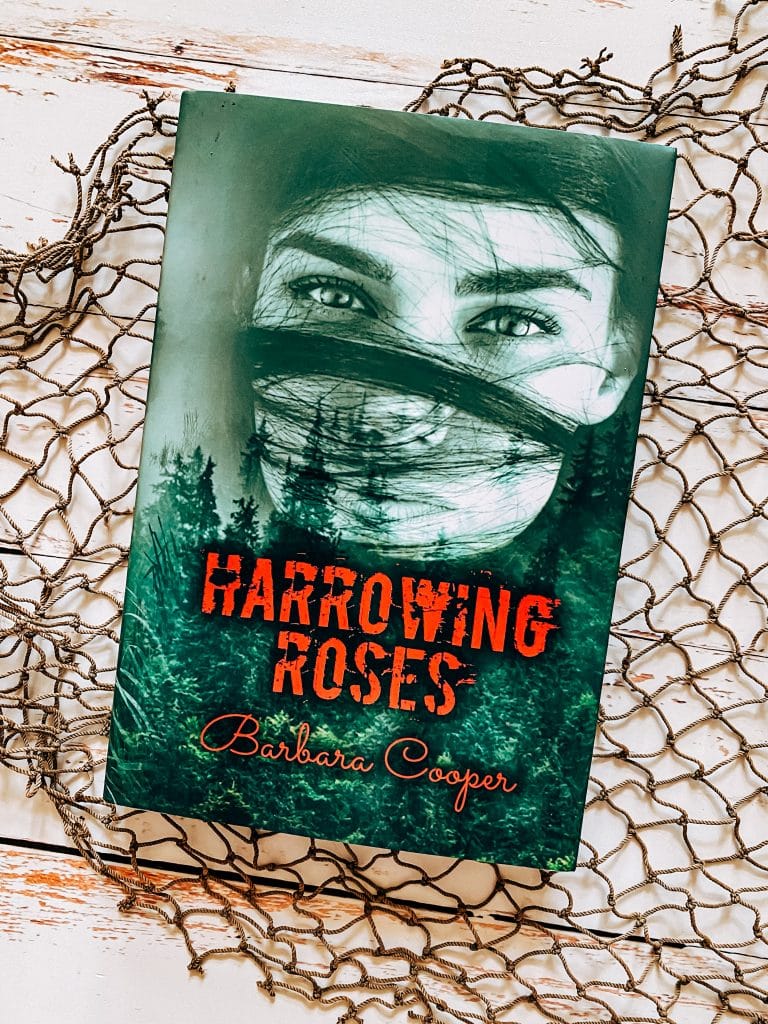 Barbara! Welcome! Tell us more about Harrowing Roses.
I woke up one night from an extraordinarily vivid dream: strange landscapes filled with water, dark red roses which were closing in, smothering everything in darkness. I remembered the main heroine, her struggles, a love triangle, and a missing girl. It all unfolded in front of me like a movie!
It is very unusual for me to have a dream like this, so I decided to write it down, turning it into a complete story to keep these strange feelings from a dream intact! We are so advanced in many fields of study, yet we still don't know what dreams are and what they are supposed to mean and bring to us.
There are so many twists in this book. How did you keep track of them all?
I think I just understood the happenings inside the heart, which made it so much easier. And from there on, the heart and intentions of the main hero and heroine drive the atmosphere and the twists of the story. And I guess the saying that the characters you create are, in some parts, a mirror of yourself is true.
But you are right! I had a detailed outline with all the secrets right from the beginning. I knew the ending exactly, even before starting to write! For me, the first few pages are directly connected to the last ones. That is the way I like it.
Do you have a favorite chapter?
Yes! The living room scene is in the middle of the book. All the main characters come together under one roof. They have a chance to talk out their differences and, at the same time, create something new, mostly in connection to the psychic angle. I enjoyed writing about this almost abstract fantasy mansion in the middle of the woods. This whole scene gave me the Twin Peaks vibes! The last sentence with a talking parrot in the cage is actually a homage. After that scene, the story takes on speed, and even the editing from that point was always much faster!
Who was the most difficult character to craft?
Definitely Debra Lee, the cousin that goes missing. I wanted to make her a full-fledged person, one you could easily imagine, yet without giving too much away!
Did you always want to write a thriller?
Yeah, I have always been a great fan of film-noir movies and storylines, so my desire to write one is deeply embedded in me. From a more poetic perspective, exploring a rose in full bloom and beauty is interesting and then showing its decaying, natural side – when she is turning into something darker, maybe even sinister.
The cover is great. Were you involved in the design process?
Yes! It was so much fun, looking for something that would mirror the story itself yet add to it at the same time. Giving it a mysterious shroud. The woods, a beauty with dark eyes, the sentences written in red… The cover is definitely inspired by Barbara Erskine books and similar!
How long did it take you to write Harrowing Roses?
Almost the entire storyline came to me in a vivid dream – so that was quite fast! Putting the whole story into an outline with detailed descriptions and even parts of conversations took me a whole day… Actually, starting to write the story, edit it and bring it into life altogether took me a few years!

Before I let you go, where can readers find you on social media?
Of course, check out my website: https://www.barbara-cooper.net/ I'm also on YouTube – what a fun, different way to express yourself! https://www.youtube.com/c/BarbaraCooper And mine/and Harrowing Roses' Instagram: @harrowingroses
You can also check-out my book trailer: https://www.youtube.com/watch?v=0l8i1aRQ84k
Thank you kindly!
Comment any questions you have for Barbara! Thank you Barbara for joining us!