This post may contain affiliate links, which means I may receive a small commission, at no cost to you, if you make a purchase through a link!
Author Sarah Grunder Ruiz Interview is here! Sarah joins us to talk about her second novel, Luck and Last Resorts. When I first saw the blurb, I knew this was a book I had to get my hands on. I also couldn't wait to chat with the author to find out all the details about what went into crafting this book! So, without further delay, let's welcome Sarah!
Sarah! Luck and Last Resorts is your latest book. I'm so excited. Tell readers more about it!
I am so excited that you are excited! Luck and Last Resorts is a second-chance romance set aboard the Serendipity, a super luxury yacht. Nina, our protagonist, is chief stewardess and has major commitment issues. The love interest, Ollie, is a hot-headed Irish yacht chef who has been in love with Nina for nearly a decade. Over a year after he quit the yacht, he returns as the Serendipity's chef with an ultimatum. If Nina won't admit she loves him and make their relationship real by the end of the charter season, he's returning to Ireland for good.
Nina doesn't take Ollie's threat seriously. Not until he brings up the secret they had been keeping since their first charter season together nearly a decade ago. A secret they promised never to speak of again.
Writing this book broke me in the best possible way. Nina and Ollie's story is angsty and complicated, and I hope readers enjoy the ride as much as I did!
This book deals with former flames Nina and Ollie's relationship. Did you always want to have that former flame premise for this book?
Yes! Luck and Last Resorts is a companion novel to my first book, Love, Lists, and Fancy Ships. But you don't have to read the first book to enjoy the second (though I think it makes the twist in chapter four of Luck and Last Resorts a lot more fun). In the first book, Nina and Ollie very obviously have a contentious relationship, but when I wrote Love, Lists, and Fancy Ships, I had NO idea what their deal was. I never planned to write a book for Nina, but everyone (including me) fell in love with her, and I was curious as to why she and Ollie were always at each other's throats. So I decided to write an entire book to find out! I am a sucker for second chance romances—the history, the intimate knowledge of one another, the opportunity to heal…swoon! I couldn't resist writing my own.
The setting is on a superyacht, as you said, called Serendipity. Did you have to do a lot of research for this book, or were you familiar with life on a superyacht?
My sister used to work as a yacht stewardess, so she was a great resource to me. I did a lot of research in the form of watching Below Deck! My sister recommended the show and told me it is pretty accurate to what working on a yacht is really like. Every book takes so much more research than ever actually ends up on the page. I downloaded floor plans for yachts, researched marinas, watched YouTube videos, read blogs, etc., for a single line sometimes!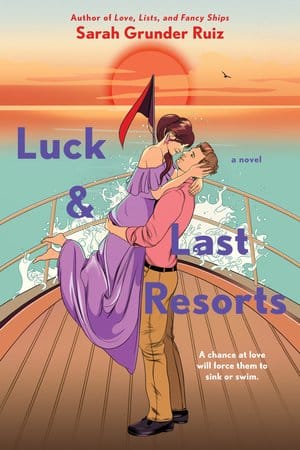 What was your favorite part of writing Luck and Last Resorts?
The challenge of it. Every time I start a new project, I give myself a challenge. For this book, I wanted to write a romance in which both characters are in love with each other already and know they are in love but can't seem to get it together. I also wanted to make sure that the conflict wasn't a misunderstanding. It took a lot of time to really understand these characters, especially Nina, who is so self-aware and yet so unable to change. I think writing a book is an exercise in problem-solving more than anything else, and there was so much problem-solving to work through in this one! Those problems are both the worst and best parts of writing because when you finally find the right solution and all the pieces fit together, there's no better feeling.
I love this cover! Did you want the cover to always have the characters on it?
Yes! I really wanted an illustrated clinch cover. The cover of Tessa Dare's The Duchess Deal was my main inspiration. My art director, Colleen Reinhart, and illustrator, Janelle Barone, really pulled it off beautifully. When I saw the cover in color for the first time, I set my computer down and just lied down on the floor because it was so wonderful. I can't see images in my head, so it is always special for me when I get to "see" my characters for the first time.
Want to know a secret? There is a scene in which Nina and Ollie wear the outfits on the cover. Originally, Nina was wearing a different dress in that scene, but I changed it to match the cover of the book. I still think of her as wearing that initial dress when I read the book, though.
How excited are you for readers to read Luck and Last Resorts? Is releasing your second book different from releasing your first?
I am SO SO SO excited for readers to get their hands on this book, especially those who have read Love, Lists, and Fancy Ships. Nina and Ollie have a HUGE secret I have been teasing everyone about for nearly two years now, and I can't WAIT to hear from readers about it. The end of chapter four has a big reveal, and the DMs I get from readers about it has been my favorite part about this book coming out. I have an entire highlight on my Instagram of the reactions I get to chapter four (no spoilers!), so if you want to see what you're in for, check that out!
The big difference in releasing my second book is that I sort of know what to expect. Releasing this one has been way less stressful and also a lot more fun. My favorite thing about being an author is interacting with my readers. My readers' support and excitement about Luck and Last Resorts coming out means everything to me. When I debuted, I had folks excited for my book, but I didn't really have readers yet. Now some people have read BOTH of my books. It is still such an exciting and surreal experience to actually have readers.
What is it you hope readers take away from this book?
You wouldn't guess it from the cover, but this book is very much about the long-term impact of trauma. I wrote it for anyone who has ever found themselves sabotaging something wonderful but didn't know why or how to stop it. Healing is a challenge. It isn't linear or logical. But healing is possible, no matter how hurt you are. I hope that readers walk away with the message that, no matter what you have experienced, you are worthy of love. You are worthy of good things. You are allowed to change your life and take chances. Also, you deserve to love yourself and to be loved by others.

Anything else you want to add?
Yes! I have an Instagram Live series turned podcast called That's The Butts Live! It is about all the sucky parts of writing and publishing. I've been so privileged to have some amazing guests, including Sarah Hogle, Lyssa Kay Adams, Falon Ballard, and even my own beta readers!
I started the series because I am passionate about demystifying the writing process. So many aspiring writers get frustrated when their drafts don't look like the books on their shelves. Guess what? My drafts don't look like that, either! So I wanted to create a space for authors to talk candidly about their bad drafts, books that didn't sell, and the messy parts of writing and publishing that people don't often see. You can check out all five episodes here. If you prefer podcast to video, you can listen to an edited version of these conversations by subscribing through Apple podcasts or my substack.
Before I let you go, where can readers find you on social media?
I mostly live on Instagram, which I sort of treat like a continuous blog in a lot of ways. My handle is @ sarahgrunderruiz. I also recommend subscribing to my substack because I do occasional giveaways, extra writing tips and exercises, as well as sneak peeks into what I'm working on!
Comment any questions you have for Sarah! Thank you Sarah for joining us!