This post may contain affiliate links, which means I may receive a small commission, at no cost to you, if you make a purchase through a link!
What's Not to Love by Emily Wibberley and Austin Siegemund-Broka Review is here. I have been looking forward to reading this novel since I first heard Emily and Austin mention it during their Book Hour segment on my YouTube Channel. The cover has Emily and Austin's signature style with font and models. PLUS, look closer. Do you see their previous books on the shelves! OMG! I literally noticed that as I was taking photos of the cover! Now, in proper Emily and Austin fashion, it falls into a new color tone…PURPLE!
So let's talk about the plot…
Alison Sanger and Ethan Molloy are the protagonists of this novel. It is told from Alison's perspective, and we meet her going to school with food poisoning. Why? Well, she and Ethan are rivals at school. They complete for EVERYTHING. They are in all AP classes. On the paper, they even have that 'dress older than you are' attire going for them (and it works!). All Alison wants is to beat Ethan and vice versa. They are even competing to get into Harvard, both praying the other doesn't get in.
When Alison can no longer pretend she is okay after her exam. She goes to the nurse who sends her home, much to her dismay. The plot takes off when Principal Williams assigns Alison and Ethan to plan the upcoming ten-year reunion for a previous class. Neither wants to spend any more time together, let alone work together. But when Williams says she will send in a Harvard recommendation for them, they agree.
Competing with each other takes on new levels, especially when they find out they are even in the same driver's ed program! Yes, it seems fate has other plans for these two. With the heated arguments comes heated reactions, leading to a heated yearning Alison discovers she may have for Ethan. Does he reciprocate the feelings, or is it just another game to make her lose focus? Find out when you get your copy of What's Not to Love? You will get pulled into the competitiveness of their relationship along with the development of entering adulthood.
Will Alison decide to keep her enemy closer as a way of distracting Ethan, or is it what her heart truly wants? Is there ever a point of starting a relationship when you are moving onto another life of college? Find out!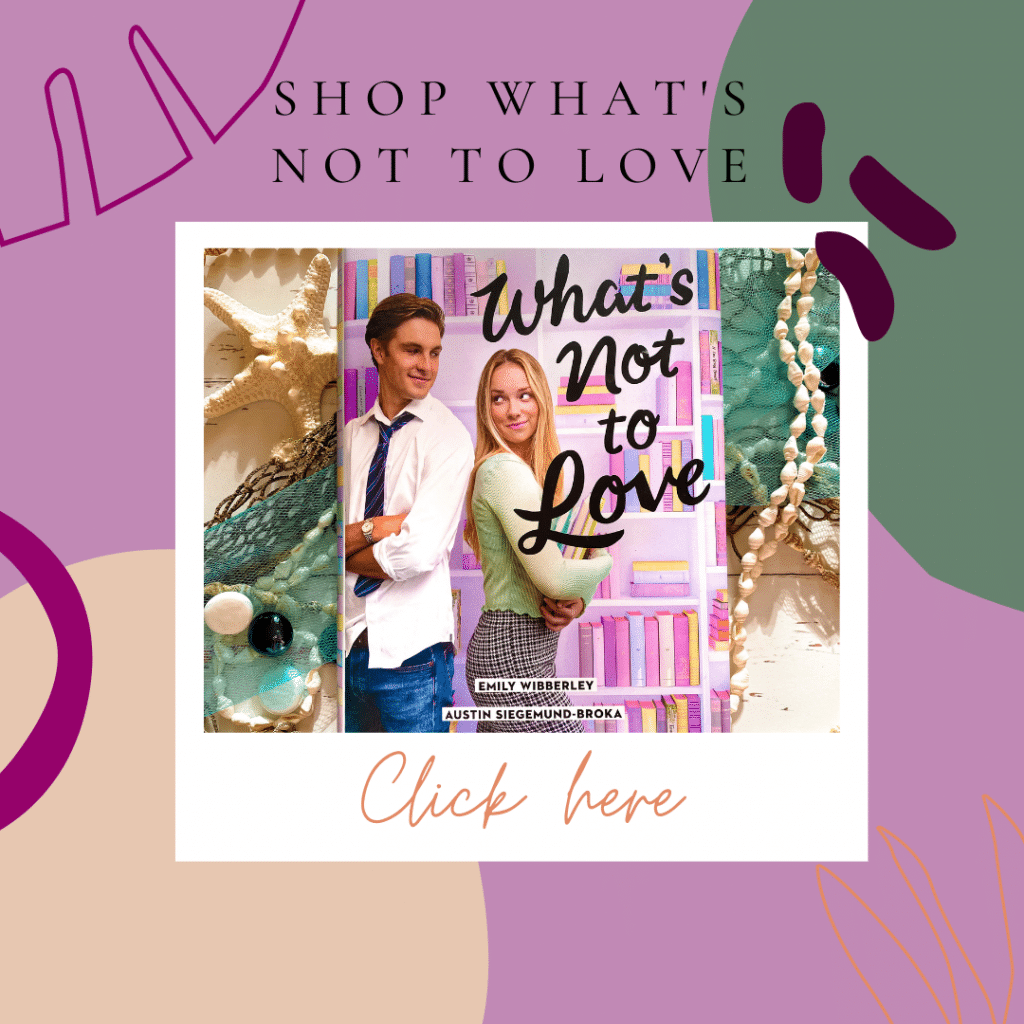 Now, let's talk about the characters…
Alison and Ethan are both great characters. They are both well-developed and grow throughout the novel. They come to terms with what perhaps they should have known at the beginning. But sometimes, we have to grow before we realize what is right in front of us.
I also enjoyed the supporting characters of Dylan (Alison's best friend), Jamie (Alison's sister), and Hector (their driver's ed teachers). They were cliché in a way that I could picture myself having friends like them in high school, really rounding out the cast of characters.
Finally, the writing…
What I love about Emily and Austin's novels is they have such a signature voice. You are able to visualize their characters and their story. It literally takes you back to high school…in a good way. Compared to other Emily and Austin novels, this fits right in. The best part about their writing is the way they interweave PREVIOUS characters into this plotline. Yes, you read that right. You will get to get this novel to find out what characters come back! 😊
Overall, I recommend this fun, quirky YA romance read. I read it in a DAY and a HALF!
Shop What's Not to Love on Amazon.
Are you an author, publisher, or publicist? Want to get your book feature? Contact me! Also, don't forget to check out my feature on Feedspot's Top 100 YA Book Blogs!